You're Invited to #Sweatworking at The Barre Code in Lakeview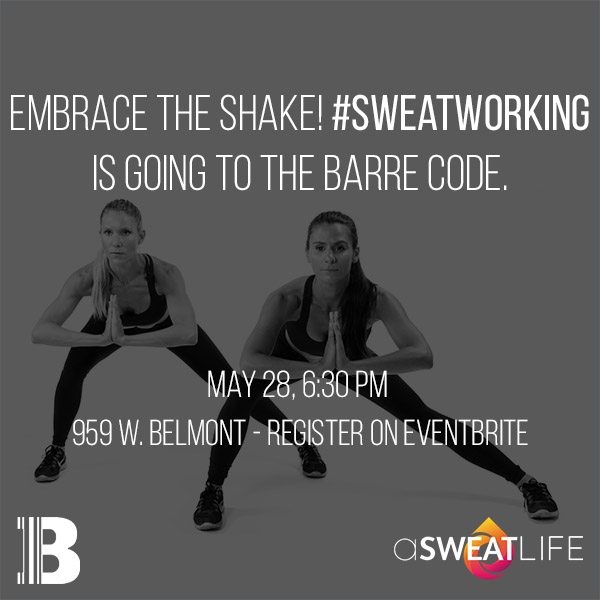 When I first stared taking a trip through Chicago's studio fitness, The Barre Code, formerly known as BarreBeeFit was my first stop. Since my first visit in 2012, the studio has popped up in more neighborhoods in Chicago, built up a national presence, launched more classes and evolved into the brand it is today – The Barre Code.
The first time I tried the studio's signature Barre Code class, I looked at the tiny weights and thought, "I can lift WAY more than that." The joke was on me when halfway through the arm set, deep regret set in. I had grabbed the 3 lbs weights, not the 2 lbs weights, something barre-flies know to be a newbie no-no. By the time we got done working from head to toe, I felt that I'm-going-to-feel-this-tomorrow feeling. And did I ever.
The thing about The Barre Code is that it never gets easier. The format allows students to push their limits, trying everything from heavier weights to sinking deeper into poses to lifting a leg a little higher. The moves change as your body changes. That's why barre has stayed in my workout rotation.
When we take over the Lakeview studio May 28, we'll split our time between two of the studio's formats: Barre Code (that pulsing, burning barre workout you may know and love) and TBC, which stands for The Boot Camp. The Boot Camp launched last summer and it's a fitness prop wonderland. In TBC, you may find yourself using body bars, medicine balls, kettle bells or weights. You'll definitely find yourself sweating.
As a special treat, The Barre Code co-founder Ariana Chernin will co-teach the event.
Like all #sweatworking events, you can expect snacks and goodies post-workout to help you refuel and feel like your very best self.
Where? The Barre Code Lakeview, 959 W Belmont
When? Thursday, May 28 at 6:30 pm
What do I need? Socks!
What if I've never done barre before? … Do I have to be a ballerina? First-timers are welcome! No, you definitely don't have to be a ballerina.
How do I sign up? Register here.
Will we see you there?