Marathon Tapering Tips: Marathon Monday
Somehow I woke up yesterday morning and it was suddenly two weeks until I run my first marathon. I have no idea how this happened so quickly, but somehow my hardest workouts are behind me and it's time to focus on resting my legs for the big day – taper time.
To be completely honest, tapering kind of freaks me out. If I had it my way, my training plan would have included running a marathon just so that I know I can do it. I'd much rather be over-prepared than under-rested, but I've been keeping myself in check with my Nike+ Running app and the training plan it's created for me. I had my last long run on Friday, a 16-miler down the Legacy Trail that was basically the same path I followed for my 20-miler but somehow felt approximately one million times easier.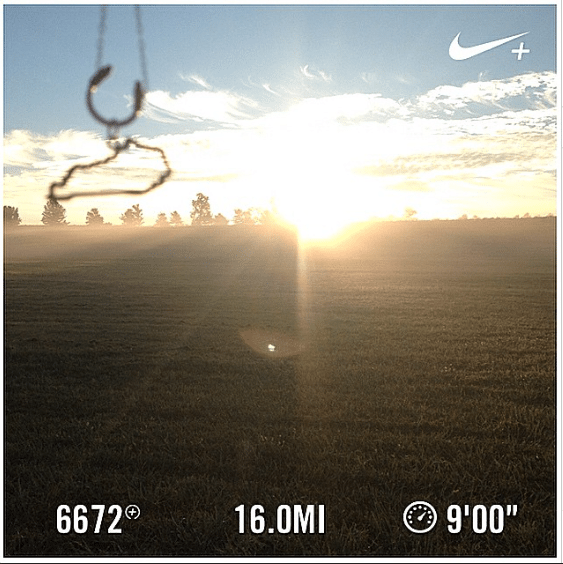 So now that my last long run is behind me, it's officially time to taper. I've put my excess energy from not running as many miles into researching marathon tapering tips. Whether you're running your first marathon or your fifteenth, tapering is a time to relax a little bit and be proud of all the hard work you've put in the last four month. Here are a few tapering tips to get you through these last two weeks until to starting gun goes off:
Trust your training plan. A marathon training plan will include a taper that's relative to the training you've done so far; most tapers have a weekly mileage reduction by about 20% three weeks out, 40% two weeks out, and 70% one week out. For the math-challenged, if your peak weekly mileage was 60, that means weekly mileages of 48, 36, and 20 roughly. Don't psych yourself out, and be confident in the fact that you've already put in the hard training work.
Maintain intensity – to a degree. During tapering, it's still totally fine to complete interval and tempo runs – it can even be a great confidence booster. However, don't feel the need to overcompensate since your mileage has decreased. That is, don't be an idiot and push yourself too hard, don't run hilly routes (which will increase your muscle-tissue damage), and don't go to a group fitness class that is notorious for sending you straight to the ice bath. Train smarter, not harder.
Mentally prepare. Use your sudden uptick in free time to mentally prep for the race. For me, as nerdy as this sounds, this means visualizing race day – every detail from which sock I put on first to how I get to the starting line to which miles I look for my friends and family at. At the same time. don't forget to envision some worst case scenarios. What will you do if you wake up on race day and it's raining? What if you get a blister, or your phone dies and you don't have any music? Preparing for the worst may seem like a downer, but mentally rehearsing those scenarios will make you feel much more confident on race day.
Set race day goals. Guys, marathons are long. And the fact that they're so long means that a lot of different variables go into whether or not you have a good race day. To that end, one of the best tips I've seen is to have three race day goals: one goal for if everything is going absolutely perfectly and you're feeling better than amazing, one realistic goal for if you feel pretty good overall and one that's slightly a low-ball in case weather sucks, you get a cramp, or some other devious variable strikes. Remember, only about .5% of the US population has finished a marathon– so just finishing is an incredibly impressive achievement on its own.
Relax, man. Stretch and foam roll a little bit more. Get high quality sleep every night. Lay off the booze, and set a hydration goal for yourself each day to ensure that your tank is full on race day.
Don't eat crap. We'll go into this more next week (carb loading deserves a post unto itself), but eat food that will fuel you on race day – vegetables, fruits, unprocessed stuff and a lot of protein to help repair muscle tissue damage. Avoid getting sick on race day by upping your Vitamin C intake with kiwis, orange juice, red bell peppers, broccoli, and strawberries.
Choose your race day outfit. You know what they say- nothing new on race day. Make sure that you choose an outfit that you're comfortable in and that you know works for you, and choose a couple of different options based on different weather scenarios.
GET. PUMPED. You've been working towards this for over four months, and in just a few days, all your hard work will have paid off. Watch inspiring movies, listen to the Rocky soundtrack, read a top marathoner's autobiography – anything to get you inspired. Personally, I will be perfecting my marathon playlist and watching Stomp the Yard every night.
Marathon training is a marathon in itself, and tapering is the last mile before the finish line. What tips do you have for tapering?