CrossFit at River North CrossFit

CrossFit Box: River North CrossFit, 330 W Ontario St
For most of my posts, I take a class and if I love it, I write about it, but I figured out very quickly, that you can't just "try" CrossFit. I've heard the phrases, "life changing" and "best workout ever," associated with it, so I needed to know what the draw was. I needed to "commit" to a workout for longer than a single session. After blindly signing up to walk into a CrossFit WOD(1), I was thankfully stopped in my tracks before I could drop a barbell on my face. I emailed with owner of River North CrossFit, Katie who explained how to get started.
Step 1: The intro or baseline(2) workout
My first time into the box(3) was for an intro-WOD. On paper, the intro workout didn't look that tough, but that was before factoring in the element of competing against the clock. The baseline workout consisted of a 500 M row, 40 squats, 30 Sit Up, 20 Push Up, 10 Pull Up and 5 Burpees.
After putting everything I had into those ~10 minutes, I was completely spent from the high intensity interval training (HIIT) and I understood the addiction.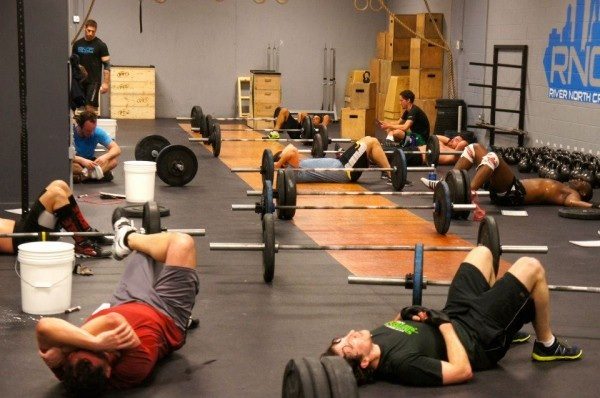 (This is the "after." Image courtesy of River North CrossFit)
The intro session at River North CrossFit runs on Sundays at 11 am and is free to try. Email[email protected] to set up your intro session.
Step 2: Learning to CrossFit
Before being set free in the gym for a real WOD, I needed to learn the Olympic lifts that are a part of almost every CrossFit workout. Think cleans, squats, jerks and snatches. None of these words sound familiar? I had no clue when I started in December.
Regardless of how many lunges and squats I'd logged or weights I had lifted, I was grossly unprepared, but new CrossFit Athletes can get the baseline knowledge that they need to use the proper form and avoid injury. In 3 personal training sessions with Emily, the prettiest girl I've ever been terrified of (in a purely hypothetical you're-made-of-muscles kind of way), I learned the CrossFit basics including olympic lifts, skills, and basic barbell technique and set up so that I could safely start to throw weights over my head. To schedule your Basics personal training sessions, email [email protected].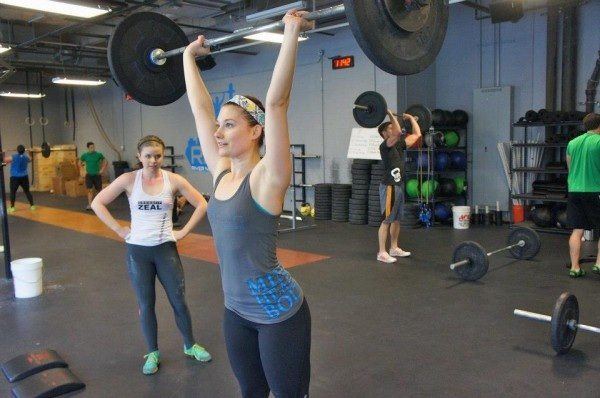 ( A successful push-press. Image courtesy of River North CrossFit)
Step 3: Getting after it 
In my first WOD, The first thing that I was completely struck by was this: almost everyone else was stronger than I was. Before CrossFit, I wasn't sitting around bragging about how much weight I can back squat, but I became obsessed with my performance, competing with myself and silently competing with others. For each WOD at River North CrossFit, there was one thing I could measure myself against. Sometimes it was maximum weight lifted, sometimes reps and sometimes time. Whatever the measure was, each person's performance was written on a whiteboard for all to see and I viewed  it as my standings.
Workouts vary … a lot. That's a huge part of the draw. But each day, if you want to know what you're getting yourself into, the WOD is posted on the River North CrossFit website. There's a kind of CrossFit shorthand that won't make complete sense until you've gone through a few workouts, but in each workout you can expect this kind of format: warm up, dynamic stretches (the best way to prepare the body for work), time to work on a lifting skill and then the WOD, which is when you exert your maximum effort. After the WOD there's usually a quick post-WOD exercise that allows you to tone one more muscle group.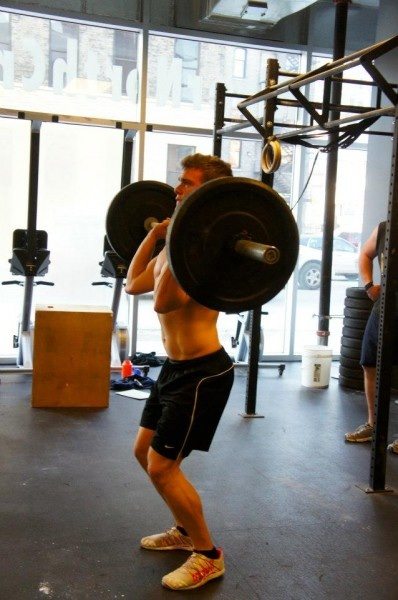 (The power clean catch – this took me a few tries to master. Image courtesy of River North CrossFit)
Confessions: At my first WOD, I tried to use the same amount of weight as a another girl in the class, probably 50% because of my competitive nature and 50% out of pure ignorance. After doing a little over 60 back squats with a weight I've never attempted before, I walked with a zombie-like limp for a week. I learned very quickly to know my limits and push them, but not to the point at which I couldn't walk.
Over the course of only 9 sessions, I saw my body changing and I saw myself getting stronger and leaner, so believe what you've heard about CrossFit. I also formed some calluses on my hands, which my boyfriend said were, "gross," but I grew fond of them.
To start your own get-after-it journey at River North CrossFit, there are a few options:
Membership – email 

[email protected]

 for more information
Punch cards (1 punch=1 session)
Don't want to do CrossFit, but you're into the whole HIIT thing? Try SkinnyFit. It's meant to get your heart rate up and tone with body weight, but no barbells are used. I'm planning to try this ASAP.
The Verdict: If you've ever thought about trying CrossFit, get into River North CrossFit and stop thinking about it. There are WODs every hour on the hour starting at 5 am and ending at 8 pm. You'll love the results and you'll love the encouraging environment that this gym fosters.
CrossFit Glossary
WOD: Workout of the Day
Baseline: a starting point workout that can be repeated to measure fitness and progress
Box: CrossFit affiliated gyms are also known as boxes