8 Wellness Advent Calendars to Shop This Holiday Season
It's the most wonderful time of the year. If you're looking to treat yourself or someone you know, why not consider an adult advent calendar? This daily dose of old-fashioned goodness is back and bigger than ever this year, with so many different brands offering a variety of health, food, wellness, fashion, and beauty advent calendars. Ready for the holidays? Here are some of the best advent calendars of 2022.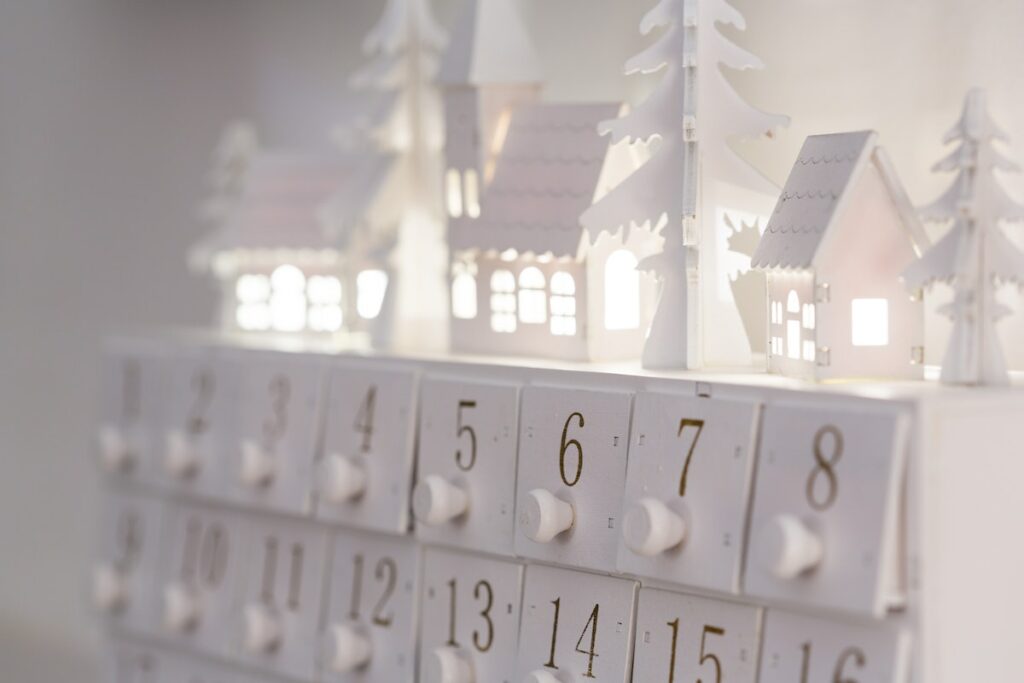 Best adult advent calendars to shop this holiday season
Alo 
Alo's advent calendar is packed full of goodies for 24 days of wellness. This set has it all, including full and miniature-sized products in addition to gear and accessories. Each drawer is meant to be opened in the morning and includes a card with ways to incorporate mindfulness into your day. 
While some of the products are miniature, there are several full-size bottles, including Magnesium Reset Spray (a must for the holidays) and Radiance Serum. Don't forget the fashion accessories, like a claw clip and hair ties. But perhaps the best treats of all are the $25 Alo Gift Card and a full-year subscription to Alo Moves. Alo Moves is ideal for all levels and has all types of programs from yoga to Pilates, strength training, barre, and even wellness content, including sound baths and meditation.  
Saje 12 Days of Wellness Holiday Countdown Calendar
This advent calendar features 12 different Saje goodies, including the Positivity Roll-On (ideal before and after family events), Unwind Mist (essential after office Christmas parties), Peppermint Twist Lip Balm, Radiance Mode Clay Mask, All the Feels Diffuser Blend, and more. It's an ideal calendar who anyone who needs a little extra self-care this time of year.
Take My Face Off Mitty Mini Menorah Gift Set 
Okay, so this isn't technically an advent calendar. Still, the Mitty Mini Menorah Gift Set is close enough and a great gift for a person into skincare or makeup that happens to be celebrating Hanukah this year. Each candle "flame" is a Mitty Mini. Never used a Mitty Before? These Mittys take the place of cotton pads, but they're reusable, making them better for the environment and your wallet. Better yet, they last for a long time (I think I've had the same set for five years now). 
Rifle Paper Company Advent Calendar
Rifle Paper Company is known for its beautiful and cheerful illustrations. This advent calendar is no exception and is the perfect way to decorate a desk or coffee table, with a little door that opens to reveal a new illustration every day. Choose from a Christmas Tree or Night Before Christmas theme and start the countdown to the holiday. 
Jacques Torres Chocolate Christmas Advent Calendar
A chocolate treat every day for 24 days? We'll take it. Sign right up for the Jacques Torres Chocolate Christmas Advent Calendar. Each day reveals a delicious chocolate Belgian chocolate featuring six different holiday designs. Yum.
David's Tea 24 Days Of Tea Advent Calendar
Get an extra dose of winter warmth every day with David's Tea 24 Days Of Tea Advent Calendar. Adorably packaged, each drawer has two servings of a delicious holiday-themed tea. Flavors include Brown Sugar Bourbon, Candy Cane Crush, Pomegrateful, and Sugar Pear Fairy. Even if you don't consider yourself an advent calendar person, it's a great way to try out some new tea. 
Sterling Forever Build Your Own Advent Calendars
Want to create a custom advent calendar for the jewelry lover in your life? Sterling Forever has several options. From rings to necklaces, earrings, and more, there are three themed calendars available — Basic, Trends, and Classic. There's also a pre-curated Oprah's Five Days Of Hoops and a larger set with 24 days of earrings for those who can't get enough accessories. 
Shimmy App
Shimmy App is a virtual advent calendar featuring seven-minute workouts daily up until Christmas. From Bollywood dance to salsa, standing abs, and more, it's a fun way to make yourself move every day. Best of all, for every user that completes all 25 days of the program, Shimmy will donate $25 to different charities on their behalf. So, get your workout in and do good at the same time this holiday season.