How to Handle Your First Workout After COVID 19
In early December 2021, I began breathing a little more easily. COVID-19 booster shots had been authorized for most people and I had taken advantage. At this point in the pandemic, I had never had the virus. With three shots, I felt safe.
That all shifted in later December when a new variant of the virus, Omicron, began taking the world by storm. Suddenly, many of my friends, family members, and colleagues who had all been COVID-19 conscious were getting sick. I, unfortunately, was not spared during this particular COVID-19 surge and tested positive on Christmas Day. 
Testing positive for the COVID-19 virus not only led to nervousness regarding my overall health, but also my upcoming marathon training plan. If I could barely walk down my hallway to my kitchen, how was I possibly going to train for a marathon? Long story short, after recovering from COVID-19, I was able to train again and I had personal bests in the marathon, half-marathon, and 8k running distances.
It is absolutely valid to have concerns about your own fitness when you have a virus that affects your lungs, but if you return to fitness intuitively and safely, you will likely be excelling again soon. I will put a caveat here that it is always best practice to consult with your physician about your return to fitness after having a respiratory illness. Also, I am not a doctor or a trainer, but I am passionate about movement and love to see people moving their bodies in ways that bring them joy. Below are some things to consider about working out after COVID-19 as you recover and return to your movement routine.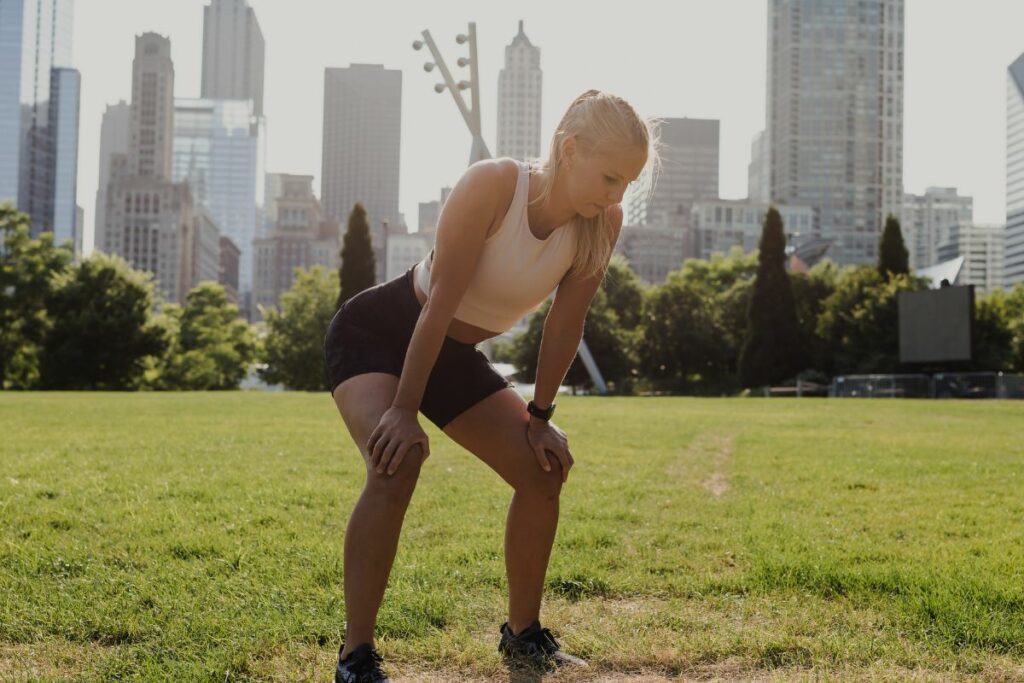 How to approach working out after COVID 19
Consider your experience of COVID-19 symptoms
The American College of Cardiology recommends that anyone who had lung our heart related symptoms be evaluated by a physician to be cleared for return to exercise. These symptoms may include challenges breathing, tightness or pain in the chest, irregular heartbeat, dizziness, or faintness.
When I had COVID-19, I felt as if a twenty-pound weight was resting on my chest and struggled to breathe. My doctor recommended that I use an inhaler when I returned to exercise to support my lungs. If your symptoms are milder, like a common cold, you can return to exercise when your symptoms resolve.
Listen to your body
Once you have been given medical clearance, listen to your body. When it comes to marathon training, I can become a bit neurotic with color coded spreadsheets and training logs. I generally hate missing a workout, but when I was sick, I had to readjust my expectations of myself. I simply was not able to run as far or fast as I could before.
Instead of forcing myself to follow my plan, I modified it based on my ability. My twelve-mile-long run became a six-mile run-walk. After two weeks of modifications, I was able to return to the plan in its original form. Listening to your body extends past running. If you lift weights, you may need to do fewer repetitions or sets of lighter weights. It is also okay to take more breaks than you normally would. 
Be patient with yourself
Though we know far more than we did in 2020 about COVID-19, there is still a lot that we do not know. Additionally, each variant impacts people differently so if you have had COVID-19 before, a second or third experience of COVID-19 may look or feel different. When I was returning to fitness, I felt like I had lost all of the fitness I had gained while running the year before. What I needed in that moment was more patience with myself and trust that I will regain fitness that was lost. 
Work with a personal trainer
Returning to a fitness routine after having COVID-19 or other illness or injury can feel daunting. Personal trainers and coaches can support you by making a plan specific to your fitness goals based on your current abilities. Utilizing the support of a coach or trainer can eliminate guess work about whether or not you are doing too much or too little. 
Monitor your heart rate and your rate of perceived exertion
While your normal fitness routine may be based on paces, weight lifted, or repetitions, you might over-exert yourself if you return to your pre-COVID-19 expectations. Use a heart rate monitor to keep track of how hard your heart is working during exercise. For example, on an easy run, my heart rate is usually between 135 and 150 beats per minute.
Before I had COVID-19, I could hold a 9:30 pace and stay in that range. After COVID-19, I started out at a 10:30 pace and eventually worked my way back down to a faster pace. Your rate of perceived exertion is your assessment of how hard you think you are working on a scale of zero to ten. For example, if you plan to do an easy run or lift, your perceived exertion should feel between one and three. 
Be mindful of potential for re-infection
Now that I have had COVID-19, I would really prefer to never have it again. However, with the constant mutation of the virus, there is some risk of re-infection. Continue to exercise caution when there are outbreaks or surges in your area. As stated before, if you get sick again, your symptoms may be different and may impact your fitness in a way you do not expect. 
COVID-19 has impacted us in countless ways from how we work, socialize, and even in how we engage in movement. If you have had COVID-19, it is valid to have concerns about the long-term impact of the virus and working out after COVID 19. However, if you seek appropriate medical support and listen to your body, hopefully your return to your new normal will go somewhat smoothly.