How You Can Help Make Wellness More Accessible to the BIPOC Community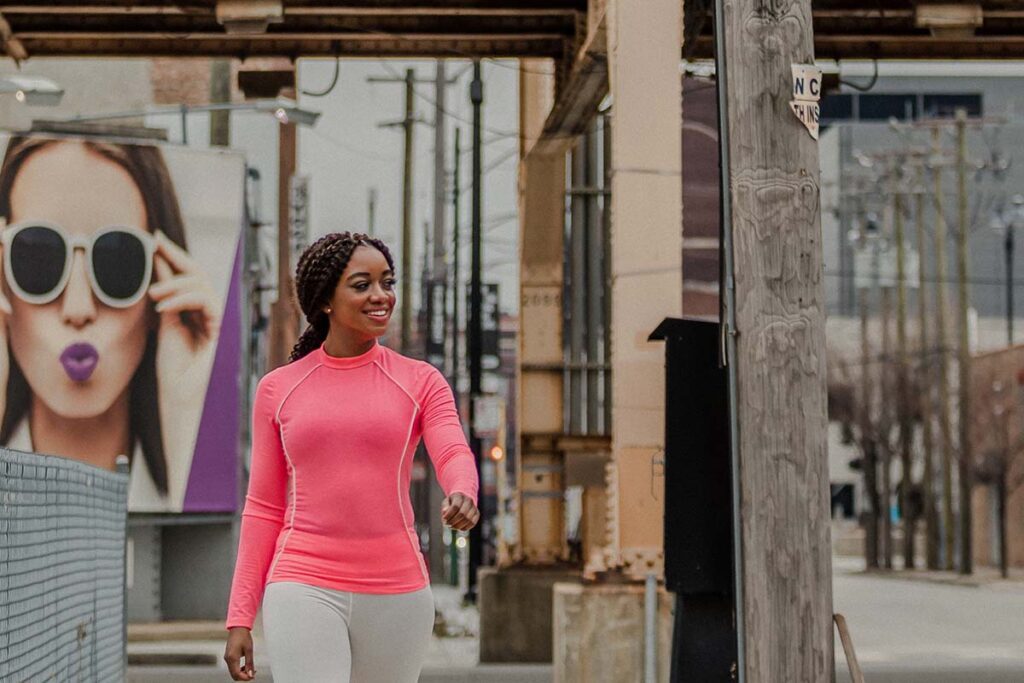 I've been reflecting this Black History Month on some of the challenges many minorities face when it comes to wellness. Some communities are overlooked, especially in large and segregated cities like Chicago. The catalyst for this reflection was a recent instance where I found myself in this situation. 
During an Instagram takeover I hosted on aSweatLife's IG stories, I prepped for a yoga class, drove to drop off my kids at my mom's house, then headed to the studio. I parked and grabbed my mat to head in, looking forward to my class. When I got to the door I realized it was locked. It was just a couple of minutes past the class's start time, but the studio locked their doors promptly. 
I was aware of this policy. It hadn't happened to me before but the feeling of being an outsider was overwhelming. I started recalling my morning. I thought about how pumped I was for the day. I thought about picking out fun leggings and a sports bra to wear. I thought about how I packed up my yoga mat, water bottle, and a smoothie pouch in the car and then packed in my kids, both under 6 years old. I drove 15 minutes to my mom's house and an additional 30+ minutes to the studio. I was disappointed. For some, wellness activities like yoga classes are easily accessible. While others will have to try their hardest just to make it to a class.
The Neighborhoods where fitness is available
This reality prompted me to post "there need to be more studios on the southside and more childcare options." I live in Roseland, a southside neighborhood in Chicago. Within five miles of my home, there are only two yoga studios in this area of the city. I work in Lincoln Park, a northside neighborhood in Chicago. Within five miles of my office, there are about 32 yoga studios. There's a clear disparity when it comes to options for studios in different areas of the city.
I would like to acknowledge that there are studios dedicated to communities with a lack of wellness resources. Beverly Yoga Center has been committed to 16 years of offering classes on the southside. They welcome, "people of all ages, body types and stations in life." This is the type of inclusive messaging and embodiment that every studio should have. 
Options for working parents and fitness
Additionally, having the time and availability to attend a class is challenging for many. Most adults work full time and parents work full-time in their jobs, as well as full-time as parents. Having the opportunity to take a class if they don't have alternate child care can prove to be impossible. Having child care assistance from family members is a luxury that many don't have and childcare in the form of a paid babysitter is a luxury that many can't afford. Yoga and other classes generally have several costs associated with attending. These can include a yoga mat or yoga mat rental, workout clothes, transportation/parking, and of course the class itself. All of these limit the accessibility of studio classes.
When it comes to onsite childcare, the most recent list I found included seven gyms who offer this service. Of those seven gyms, two are closed, one gym is only available on weekends, and one gym only provides care for children up to 3-years-old. LifeTime Fitness has the clearest child care offering, with an age breakdown that's inclusive of babies starting at 3-months-old to 11-year-olds, they also list daily activities, and pricing for daily and monthly memberships. 
Access to digital fitness
When thinking of the alternative of virtual classes, a major block to accessibility is online access. There's a lack of internet availability in some neighborhoods and the cost is unaffordable for some. One in five Chicago families do not have access to the Internet. That's a lot of people without access when you add that to the 18 million Americans in mostly rural areas that the Brookings Institute reports are without access to any broadband network at all.
For access to virtual classes, there's an awesome service for anyone who qualifies in Chicago. Chicago Public Schools offers high speed internet access to low-income families for free through their Chicago Connected program. This program was created as a long-term solution for the families without access to the internet. These rates are much higher in predominantly Black and Latino neighborhoods in the city. 
More wellness resources should be available in minority neighborhoods. This Black History month, I challenge everyone to reflect on different ways you can help address this issue.
Here are some ideas for where to start: 
Call your city's Parks Department and ask about programs in minority neighborhoods and their child care options.
Find wellness businesses in those neighborhoods and go to them, learning more about the owner and the programs that they offer. Supporting wellness businesses in underserved areas can contribute to their growth and can help fund these programs.
Know of a wellness program you want to support during Black History Month? Share them in the comments.