Holiday Cookie Recipe Round-Up
It is officially the most wonderful time of the year! Besides holiday shopping, you may be researching recipes for your annual cookie exchange. Whether you're looking for a dairy-free cookie, a gluten-free cookie, a sugar-free cookie, or anything in between, we've got you covered. Here is our holiday cookie recipe round-up.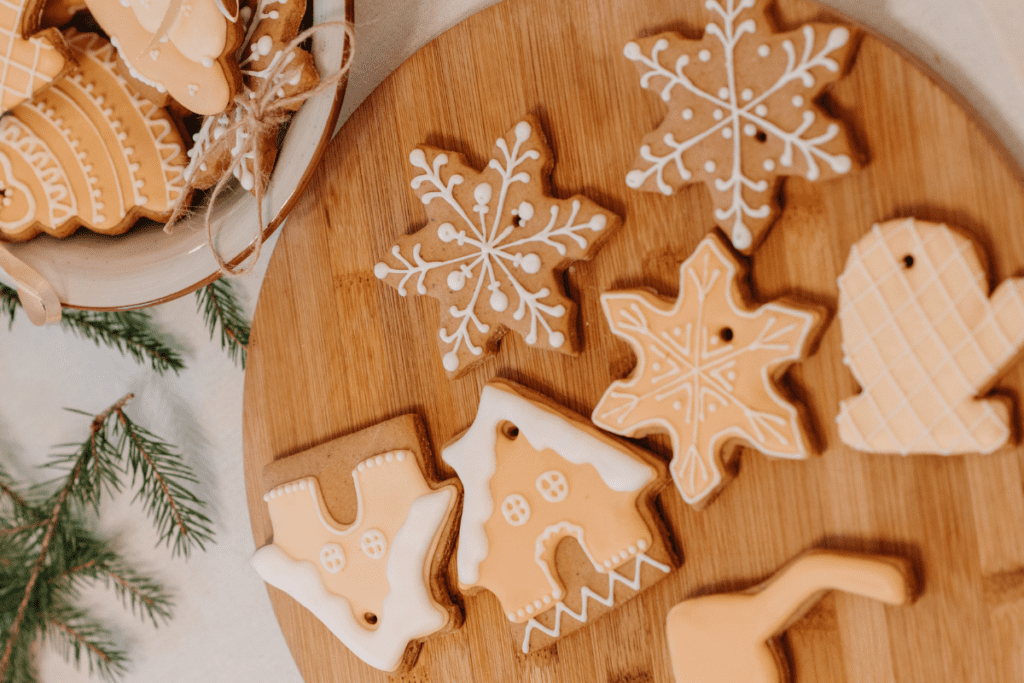 Dairy-free cookie dough recipes
According to the FDA, dairy products, like eggs and milk, are two of the top culprits that are responsible for food allergies, so it is no surprise why many consumers are switching to dairy-free recipes.
Eggs and milk seem to be the bread and butter of holiday cookie recipes (pun intended). But, there are an array of dairy-free cookie recipes we can still enjoy.
Here are some of our favorite dairy-free cookie dough recipes that just so happen to be super festive. 
Gluten-free cookie recipes
Another source of inflammation is gluten. Whether you're celiac, gluten-intolerant, or simply prefer to avoid gluten, you can have your Christmas cookies and eat them too. (Just so long as they are gluten-free).

For a traditional take on gingerbread men, try these Gluten-Free Gingerbread Cookies. Or if you want to channel the wintery vibes of the season, whip up a batch of these Gluten-Free Snowball Cookies. Don't forget holiday classics like Ginger Cookies or  Snickerdoodle Cookies.
High protein or protein-packed cookie dough recipes
Protein is considered the building block for life because every cell in the human body contains protein. Protein is composed of amino acids, which the body needs in large amounts to maintain good health. Even if you're not an Olympic athlete, protein is essential for proper health and optimal nutrition.
Many of us find creative ways to sneak more protein into our daily meals and snacks. But for a source of protein that's way more fun than a shake, try Gluten-Free Cookies with Cashew Butter Icing or Cinnamon Roll Protein Sugar Cookies. If you prefer holiday brownies over cookies, why not try these Protein Pumpkin Brownies.
Keto cookie dough recipes
The Ketogenic Diet consists of eating a diet high in quality fats (about 180+ grams of healthy fats per day), moderate amounts of protein, and very few carbohydrates. Cookies are not commonly Keto-approved, but you can get creative and combine Keto with cookies.
I mean hello, look at these Keto Chocolate Chip Cookies or these Macadamia Nut Butter Cookies. How about these Keto Sugar Cookies? (Yum!)
If you are baking for one, try this Peanut Butter Cookie Skillet. Still all about brownies? You're in luck because here are some Vegan Keto Brownies (you're welcome).
Natural sugar cookie recipes
Like dairy and gluten, sugar is known to be inflammatory, which is why we recommend enjoying it in moderation. Natural sugars like agave, honey, or maple syrup may potentially have more health benefits than processed sweeteners like white sugar. However, the body still processes them as sugar.
I don't know about you, but when I have a sweet treat that's made with natural sugar, I don't feel the (negative) effects of sugar as much. If you are looking to swap traditional sugar for a more mindful natural sugar, try these No-Bake Chocolate Oatmeal Peanut Butter Cookies, which are also gluten-free.
For sugar-free cookies, bake up a batch of these Healthy Pumpkin Oatmeal Cookies. If you prefer a subtle sweetness to these cookies, add a little natural sweetener like honey or maple syrup.
Plant-based cookie recipes
As many people begin to eat less meat, plant-based foods are growing in popularity. That means finding ways to still enjoy beloved favorites like cookies.
Not a super skilled baker? Brands like Simple Mills offer cookie mixes made from a combination of blended plant-based flours like almonds, coconut, and flax seeds. These Triple Chocolate Chip Cookies (paired perfectly with the holiday flavor peppermint) are easier to make than you may think. Plus, they are super delicious.

Looking for more plant-based cookie recipes? Try these Vegan Kitchen Sink Cookies or these Vegan Chewy Chocolate Chip Cookies.
This holiday season, make a more mindful cookie recipe with these functional food recipes. Oh, and don't forget to make enough to share with others, including Santa.