Move Over, Lucky Charms: These Better-For-You Cereals Are Taking Over the Aisle
Sinking your spoon into a bowl of crunchy cereal and plant-based milk is one of the simple pleasures in life. Whether it's for breakfast, lunch or dinner, cereal is a pantry staple, a beloved breakfast classic that brings back all of the warm and fuzzy feelings of childhood nostalgia.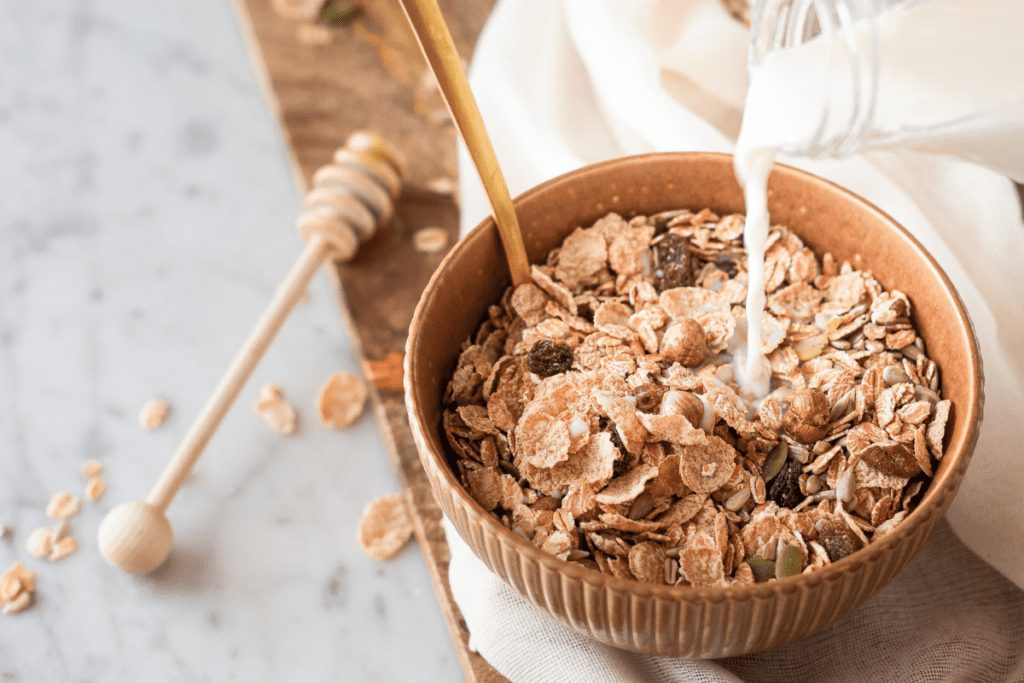 Unfortunately, most traditional cereal options are laden with artificial colors, dyes, and flavors—not to mention a ton of super processed grains and sugar. That is, until now. In a time when brands are becoming more mindful of their ingredients, there's been a resurgence of better-for-you cereals. (Finally!) This is definitely a trend we can get behind.
Why better-for-you cereals are trending
Cereal is one of the first foods we kick to the curb when we vow to eat more mindfully. It's tough to make an argument for a spoonful of sugar masquerading as a nourishing breakfast food.
As we grew up, many of us shifted our focus to ingredients we can actually pronounce and other whole food meal options. This meant that we said so long to that spoonful of sugary cereal. (Darn!) Luckily for us, health food trends have finally reached the depths of the cereal aisle, giving this beloved breakfast staple a much needed makeover.
Holly Klamer, Michigan-based Registered Dietitian Nutritionist (RDN) and writer with MyCrohn's and Colitis Team, shares her insights on healthy cereal brands and the emergence of more low sugar cereal options.
"Many adults grew up eating sugary cereal in the morning and love the taste and nostalgia of cereal. However, they recognize these beloved cereals are high in sugar, low in fiber and low in protein. This combination leads to a blood sugar spike and soon after crash leaving you feeling hungry again. Being able to eat delicious cereal that is lower in sugar, higher in fiber and protein means you can enjoy the taste without the spike and crash of blood sugar."

Today, brands are offering low sugar cereal options that taste delicious and are made with nutrient-rich ingredients. Whether you are all about ancient grains, going gluten and grain-free, or you prefer probiotics and protein, then odds are there is a healthy cereal brand for you to explore. What are you waiting for? Grab a cereal bowl and spoon and dive into some of these healthy cereal brands and low sugar cereal options.
10 best healthy cereal brands and low sugar cereals
Catalina Crunch

Using only the highest-quality, all natural ingredients, Catalina Crunch blends seven plant proteins and fibers together. Designed to keep your stomach satiated and your taste buds satisfied, this combination of ingredients promotes gut health. Gluten-free, grain-free and Keto-friendly, Catalina Crunch is 100% Vegan, Non-GMO and does not include any artificial ingredients or sugar.  
Food for Life

Brittany Lubeck, registered dietitian and consultant for Oh So Spotless, says, "Their sprouted whole grain Ezekiel cereals include lentils and soybeans for plant-based protein and as little as one gram of added sugar per serving."
Kashi

Lubeck continues and touts the nutrition provided by the this healthy cereal brand. "These whole food, plant-based cereals are loaded with B vitamins, fiber, and whole grains. Some of their products are also high in protein and free from soy."
Lovebird
Rise and fly with Lovebird Cereal. Made with organic cassava root, this prebiotic root vegetable is high in resistant starch that better supports gut and metabolic health. Dairy-free, gluten-free, and grain-free Lovebird Cereal is sweetened by nature not science and is free of refined sugar. It is also Paleo, Whole30 and AIP elimination stage compliant.
Love Grown

These cereals include plant-based protein from beans, brown rice and other whole grains. High protein, low carb options are also available.
Magic Spoon
Whether you are living a low carb lifestyle or following a Ketogenic diet, Magic Spoon Cereal is a grain-free cereal that only has three grams of net carbs and is packed with 11 grams of complete protein. Plus, it is flavored with all natural ingredients and leaves out any artificial add-ins. It's so good, it's like magic! 
Nature's Path
Their cereals are always non-GMO and organic so you can feel good about the ingredients inside. "They also offer exciting options that include omega-3 containing flaxseeds as well as berries, pumpkin seeds and turmeric, " says Lubeck. Yum!
Purely Elizabeth

If you like to eat granola with milk, Purely Elizabeth has several options, with the first ingredient listed is whole grain oats. "These granolas are also low in added sugar and include coconut oil, high fiber chia seeds, and quinoa," mentions Lubeck.
Schoolyard Snacks

Break up with carbs and sugar with Schoolyard Snacks, which offers a low carb Keto cereal. Although your palette may have become more refined as you have grown up, channel your inner child back in the schoolyard or on the playground and choose from some all timeless classic flavors like Cinnamon Bun, Cocoa, Cookies and Cream, Fruity or Peanut Butter. Yum!
Three Wishes

Want three wishes? You will only need one when you sink your spoon into a bowl of Three Wishes Cereal. This gluten-free and grain-free cereal features a combination of chickpeas and pea protein to create a low sugar cereal you will be wishing for every day. 
As healthy cereal brands continue to offer better for you cereal options with more low sugar cereals to choose from, we can continue to enjoy the fun flavors of our childhood while also embracing the nutrition goals of adulthood. We will raise our cereal spoon to that!