[CLOSED] Enter for a Chance to Win One of 10 $150 CBD Sleep Wellness Packages from Sunday Scaries!
This giveaway is now closed. Congrats to our winners, listed below!
The only thing worse than Sunday scaries? Monday scaries, a.k.a. the pit of dread in your stomach that comes on the Monday of a long holiday weekend. After a few days of lounging, chilling out maxing with family and friends, and letting your sense of adventure guide you, you're staring down the barrel of an Adult Day. If you're anything like us, it's enough to make you lose sleep at night. 
Unless, of course, you've got the latest from Sunday Scaries: Big Spoon, a vanilla cream CBD and CDN sleep oil formulated specifically for the kind of sleep you only get as the little spoon.
Let's put the droolworthiness of vanilla cream-flavored anything aside for a second and focus on the science of CBD and sleep. Early research suggests that CBD can help treat insomnia and certain sleep behavior disorders. With that in mind, we'll gladly sub out counting sheep for a dropper of CBD sleep oil any night.
And what about that other little component, CBN? If it's new to you, it won't be for long. It's one of the 100 or so cannabinoids found in the cannabis plant, and there are indications that CBN is a powerful sedative that can prolong sleep time.
Plus, this nifty little sleep oil makes every ingredient count. Beyond CBD and CBN, Big Spoon contains several sleep enhancing ingredients, like 5-HTP, Chamomile, GABA, L-Theanine, Lemon Balm and Valerian Root. Sign us up for more ZZZZZZs.
But wait, there's more! Are you one of those people who closes their eyes and instantly thinks about every awkward encounter or flubbed presentation they've ever had in their life? (We are, in fact, those people.) Since studies suggest CBD can be an effective treatment for anxiety, making Big Spoon part of your routine might lessen those pre-sleep stress sessions.
Could your bedtime routine use a little more chill? Here's where it gets good. We're partnering with Sunday Scaries to give away 10 prize packages, each consisting of 2 bottles of Big Spoon CBD sleep oil and 1 limited edition Sunday Scaries hat that you'll be wearing all summer long. Keep one bottle of Big Spoon for yourself, and share one with a roommate, a friend, or whoever hogs all your covers on the coldest nights. Or hey, keep both bottles for yourself—we'll never know.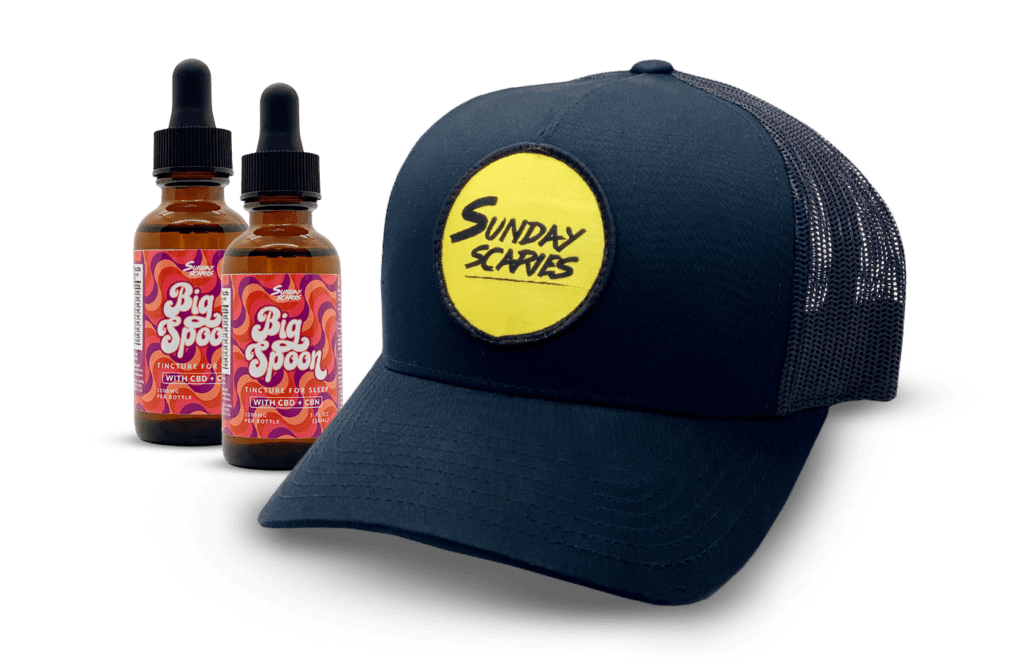 We'll choose 10 total winners, and this giveaway closes 6/20. Enter below!