3 Ways to Use Your Potli Apple Cider Vinegar
This post was written in partnership with Potli as part of our partnership for Take A Mental Health Day. Sign up for Take A Mental Health Day here and receive a coupon for a free bottle of Potli's CBD Apple Cider Vinegar, a $28 value!
Apple cider vinegar has a long list of health benefits, from improving metabolism to lowering blood sugar levels. Potli's Awaken Apple Cider Vinegar takes those benefits one step further by incorporating CBD to reduce anxiety and stress, ease pain and reduce inflammation, and promote restful sleep. Sure, you could incorporate ACV into your diet the no-frills ways—taking it as a shot or mixing it with water—but the distinctly strong taste of apple cider vinegar lends itself to use in several other formats that are more delicious to boot. Here are our three favorite recipes that use apple cider vinegar.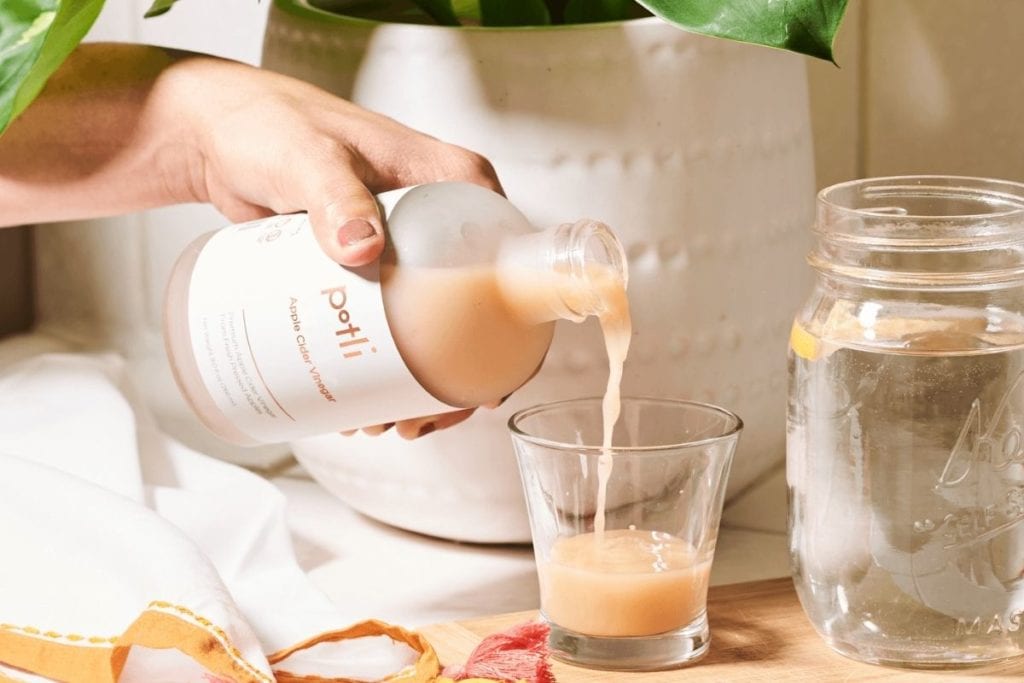 A light, citrusy salad dressing
Apple cider vinegar has a naturally bright, acidic taste, which blends perfectly in a salad dressing. We find an ACV-based salad dressing goes especially well with a citrus-forward salad, or as a lighter component to a hearty grain bowl.
Try this apple cider vinegar salad dressing recipe, adapted from The Kitchn:
Ingredients:
Zest of one orange
3 Tbsp orange juice
1/4 cup extra virgin olive oil
2 teaspoons Potli Awaken Apple Cider Vinegar
1/2 teaspoon honey or agave nectar
1/2 teaspoon coriander seeds, toasted and lightly crushed
1/2 teaspoon salt
Freshly ground black pepper
1/4 cup chopped cilantro
In a small bowl, whisk together all ingredients and adjust to taste.
Pickled red onions
Pickled red onions are one of our all-time favorite "extras" to add on to any food, whether it's avocado toast, a burrito bowl, or on a veggie burger. In any pickling, vinegar plays a key component in increasing the veggie's acidity and preserving it. Here's a super quick way to make pickled red onions at home with apple cider vinegar, adapted from Bon Appetit:
Ingredients:
½ cup Potli Awaken Apple Cider Vinegar
1 ½ tablespoons sugar
1 ½ teaspoons fine sea salt
¼ teaspoon red pepper flakes (optional, for heat)
1 medium red onion, very thinly sliced
Whisk first 3 ingredients (including red pepper flakes, if using) and 1 cup water in a small bowl until sugar and salt dissolve. Place onion in a jar; pour vinegar mixture over. Let sit at room temperature for 1 hour.
Turmeric face mask
A face mask made of ingredients you probably already have in your pantry? Yes, please. This brightening face mask features turmeric, another superpowered ingredient, combined with Greek yogurt and honey for deep hydration. ACV is a natural astringent, which makes it super effective on oily skin—and when combined with CBD, you're looking at even more anti-inflammatory benefits. Here's how to DIY a turmeric apple cider vinegar face mask, adapted from The Stripe:
Ingredients:
1 teaspoon Greek yogurt
1/2 teaspoon honey
1/2 teaspoon turmeric powder
3 drops of Potli Awaken Apple Cider Vinegar
Combine all ingredients in a small bowl and mix together. Use a paintbrush or your fingers to apply, avoiding the eye area. Leave on until completely dry (about 15-20 minutes) and gently remove with warm water. Careful—the turmeric may stain your fingers or washcloth, so wash your hands right after and use a washcloth you don't care about too much.