aSweatLife Digital: At-Home Workouts & Workshops for the Week of May 25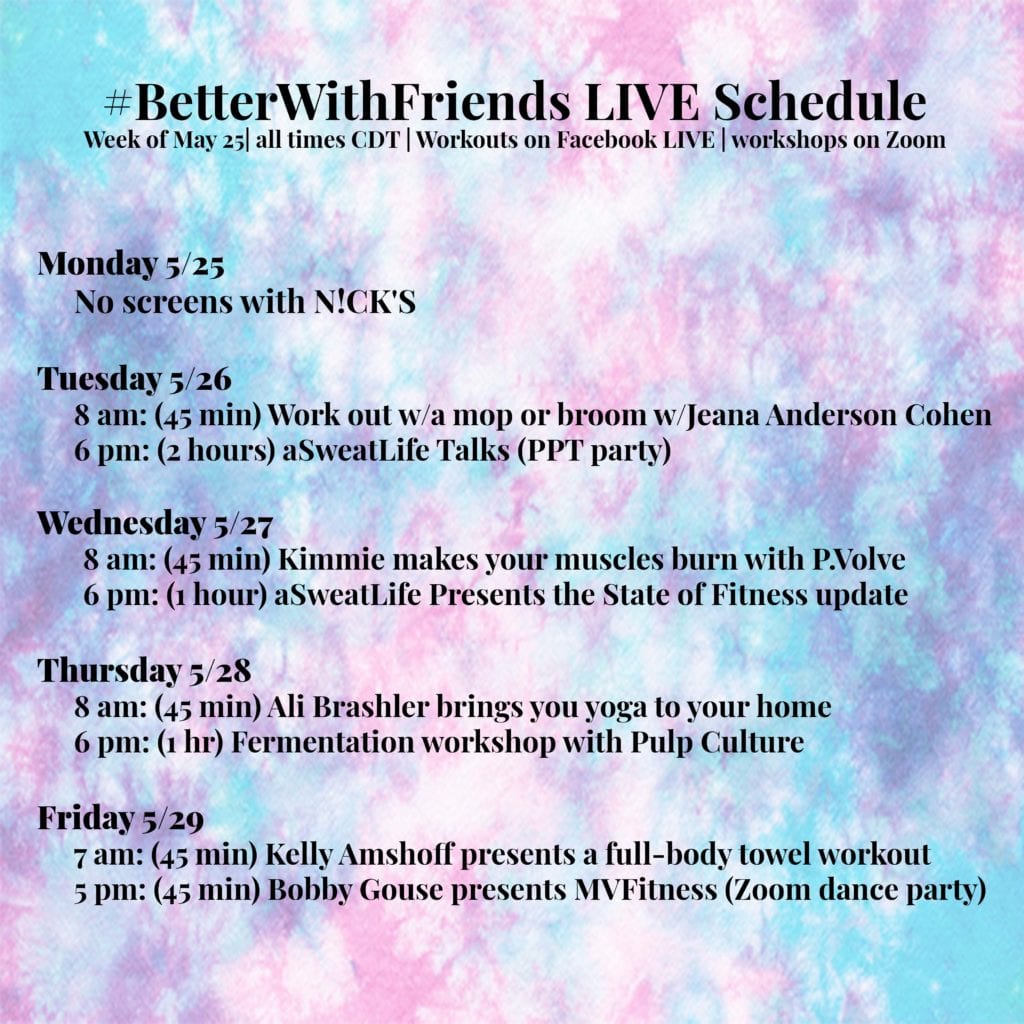 Next week starts a little differently than usual. We're starting off Memorial Day by taking a fully offline day with N!CK'S Swedish-style ice cream.
What does that mean for you? That means we're not putting anything on the Internet for an entire day (Memorial Day, May 25) to give your eyes, brain and body a break. Don't worry – we have a full list of things you can do without a screen in front of your face.
That's not to say that we don't have a lot planned for you the rest of the first unofficial (albeit, weird) week of summer. You'll find morning workouts, another Zoom dance happy hour to close out your week, a stage for YOU to share your silly/fun/obscure ideas, an evening when we'll present our updated findings from the State of Fitness survey, and a fermentation workshop (because if you're making bread now, you might as well make your own pickles too).
workshops
5/26 at 6 pm: Show off the silliest things you know at our PowerPoint Party!
Want to present? Fill out this Google Form, stat! If you immediately dozed off when you read the word "PowerPoint," think again. With lots of free time to ruminate on our most rambling thoughts, we're finding ourselves with a lot of passionate opinions that we need to share with the world. Like, what's the best TV intro song/montage of all time? Do you know the complete history of weird celebrity baby names? What would you pack if you were cast on Survivor? Is a hotdog a sandwich?
We're inviting you to share your hottest takes, your most random areas of expertise, and your most closely-held beliefs at our first-ever PowerPoint Party.
5/27 at 6 pm: aSweatLife Presents our findings from the State of Fitness Addendum
When we ran our annual State of Fitness survey back in January (aka 87 years ago), we had no idea how much the industry—and the world—would change just a few short months later.
Now, as we're starting to explore reopening, we found ourselves really curious about how fitness habits have changed (or not) in response to the pandemic. So, we decided to remix the State of Fitness survey—COVID style.
With over 1,000 responses, we've learned a LOT about fitness habits during the pandemic: how much people are spending right now, who's spent money on home fitness equipment, how people are sweating, and what new things they're trying. It's a lot of information, and it's all fascinating.
This webinar is for anyone who has an interest in fitness—gym and studio owners, boutique die-hards, runners and Zumba enthusiasts alike. We'll share our findings and enjoy a lively group discussion about what resonates and what surprises us.
5/28 at 6 pm: Join a fermentation workshop with Pulp Culture
Fermentation is so hot right now. From kombucha to kefir, miso, pickles, sourdough and of course booze, the process has been applied to tons of different foods and beverages. So what is all the fuss (or fizz) all about? Bacteria! Fermented products contain probiotics which have a ton of health benefits, especially for your gut. But the often sour smell, strange bubbles and idea of consuming something that is…old can be intimidating.
On Thursday, May 28, we are bringing in fermentation expert Pete Clausen, Director of Production at Pulp Culture and 101 Cider House, to help us understand what fermentation is, how it is done, how to safely consume fermented products and make our own fermented hot sauce! Pete has been working with fermentation for over 5 years and most recently, he joined Pulp Culture, probably the most innovative beverage we've seen in…well ever. They naturally ferment cold pressed juice for three months, add adaptogenic teas, herbal infusions, super mushrooms and a little fizz to create a clean alcoholic drink with no sugar and no carbs. We cannot wait to ask Pete lots of questions. And bonus, Pulp Culture will be providing all participants with an exclusive discount code AND doing a giveaway!
Workouts
As always, almost all workouts take place on aSweatLife's Facebook page! Hungry for more? We have a HUGE library of workouts on our Facebook video library.
5/26
8 am: Work out w/a mop or broom w/Jeana Anderson Cohen
5/27
8 am: Kimmie makes your muscles burn with P.Volve
5/28
8 am: Ali Brashler brings yoga to your home
5/29
7 am: Kelly Amshoff presents a full-body towel workout
5 pm: Bobby Gouse presents MVFitness (Zoom dance party)