This post was written in partnership with ZYN. As always, we only write about products and brands we truly love! Want to try ZYN for yourself? Get 25% off using this link or with code "asweatlife" at checkout!
On the hunt for the next superfood, adaptogen, or buzzy ingredient? Look no further than curcumin—which, now that we think about it, isn't a "new" ingredient at all. Here's what to know about curcumin, the main bioactive ingredient in turmeric.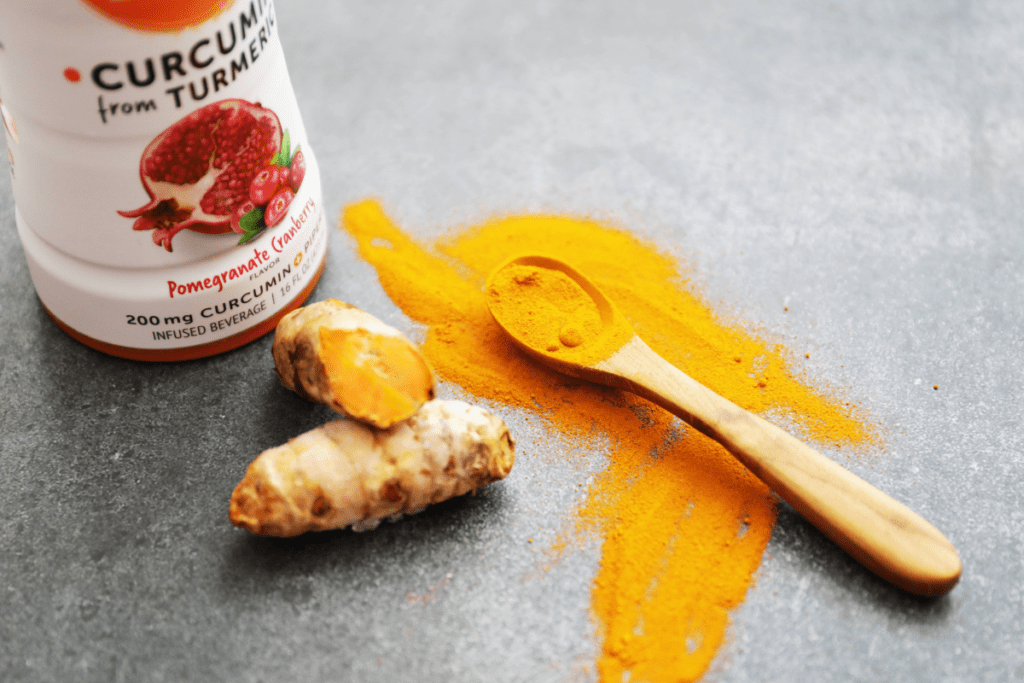 What is curcumin?
"Curcumin is a powerful anti-inflammatory compound in turmeric that's responsible for turmeric's health benefits," explains Asim Khan, co-founder of ZYN curcumin-infused beverages. "It's the bioactive ingredient in turmeric and gives turmeric its golden-orange color."
You might not know that turmeric has over 300 different compounds in it—ones you've heard of before, like iron, potassium, and zinc. But curcumin is the source of turmeric's anti-inflammatory properties. And with over 37,000 (and counting) scientific, medical and academic research papers written on the benefits of curcumin, expect to see more and more buzz around the compound (especially as we enter cold and flu season—more on that below).
What are the benefits of curcumin?
Khan immediately points to the anti-inflammatory properties as the must-know benefit of curcumin.
"The reason that's so critical is because inflammation (according to science, ancient wisdom, and even Harvard Medical School) is the underlying unifying theory behind what causes ailments in the human body," Khan explains. "For example, cancer starts with inflammation of the underlying tissue, which leads to that tissue deteriorating. In sports, soreness is an inflammation condition. Arthritis is inflammation. Basically, inflammation is the root cause of many conditions developed over time— from diabetes to ulcerative colitis to Crohn's and more."
Those anti-inflammatory properties of curcumin make ZYN a popular recovery drink among professional and collegiate sports teams, says Khan.
"ZYN has taken off tremendously with professional football in particular," he shares, explaining that ZYN sends product directly to various training facilities across the country.
Currently, the U.S. Army uses curcumin to treat post-traumatic stress disorder, and the Mayo Clinic is also conducting clinical trials on the benefits of curcumin. Plus, the Olympic Training Centre in Barcelona has conducted studies on the effect curcumin has on athletes' knees. With such influential groups devoting more research to curcumin, you can expect to be hearing much more about this bioactive ingredient in the future.
In addition (and more relevant now than ever), curcumin is great for your immune system.
"Curcumin is an immunity-booster with anti-infective and anti-microbial properties," says Khan, pointing out that a lot of Indian mothers give their kids turmeric at the first sign of a cold or flu.
Curcumin and Ayurveda
In fact, that homespun remedy inspired Khan and his brother, Qasim, to co-found ZYN in the first place.
"My mom has been cooking with turmeric every day forever," Khan shares. "When we played sports in high school and got injured, my grandma would make a turmeric and olive oil paste to help reduce that pain, swelling, and inflammation."
And on a 2016 trip to Pakistan to visit family, the Khan brothers' father was suffering from diabetic nerve pain in his foot after the long flight over. Their aunt made that turmeric and olive oil paste and applied it to their father's foot, and the pain was gone within an hour. The Khan brothers realized that they wanted to share turmeric with the world, and specifically the healing powers of curcumin; and so, ZYN was born.
"We are part of a rapidly growing movement that views food as medicine," Khan explains. "In our culture, you don't treat symptoms, you treat the root cause. We want to help our customers live a happy, healthy, clean, and simple lifestyle, so you don't have to buy a bunch of pharmaceuticals down the road."
Pair curcumin with this for maximum benefits
If you're already a fan of turmeric lattes, you might know this already—but in order for your body to absorb turmeric, it needs to be paired with an additive.
In ZYN, that additive is piperine, the bio-active ingredient in black pepper.
"Curcumin is not bio-available, so your body's absorption of it is very low," Khan explains. "Oil and ghee help us absorb the health benefits of turmeric. You can't just eat 15 turmeric roots a day; you have to combine it with other ingredients to increase absorption. Piperine increases absorption by 2,000 percent."
How to enjoy curcumin in your daily diet
According to Khan, the recommended daily value of turmeric is 200 mg per day, which he says is the cultural norm in South Asia.
"On average, people in India, Pakistan, and other Asian countries have that much turmeric on a daily basis, in curries, golden milk, and other dishes," he says.
If you're a fan of Alison Roman, her Internet-famous recipe #TheStew features plenty of turmeric, paired with crisped chickpeas and a creamy coconut milk base. Or, if you're looking to add something soothing to your nighttime routine, golden milk only takes a few minutes to make and requires just a few simple ingredients you probably already have.
And for those in-between times, a beverage like ZYN is easy to grab on the go and enjoy wherever you are.
"ZYN has 200 mg of curcumin in every bottle, which is equivalent to ingesting anywhere from ten to fifteen turmeric roots," says Khan.
Want to try ZYN for yourself? Get 25% off using this link or with code "asweatlife" at checkout!