3 Ways to Protect Your Skin This Summer
By now, you've probably heard of melanoma – the most dangerous type of skin cancer that has a tendency to grow and spread quickly. Maybe you've even assumed that certain skin tones and BIPOC aren't as susceptible to skin cancer as Caucasians are. Unfortunately, that's a dangerous (and maybe even deadly) assumption to make.
For example, the legendary singer/songwriter Bob Marley died of Melanoma skin cancer when he was only 36 years young. Marley found a strange dark spot under his toenail that he thought was an injury from playing soccer. Unfortunately, it was an acral lentiginous melanoma.
My mother is a two-time melanoma skin cancer survivor. Unfortunately, she tragically lost her older sister, younger brother, and father to melanoma. My mother's light skin tone and family history of skin cancer has made her diligent about sun protection. However, we didn't anticipate that my father, a Cuban-American with an olive complexion, would be at risk. After seeing the incredible loss of my mother's family, he began regularly seeing a dermatologist who found and safely removed a melanoma.
With that in mind, here's how to protect your skin from the sun, no matter what your skin tone looks like.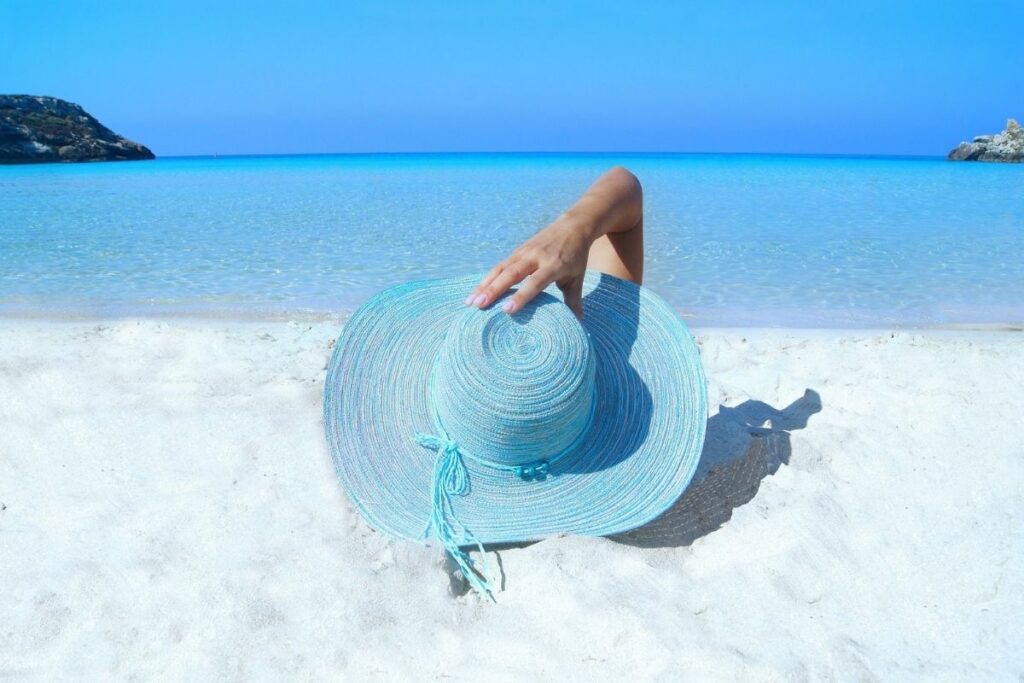 Stay in the shade during peak sun hours
All along the European coasts during the summer months, you can find the crystal clear pebble beaches packed with Europeans on holiday. Beach towels overlap with umbrellas and very little clothing is worn. Europeans rarely wear sun shirts primarily because they stay out of the sun during peak hours. But around noon the beaches clear out and stay clear until late in the afternoon. Where does everyone go?
They typically go inside or in the shade to have lunch, rest, and hide from the sun. From noon to early afternoon, the sun is at its highest point and is the most intense. A daily dose of Vitamin D is a vital nutrient for your body; however, if you're going to have fun in the sun, be sun smart.
Next time you're planning a beach vacation, try to get to the beach early in the morning to get a good beach chair and avoid the extreme UV rays. Try to take a sun break for lunch (or at least find shade), or maybe "siesta" and come back to the beach in the late afternoon until sunset. Sounds like a pretty perfect beach day to me!
Cover up as much as you can
There will be times when you cannot avoid the peak sun hours. In those cases, it's best to cover up. Sun hats, sun shirts, sunglasses and of course the right sunblock are your best weapons against melanoma.
The sun is not only deadly in the case of skin cancers, but it ages you! So if melanoma doesn't scare you, wrinkles might! The sun is 10 times more likely to cause wrinkles and dark spots to appear faster – who wants that?
See a dermatologist annually
Lastly, find a dermatologist and schedule annual skin screenings. Skin cancer can show up in unlikely places – like Bob Marley's toe nail – including your scalp, behind your ears, in between fingers/toes and also "where the sun don't shine!" It is best to have a doctor examine you literally from head to toe annually for early detection and prevention. 
After losing so many family members to this deadly yet avoidable skin cancer, my mother and I decided we needed to do something. In hopes of saving lives and educating families about the dangers of melanoma, my mother and I are starting the "Sun Can fund." The Sun Cancer Foundation is dedicated to educating families and individuals about how to safely have fun in the sun, the dangers of melanoma skin cancer, and raising funds for research to find a cure. Now that you know how to protect yourself from melanoma, pass on this info to your own loved ones. It could potentially save their lives.