Red, White and Blue Recipes for July 4th
One of the best parts about the summer season is celebrating the Fourth of July holiday. The Fourth of July is synonymous with family, fireworks, and Fourth of July foods. Can it get any better than that? Whether you are celebrating America's birthday at a backyard BBQ, at the beach, or on a boat, here are five July 4th recipes to help you honor the stars and stripes.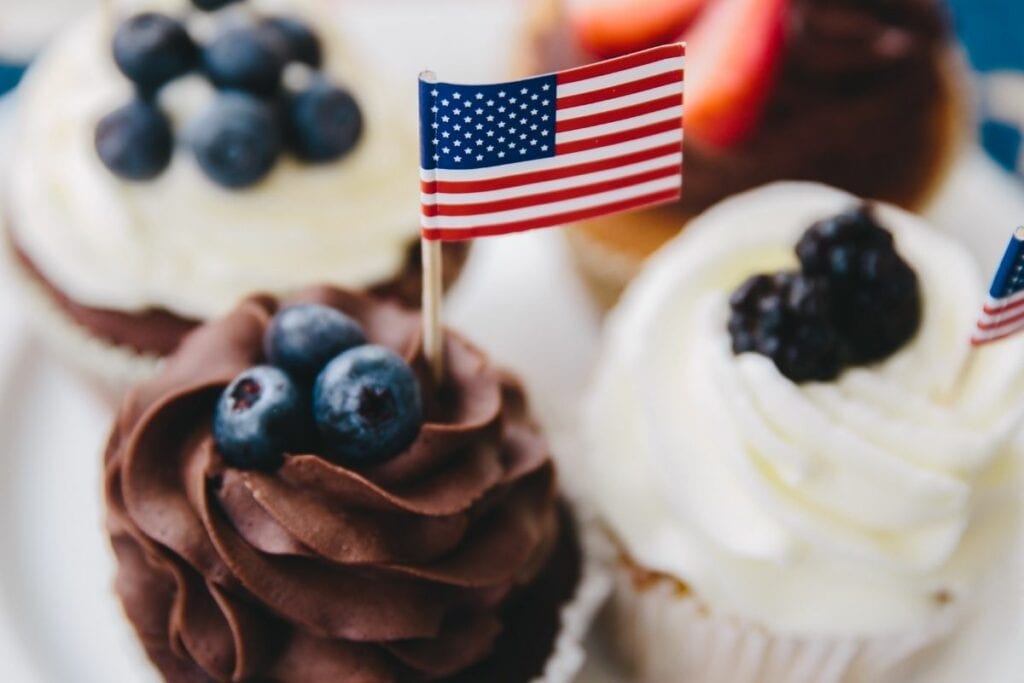 American flag brownies
This Fourth of July, bake up a batch of homemade brownies using this July 4th recipe for American Flag Brownies. Chocolate brownies act as a base while creamy vanilla frosting creates a blank canvas for an array of fresh blueberries and strawberries making the ultimate Fourth of July food. You can also do this with cupcakes.

If you have extra blueberries and strawberries, try these red, white and blue Cake and Fruit Kabobs or these red, white, and blue Cupcakes on the Grill. Some other Fourth of July foods that are perfect for all of your July 4th recipes are these patriotic Pull-Apart Cupcakes and this layered Vegan Cheesecake, which is also great for Memorial Day or any other patriotic holiday.
Berry bundt cake
July 4th recipes are easy as pie with this recipe for Berry Bundt Cake. White chocolate drizzle covers an almond and coconut flour-based bundt cake, which is then topped with fresh blueberries, raspberries, and strawberries. Created by Annie from Keto Focused, this recipe is Keto-friendly and can be enjoyed by all of your Fourth of July party guests no matter what their dietary preferences.
Fourth of July fruit salad
Take advantage of the bounty of the summer season and make an easy July 4th fruit salad. Gather red, white, and blue fruits, then drizzle with honey and a squeeze of fresh lime juice. 
Red fruits. Cherries, raspberries, strawberries, and watermelon.
White fruits. Dragon fruit, white melons (or try a light green honeydew), and white peaches. (Apparently, those are a thing).
Blue fruits. Blackberries and blueberries.
Serve in a bowl or create a super simple summertime fruit bruschetta and serve with a plant-based bread or cracker. Feeling festive? Use a small star-shaped cookie cutter on heartier fruits like honeydews and melons to add a festive flair to these Fourth of July foods.
Patriotic popsicles
The Fourth of July is usually a hot and humid holiday, so beat the heat with cooling foods like these Patriotic Popsicles. Made with creamy coconut milk, fresh blueberries, and raspberries, these patriotic popsicles are perfect for backyard BBQs, cookouts, and patio parties.

If you prefer a bowl of homemade nice cream instead of popsicles, top your basic bowl of vanilla with an array of seasonal summer fruit like fresh blackberries, blueberries, raspberries, and strawberries for a red, white, and blue themed dessert dish.
Red, white and blue strawberries
A super simple July 4th recipe that is one of my favorites because it is so darn easy to make are these Red, White, and Blue Strawberries. Head to a local strawberry farm and pick a fresh basket of strawberries or visit the community farmers market and support local growers in your area with a strawberry purchase. After you have washed and thoroughly dried your summer strawberries, dip them in melted white chocolate and then top the tips with a light coating of blue sprinkles. That's it!
Celebrate the stars and stripes this Fourth of July with these July 4th recipes. Happy birthday America!