Apolla's Founders Created A Sock for Dancers—But They Ended Up With a Sock for Everyone
This post was written in partnership with Apolla Performance. As always, we only write about the products, brands, and experiences we truly love. Try Apolla Performance yourself using promo code ASweatLife.Com5 for 5% off your order.
If you're just skimming the Apolla Performance story, you might assume that the compression socks are made for and worn by only dancers. Products are categorized as "dancer footwear," and the founders speak fondly of their time in the world of professional dance and how it ultimately brought them together.
But throughout our interview with co-founders Bri Zborowski and Kaycee Jones, the two frequently speak about how their products are made for "anyone with feet," and the independent studies that have scientifically shown that their socks reduce force, and their big, audacious goal of getting their socks out to everyone in the world. It's clear that these ambitions go way beyond the insular world of dance.
"Because we come from a history of dance, we talk about dance a lot—but that's not our focus at this point," emphasizes co-founder and COO Kaycee Jones. "We are still here for dancers, but the pandemic gave us an opportunity to review everything we were doing at the time and rebrand and relaunch our company in a direction that is for everyone. Apolla Performance is really focused on beyond the dance world, and that's something we feel like a lot of people don't understand."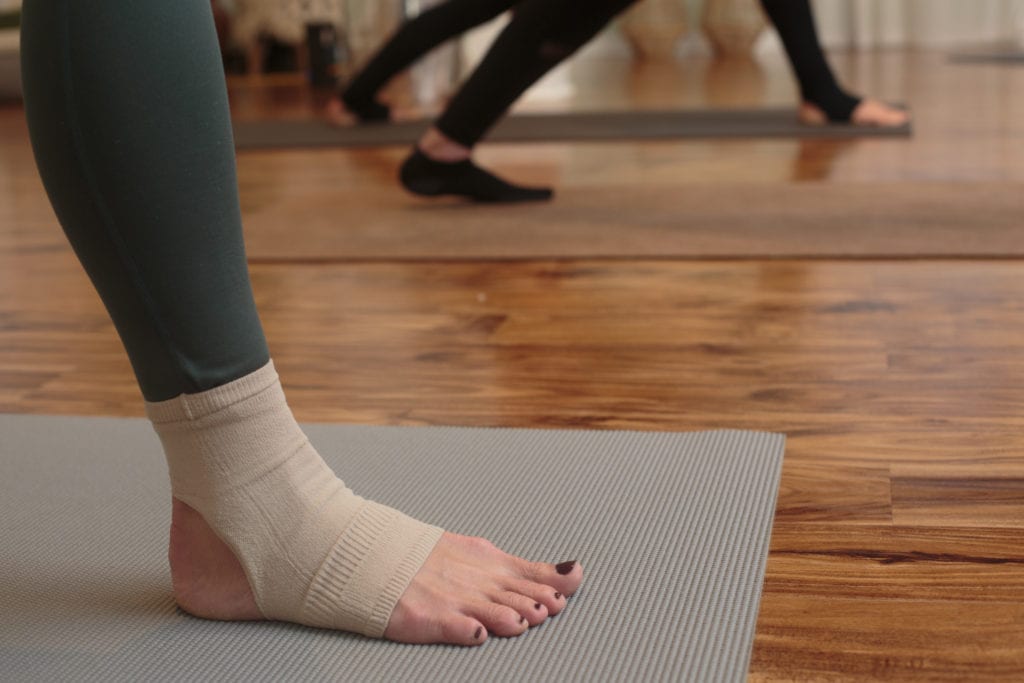 Fate brought the Apolla co-founders together
It seems pre-destined that Zborowski and Jones were going to meet and build something big together. Jones grew up dancing with Zborowski's future husband, and when he brought Zborowski around to meet Jones, Jones says confidently that "I knew Bri was the one for him before he did."
Zborowski, the company's co-founder and CEO, danced competitively throughout her life and taught dance on the side as she worked full-time in corporate real estate. A chance encounter with her future husband inspired her to move to Los Angeles and "do the thing," as she puts it—a light-hearted way of describing the non-stop hustle it takes to try and make it as a professional dancer.
Jones, meanwhile, finished graduate school with a Master's in Kinesiology, where she was inspired to learn about how the body moves outside of just dance. She completed yoga teacher training along with several other fitness certifications, while also holding down a wide variety of careers that would eventually create the perfect backdrop for building Apolla.
"We really felt that our entire journey from the day we met was guided by fate," explains Zborowski.
The lightbulb moment—and beyond
In summer 2014, Zborowski and Jones held their one-year-olds in a small Florida beach town. Jones's husband had been encouraging her to come up with a business idea aimed at the dance world, since she had plenty of experience and a natural network that could help her get far. To hear them tell it, Jones showed Zborowski a fully-built pitch deck for what would become Apolla, right there on the beach.
While Zborowski was hesitant at first, she had a gut feeling that Jones was onto something.
"I've never struggled with injuries, but at the time, I was running a competitive program in Texas with over a thousand kids," shares Zborowski. "I was seeing them being taken out left and right due to injuries. At the same time, doctors didn't really know what to do with dancers. What Kaycee was saying was really resonating with what I was seeing."
Those injuries most often took the form of inflammation, overuse, and repetitive strain; the total number of these kinds of injuries among dancers is more than twice the amount found in football players. At the same time, dance culture is notorious for a "no pain, no gain" mindset that makes it difficult for young dancers to take the time they need to fully recover from an injury.
Jones also notes an interesting distinction here: "Dancers are the only athletes who train for our sport by doing our sport," she points out. "There's very little cross-training."
With that in mind, Zborowski and Jones built their perfect compression sock from the ground up, featuring their "Three A's": Arch support, Ankle stability, energy Absorption, plus customizable traction. The fact that they also made the socks anti-microbial, sweat-wicking, sustainable, and a seal of acceptance from the American Podiatric Medical Association? It's something so amazing you'll have to feel it to believe it.
From dancers to "anyone with feet"
Right from the beginning, Jones and Zborowski realized they had something that could appeal to the masses.
"We focused on providing a product that helped reduce the top cause of dancer injuries: combatting that inflammation with high quality compression and energy absorption, and putting it into footwear that creates a kinetic chain going up the body," says Jones. "We saw a reduction in injuries very quickly when we started testing. We realized this could apply to anyone with feet. Now as we shift outside of dance, we have that proof of how our compression socks work."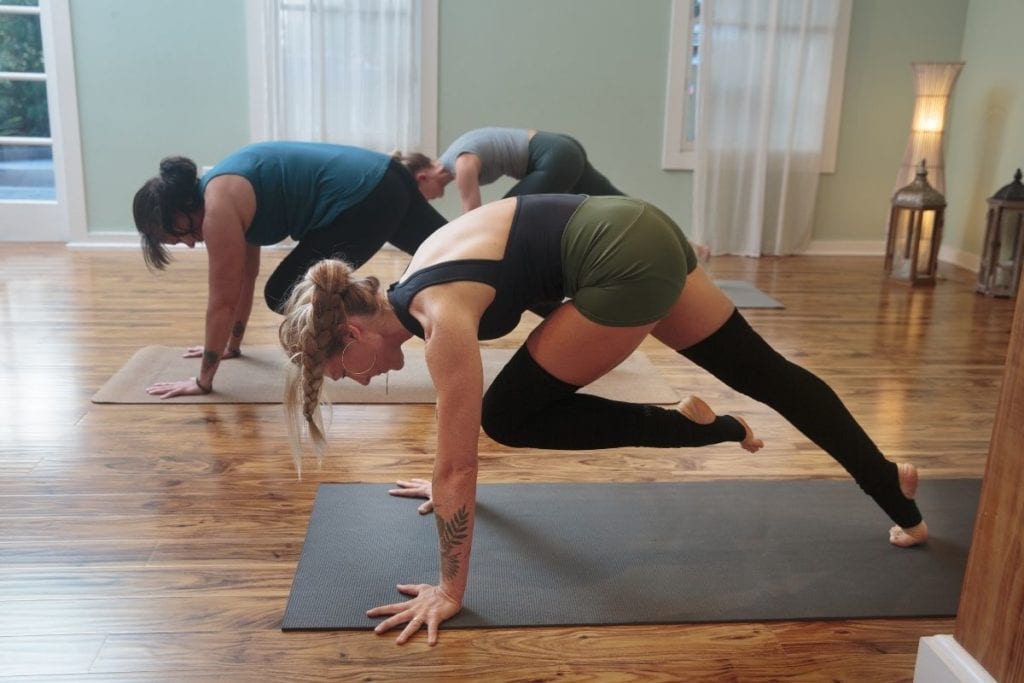 "I think we always knew our socks were for everyone," Zborowski says. "Our intent was to start slow and measured to serve this very specific need. To this point, dance footwear hadn't evolved at all, and we spoke that language very well."
Right away, they noticed that while Apolla was being worn by dancers, parents were the ones buying the compression socks—and the parents were understanding how Apolla could be worn by anyone in the family.
"It was very natural to see parents using it for other family members," says Zborowski. "The feedback was overwhelming right from the jump that this is bigger than just the dancer. As a start-up, you have to choose where you place your focus—we still knew it could be bigger."
Jones jumps in, saying, "Our goal was to saturate the dance world and expand once we really felt we understood how to run a business. We were starting from ground zero- from website to fulfillment to everything, so we started with what we knew."
Becca Russo, a fitness trainer in Chicago, was new to Apolla before trying their socks. Now, she's a total convert who raves about them.
"I am a fitness professional who teaches multiple barefoot and heated formats," she explains. "My biggest dilemma when preparing for class is footwear: I need support, but I don't want to wear athletic shoes, and socks are too slippery. The Joule Ankle Compression Socks have completely solved my problem. They are compressive (but not too tight), supportive (while allowing for freedom and flexibility), and I got a light blush color that goes with everything."
Now, as the team works feverishly to research and develop their new knee-high socks, they're excited to continue expanding into athleisure.
"We want to continue to expand into athleisure and create sustainable, functional garments that help you do more of what you love," Jones says succinctly. "We want to get these out to everyone with feet in the entire world, and continue providing products that are durable, sustainable, and functional."
Apolla offers patented compression socks loved by thousands and trust by top celebrity artists and athletes. Their socks empower you to do more and always feel great. They're driving by a mission to help empower those that need a hand (or a foot) to reach their goals. Because when you have less pain, you can really do more to conquer the world. Try their socks risk-free! If you don't fall in love with them in 14-days and notice the difference, return them for a refund. Use code "aSweatLife.com5" for 5% off your order.
Let us know!
Did this post help you get closer to achieving one of your goals?