6 Post-Pandemic Wellness Trends We Predict We'll See Soon
There's nothing like the threat of a deadly virus and a nightmare of a shut down to make us rethink the importance of health and wellness. It's no longer about just working out three days a week or avoiding carbs for example; now, many of us are holistically approaching major lifestyle changes.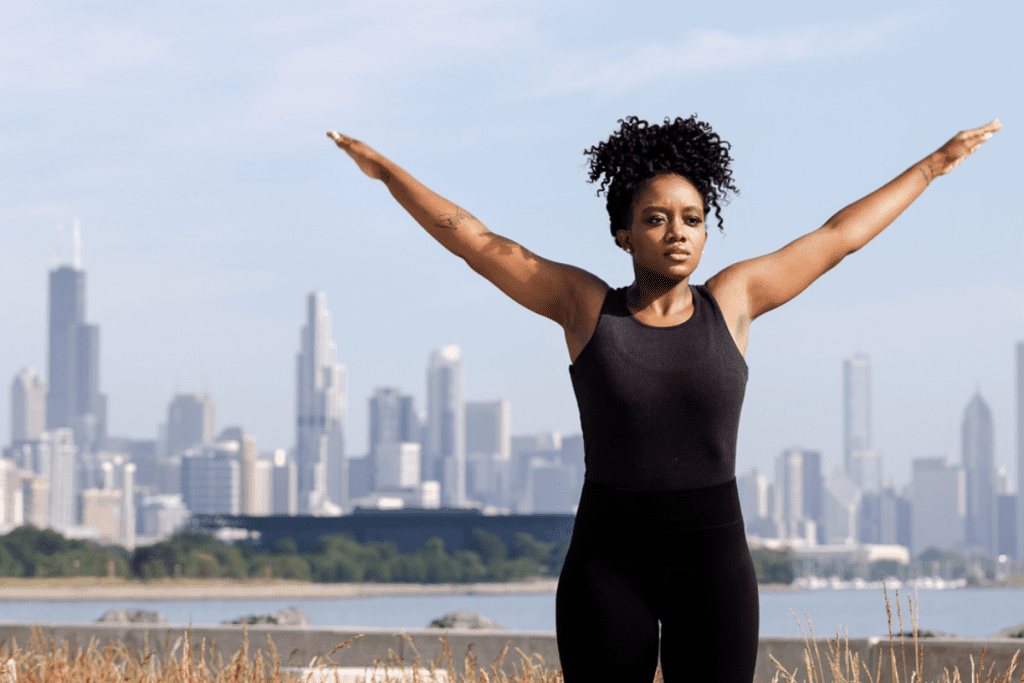 And while every person on earth wants this to be over with, sadly without a vaccine or "cure," we're still kind of stuck in the middle. The tired cliché, the only thing that remains the same is change, couldn't be truer right now.
Here's how wellness has changed during the pandemic and some wellness trend predictions about how it will continue to change in the coming months and likely, years.
We're saying bye-bye to booze
Okay, not completely. While many people came to the realization that White Claw Variety Pack #2 was the superior choice (or maybe that was just me…), there's been a major shift of forgoing alcohol for healthier options, but served up like a fancy drink. One way we've seen this is influencers like Lauren Elizabeth drinking kombucha from a wine glass on Instagram.
While Elizabeth is openly sober, according to Holly Lyman (the founder of Wild Tonic Jun Kombucha), you don't have to be a teetotaler to be on board with this trend.
"With so much more focus on health and wellness, many are exploring better-for-you alternatives to wine or beer," she explains. "With kombucha offerings on the rise in mainstream markets, we have already seen, and project even more, significant growth in the category due to increased awareness, education, and accessibility. This summer, consumers discovered Wild Tonic in record numbers."
Wild Tonic is Jun Kombucha, which is a cousin of traditional kombucha. Lyman describes the flavor as the champagne of kombucha. I think it's fruitier but less sweet and vinegary than many regular kombuchas I've tried. That's because it's fermented using raw honey instead of cane sugar, resulting in a flavor that Lyman says is "more delicate, bubbly, and refreshing."
While not everyone drinks kombucha, one major wellness trend prediction is that fancy non-alcoholic beverages are likely to continue increasing in popularity. 
We're being more mindful of our immune systems
Sorry to be the bearer of bad news, but it's probably going to be a bad cold and flu season. When we live our normal lives, not wearing masks, practicing social distancing, or using hand sanitizer all the time, we get exposed to germs and develop an immunity. Because we're all really susceptible right now, making sure our immune systems are in tiptop shape is a must.
According to Dr. Marc Ronert, founder of Hush & Hush, we're all just doing our best.
"We will all continue to do what we can to reduce the risk of COVID, like washing our hands, wearing masks, and social distancing," he remarks. "But I think, in general, there is going to be a much larger emphasis on overall protection and mitigating stress."
After all, stress is an immune suppressor. Dr. Ronert suggests using vitamins and supplements with ingredients like adaptogens.
"In addition to the more well-known immunity boosters like vitamin C and zinc, there will be more ingredients coming to market that have immune and defense benefits, which is exciting."
He also foresees caring for ourselves becoming more of a priority.
"I believe that this level of caring for the body is going to become a daily lifestyle habit and that means going an extra step to make sure your body is protected from anything that can possibly weaken its natural defenses."
Breathwork is the new meditation
Many of us have been on board with meditation for a while now, but breathwork is the next level. Breathwork is a type of active meditation.
"Breathwork is and will continue increasing in popularity because the cat's out of the bag: if you change your breath, you can change your life," Whitney Yarnall, founder and community director Sojourn Healing Collective in San Diego tells me. "Breath is quite literally our life force energy, but we have never been trained how to use it to our benefit (beyond simply keeping us alive)."
Breathwork promotes mental clarity, detoxification, stress, and anxiety relief, as well as boosts the immune system.
"Once you have experienced a powerful breathwork practice, you can't help but share about it and keep coming back because it leaves you feeling peaceful, clear, and calm," she explains.
If it can be virtual, it will be virtual
While many fitness studios have gone entirely or partially online, there are many wellness facilities that have also gone virtual. Like many studios, classes at Soujun Healing Collective have gone online and will likely stay there.
"On-demand virtual wellness continues to replace or complement in-person fitness and wellness experiences. I see this trend continuing to grow and evolve for years to come as many people find it more convenient, and during Covid times, it feels safer to be in your own space," says Yarnall.
While, in my opinion, it's hard to replicate an in-person experience online, virtual is certainly better than nothing. It is also a good way to stay connected to your body and community during a time when we need it most.
Feeling good and looking good are becoming equally important
While many of us accepted our natural nails, un-Botoxed faces, and horrid roots for months, getting back to our personal beauty routines certainly promotes an overall feeling of wellness.
Many people are also resuming non-surgical procedures. For example, at Alcheme Health in San Diego, they've seen an increase in clients wanting to do Emsculpt.
"Emsculpt has surged because our clients can't hit the gym," says Tracy Younger, founder, and CEO of Alcheme Health, "It builds muscle and reduces fat. We have combined that with CoolSculpting to transform the body. Plus, it saves you about 530 hours of gym time!"
However, what isn't surprising is that medspas like Alcheme have been adding on and seeing increased interest in wellness services. So you might go for the filler, but stay for an IV or vitamin injection.
"When our patients leave they not only look good, they feel good too!" Younger explains. "We all can use some B's, C's, and glutathione to boost our immune system, give us energy, and make our skin glow!" I'm signing up right now…
Home is the new spa and salon
Home spa treatments are becoming more popular than ever. Whether it's a five minute face mask or a deep exfoliating treatment, we're all here for it, especially Manna Kadar, founder of Manna Kadar Cosmetics. She shares that brands are quite aware of this trend and hopping on board the innovation train.
"I'm really looking forward to all of the new products that will be born as a result of Covid lockdown," she confesses.
Kadar has also seen a surge in DIY skin and haircare.
"Treatments that were typically done at a salon are now being created to be used at home by the average person," she points out. "Some people say there will be a baby boom, I'm looking forward to the DIY product boom!"
Now, if only someone made an easy DIY Brazilian Blowout…
Let us know!
Did this post help you get closer to achieving one of your goals?