Our digital workout and workshop schedule for the week of June 22
It's our fifteenth week of digital content, and you know what popped into my mind when I wrote that sentence? If aSweatLife was pregnant, our baby would be the size of a navel orange. Quarantine does weird things to your brain, guys.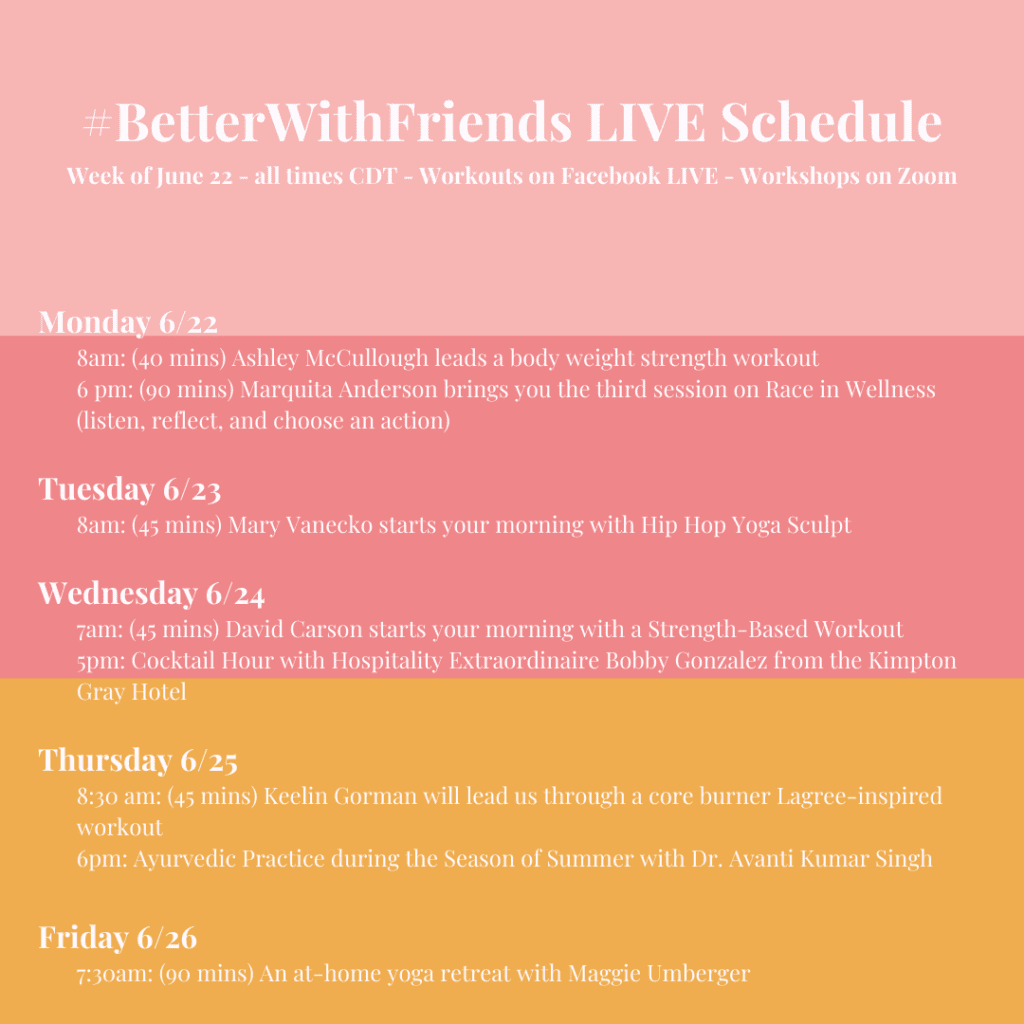 We're continuing our trend of hosting workouts led by our favorite fitness personalities whose energy jumps off the screen. And we're super excited about this week's workshops and elevated events. From an at-home yoga retreat to a candid conversation about how race, sexual identity, and wellness intersect, we're going deep next week, and we're so excited to have you along for the ride.
AND! We have extra-special live programming for you all week next week—our favorite sport, ice cream tasting. We're bringing in N!CK's for the ultimate ice cream taste-off, the sweetest sixteen bracket you ever saw filled with Team aSweatLife's favorite flavors of N!CK's. Every day at noon CDT, we'll be going live on IG (@asweatlife) while our favorite fitness personalities taste two of N!CK's creamy, delicious flavors. Our judges will choose a winner to advance to the next round, and at the end of the week, we'll crown the ultimate summer ice cream.
Want to play along? N!CK's creamy, Swedish-style ice cream can be found at Jewel-Osco's throughout Chicago. And if you disagree with any of our judgments, slide into our DM's with your most passionate ice cream takes.
Tune in to our Instagram page at 12 pm CDT each weekday to watch our judges taste, savor, and maybe get a little brain freeze—ESPN personality Sarah Spain will kick off the ceremonies on Monday!
As for the rest of the week, here's what you're in for.
Workshops to add introspection (and a little imbibing)
All of our workouts take place on Zoom—you'll get a private link in a reminder email before the event.
June 22 at 6pm CDT: Race and Wellness Part 3
We're committed to doing something about the systemic racism and oppression that exists in America today – and we have our community to thank for that. Marquita Anderson will moderate an evening to discuss power, influence, and the wellness industry. This is the third in a 4-part series, and this edition will focus on the intersection of race and sexuality in the wellness industry. We'll be talking to Tash Crudup, a professional dancer and choreographer who's danced with Rihanna (!!) and is a fitness instructor, and Kellen Townsend, a senior SoulCycle instructor.
June 24th at 6pm CDT: Cocktail Hour with Hospitality Extraordinaire Bobby Gonzalez
Park yourself up at this virtual swanky hotel for conversation and a cocktail night cap. You will be greeted by their friendly Director of Concierge Services, Bobby Gonzalez of the Kimpton Gray Hotel Chicago, who will be hosting from The Gray's gorgeous Boleo, a rooftop restaurant, bar, and lounge, which is re-opening next week to guests! Tapping into the Gray's curated experiences, we'll create a night of cocktail creations – at home!
And if you're craving a night out away from the ordinary, head to Boleo yourself once they re-open next week. Named for a move from Argentine tango, Boleo brings the dramatic flavors and sultry beats of South America to the best rooftop in the Loop for Chicagoans to enjoy year-round. Forget the 15-hour flight: All it takes to get to Boleo is a 15-story elevator ride to the top of THE KIMPTON GRAY HOTEL. Up here, the curated playlist never ends and the savory aroma of Peruvian and Argentinian street food perfumes the air, while our massive retractable glass roof keeps the vibe warm no matter the season.
The cuisine and culture of Latin America make their way to the Windy City in our industrial-chic rooftop bar and lounge, Boleo, where you can find small plates for snacking and sharing, delicious cocktails that transport you to Peru, and house music that will make you want to learn to salsa.
June 25 at 6pm CDT: Develop an Ayurvedic Practice During the Season of Summer
As an Ayurveda Wellness Expert + MD, Avanti Kumar Singh, explains it best, "Because everything is connected. Our bodies are connected to the earth like our souls are connected to the people around us. How we nourish ourselves and each other begins and ends with this awareness. Healing yourself, your community, and your corner of the world starts with a simple catalyst."
On Thursday, June 25 we will meet wellness innovator and Ayurveda expert, Dr. Avanti Kumar Singh. Dr. Kumar Singh will start the evening by taking us through a simple breathwork practice and will talk us through what effects inhaling and exhaling have on your body. The over 5,000 year old Ayurveda practice is approachable and as simple as being in tune with your body. Dr. Kumar Singh will guide us through finding balance within routines, diet and tools of yoga during the season of Summer. Because Ayurveda is so much embedded in the environment around us, we encourage you to grab a spot outside in the summer sun (with wifi connection) to fully embrace this practice.
June 26th at 7:30am CDT: An at-home yoga retreat with Maggie Umberger
So your trip to Bali, Tulum, or Costa Rica for a week-long retreat was cancelled. We've got your back for a virtual version to hold you over until you can travel again. Maggie Umberger will take you through a mini morning retreat in just 90 minutes. You'll roll out your mat for yoga with Maggie and you'll journal your hearts out.
Workouts to keep you moving between zoom calls
All our workouts take place on our Facebook page via Facebook Live—right here!
Monday 6/22
8 am CDT: (45 min) Ashley McCullough brings you bodyweight strength to start your week strong.
Tuesday 6/23
8 am CDT: (40 min) Mary Vanecko brings you Hip Hop Yoga Sculpt to start your morning off on the right beat.
Wednesday 6/24
7 am CDT: (45 min) David Carson helps you train like an athlete.
Thursday 6/25
8:30 am CDT: (45 min) Keelin Gorman leads a Lagree-inspired workout to burn your core, no machine needed!
Friday 6/26
7:30 am CDT: (90 min) An at-home yoga retreat with Maggie Umberger