Our Digital Workout and Workshop Schedule for the Week of June 29
We're done with counting weeks—it's been FOUR MONTHS of digital content with aSweatLife. Sure, that's far from our normal, but having routines and workouts to look forward to have been keeping us sane amidst the craziness that is 2020.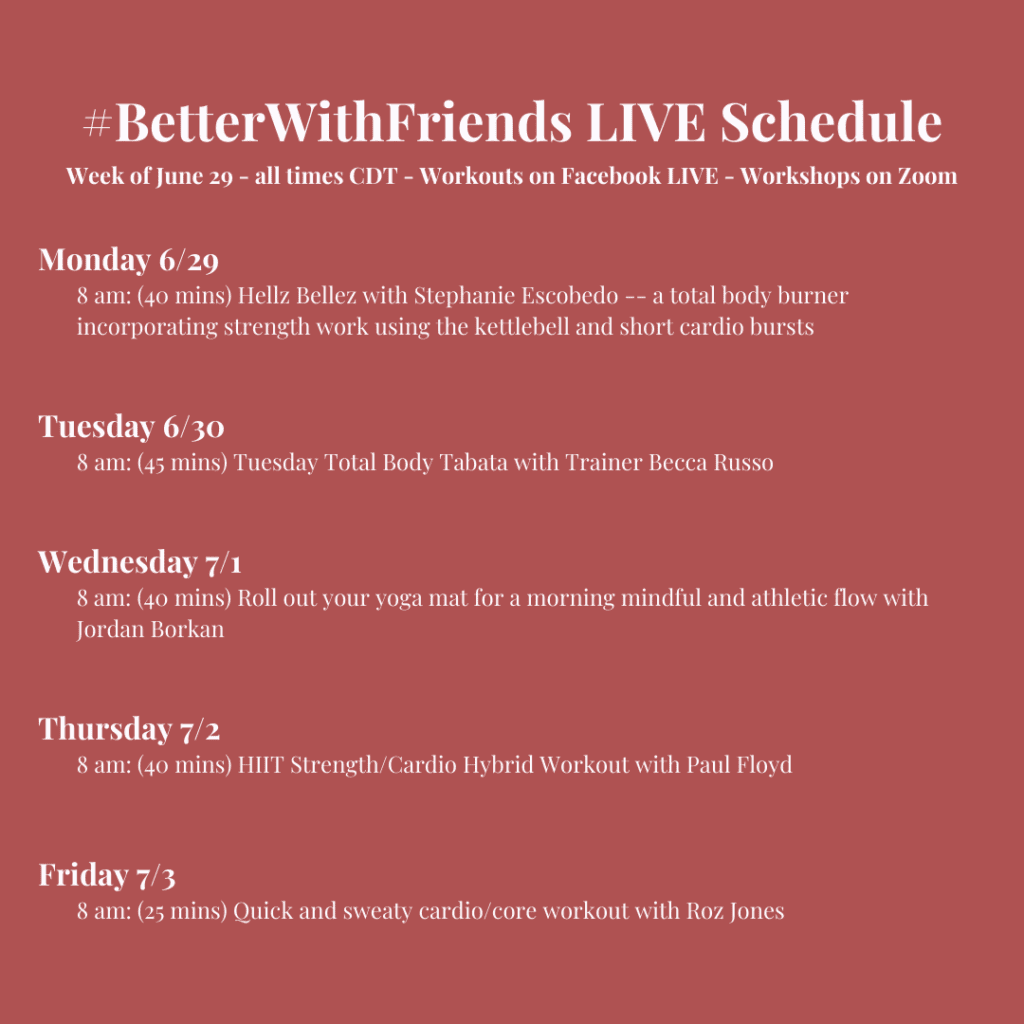 Since it's a holiday week, we're keeping our schedule light with morning workouts and just one workshop, the finale to our digital Race in Wellness series.
But while you're enjoying a shorter work week, we want you to be looking ahead to our triumphant (and safe!) return to IRL fitness events: #SweatworkingWeek 8, which will take place in the socially distant paradise that is Maggie Daley Park. Mark your calendar for July 20-24, and get all the details here!
Race in Wellness, Part 4: Learning from Community Leaders
In the finale to our virtual Race in Wellness series, we'll be speaking with community leaders we admire to learn more about walking the walk as we finish talking the talk. Stay tuned for more details to be announced soon, and remember, all donations will go to My Block, My Hood, My City!
Daily morning workouts to take you to the long weekend.
All our workouts take place on our Facebook page via Facebook Live—right here!
Monday 6/29
8 am CDT: (40 min) Hellz Bellez with Stephanie Escobedo — a total body burner incorporating strength work using the kettlebell and short cardio bursts. (Equipment needed: Kettlebells or Dumbbells)
Tuesday 6/30
8 am CDT: (40 min) Becca Russo brings you Total Body Tabata.
Wednesday 7/1
8 am CDT: (40 min) Roll out your yoga mat for a morning mindful and athletic flow with Jordan Borkan.
Thursday 7/2
8 am CDT: (40 min) Paul Floyd heats things up with this a HIIT Strength/Cardio Hybrid Workout.
Friday 7/3
8 am CDT: (25 min) Roz Jones starts your holiday weekend with a quick 25 minute cardio/core sweat sesh.