Our digital schedule with N!CK'S Swedish-Style Ice Cream week of June 8
[
Disclosure: this content is brought to you by N!CK'S Swedish-style ice cream. As always, we only partner with and talk about the brands, places, things and experiences we truly love.
]
Summer looks a little different this year. That's undeniable. And so as we enter our 13th week of creating a mix of digital content, we added a category to the kinds of things that we're making: content to help you stay healthy, connected, strong and make a difference.
And N!CK'S Swedish-style ice cream is a brand supporting us in the creation of that entire mix this week. We're partnering with them – the first and only light ice cream that is actually, truly, creamy – because we share in our uncompromising beliefs.
We don't believe in compromising any piece of that mix: content to help you stay healthy, connected, strong and to make a difference.
And N!CK'S is uncompromising too! A Swedish brand that believes healthfulness shouldn't compromise flavor. Spoon-soft and never icy, N!CK'S has no added sugar and only 220-360 calories per PINT. That means you get a compromise-free healthy and TASTY treat, without the calories.
You'll see the usual events on the roster like morning workouts, evening workshops built to help you keep your distance while also being well.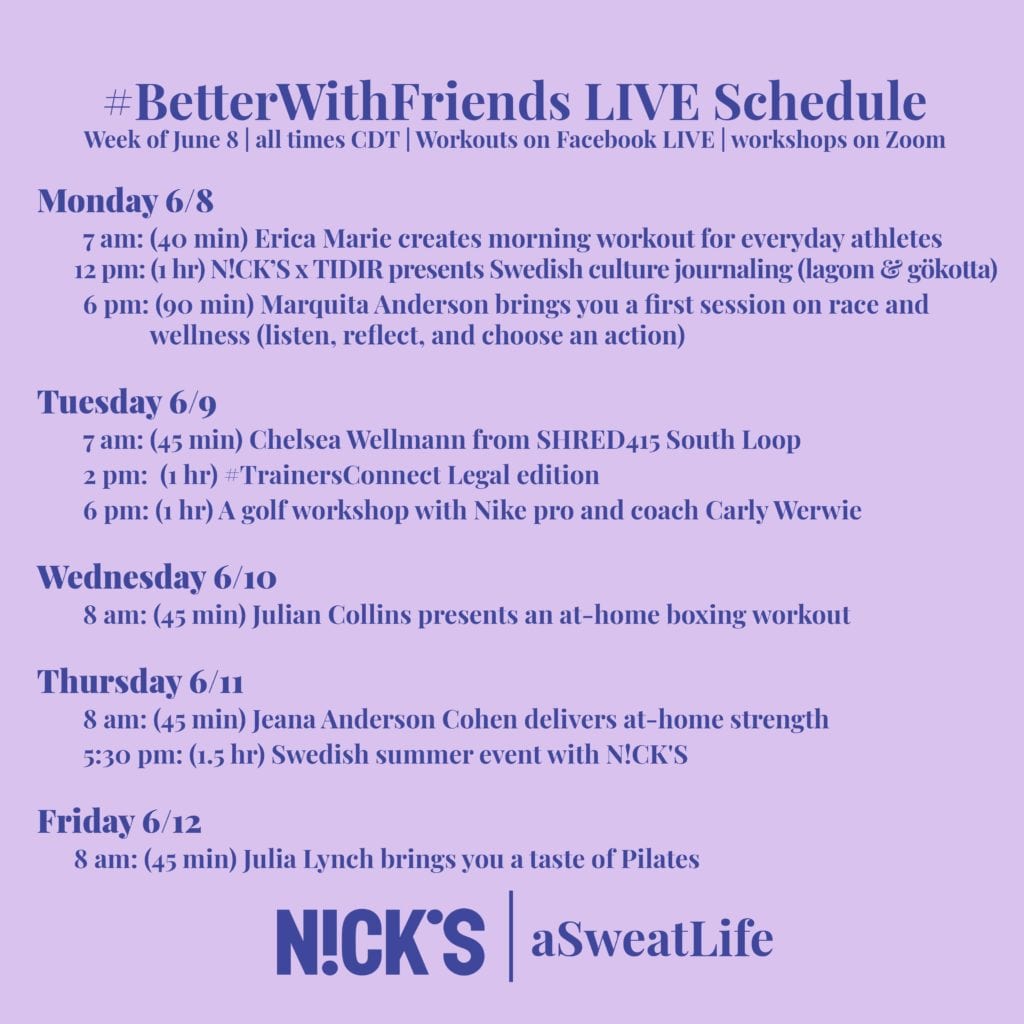 Workshops to give you a little purpose and a little summer
All workshops will be hosted on Zoom and all of the donations collected this week will go to Chicago-based My Block, My Hood, My City.
Monday 6/8 at 12 pm: (1 hr) N!CK'S x TIDIR presents Swedish culture journaling (lagom and gökotta)
We'll start the week by reflecting on some of the things that make Sweden a hot-spot for wellness. We'll hear from Niclas, the founder of N!CK's ice cream then Ariel co-founder from Today I Did it Right will help us to reflect on the concepts of "lagom," which means just the right amount and "gökotta," which means "to rise at dawn in order to go out and listen to the birds sing."
Monday 6/8 at 6 pm: (90 min) Marquita Anderson brings you a first session on race and wellness (listen, reflect, and choose an action)
We're committed to doing something about the systemic racism and oppression that exists in America today – and we have our community to thank for that. Marquita Anderson will moderate the first conversation in a series where we'll discuss power, influence, and the wellness industry. Expect to listen, to reflect and to be called to action.
Tuesday 6/9 at 2 pm (1 hr) #TrainersConnect Legal edition
On June 9th, we are partnering with the legal team at SmithAmundsen LLC to create a workshop to talk through all of the hard stuff so we can come together strong as trainers and plan for successful next moves.
We would love to hear from you on what specific questions you have right now!
Based on trainers' rave reviews from the January #TrainersConnect Workshop, we're bringing back legal counsel from SmithAmundsen to give you ALL the info you could possibly need to know. You'll have the ear of some of the best legal counsel in Chicago to ask your burning questions about post-pandemic safety, how to protect your business and your clients in the new world, what financial impact you might be dealing with, and what you can anticipate as social distancing restrictions begin to lift.
Tuesday 6/9 at 6 pm: (1 hr) A golf workshop with Nike pro and coach Carly Werwie
On Tuesday, June 9, we are bringing in Loyola Women's Golf Head Coach, Carly Warwie, for a Golf 101 workshop. She'll help all of us understand the basics of the golf swing (and what the heck is with all of the different kinds of clubs), navigating around a golf course (starting just with how to actually book time) and building confidence so you can stroll through the clubhouse with that 'I know how to carry my golf bag swag'. Adding to that swag, Carly will be sharing her must-have golf gear from Nike.
The best part is you can do all of this from home, you don't even need a golf club! She'll teach us how to swing a golf club using any stick-like object you have at home. So sign yourself, your Swiffer and a friend up!
Thursday 6/11 at 5:30 pm: (1.5 hr) Swedish summer event with N!CK'S
In Sweden, the relentless frigid winters make the brief summer season seem like a slice of Scandinavian heaven, a utopian escape with warm days that seem endless. In June, the sun typically rises before 4 am and doesn't set until around 10 pm. Every year, Swedes celebrate the Summer Solstice with the Midsummer Festival. Donning flower crowns, family and friends gather in the nearest park to picnic with games, music, dancing, and a whole lot of summer fun! After learning about this surreal celebration from our friends at N!CK'S Swedish-style light ice cream, we realized it was exactly what we needed.
That is why on Thursday, June 11, we're inviting you to join us for a digital summer celebration! We'll have Amanda Skrip from Now Boarding Foods teach us how to build the best picnic ever (and packable charcuterie board) with some goodies from Foxtrot and our fave coolers from Igloo. N!CK'S will share some easy dessert recipes, Swedish-inspired Zoom backgrounds and a DIY flower crown tutorial. And of course, to really make it a celebration, our friends at the DJ Firm will do a live set where you'll probably hear some ABBA. We're strongly encouraging everyone to join from the nearest outdoor space available to you.
You don't have to wait until the 11th to get your ice cream fix, N!CK'S is offering $2 off one pint coupon link.
Workouts to keep you moving between zoom calls
We'll continue to encourage donations for workouts this week. Last week, all donations for any event went to the ACLU and this week any donation will go straight to My Block, My Hood, My City (after eventbrite fees) or to the charity of the instructor's choosing.
All workouts will take place on Facebook live.
Monday 6/8
7 am: (40 min) Erica Marie creates morning workout for everyday athletes
Tuesday 6/9
8 am: (45 min) Chelsea Wellmann from SHRED415 South Loop
Wednesday 6/10
8 am: (45 min) Julian Collins presents an at-home boxing workout
Thursday 6/11
8 am: (45 min) Jeana Anderson Cohen delivers at-home strength
Friday 6/12
8 am: (45 min) Julia Lynch brings you a taste of Pilates