Memorial Day, Turn off Your Screens with us and N!CK'S Swedish-style Ice Cream
[Disclosure: this content is brought to you by N!CK'S Swedish-style ice cream. As always, we only partner with and talk about the brands, places, things and experiences we truly love.]
We've been coming at you via all of the screens lately – workouts on Facebook, workshops on Zoom, Instagram LIVE, emails, and all of the regularly-scheduled content. We set out to give you what you need right now to stay healthy, sane, and connected.
And that "sane" part is what's making us take a pause this Memorial Day. We're taking the day off from coming at you LIVE because we've heard from YOU (and countless media sources) that you're experiencing screen fatigue.
So we're issuing you a challenge with our friends from N!CK'S: take a day (or as much of a day as you can muster) away from your screens to give your mind, body and soul the rest they need.
And if it feels counter-productive for a digital media brand to challenge you to not visit its online content for a day, we know and we don't care. That's why we're partnering with N!CK'S –  the first and only light ice cream that is actually, truly, creamy – to make this happen. We don't believe in compromising your mental health for page views. Period.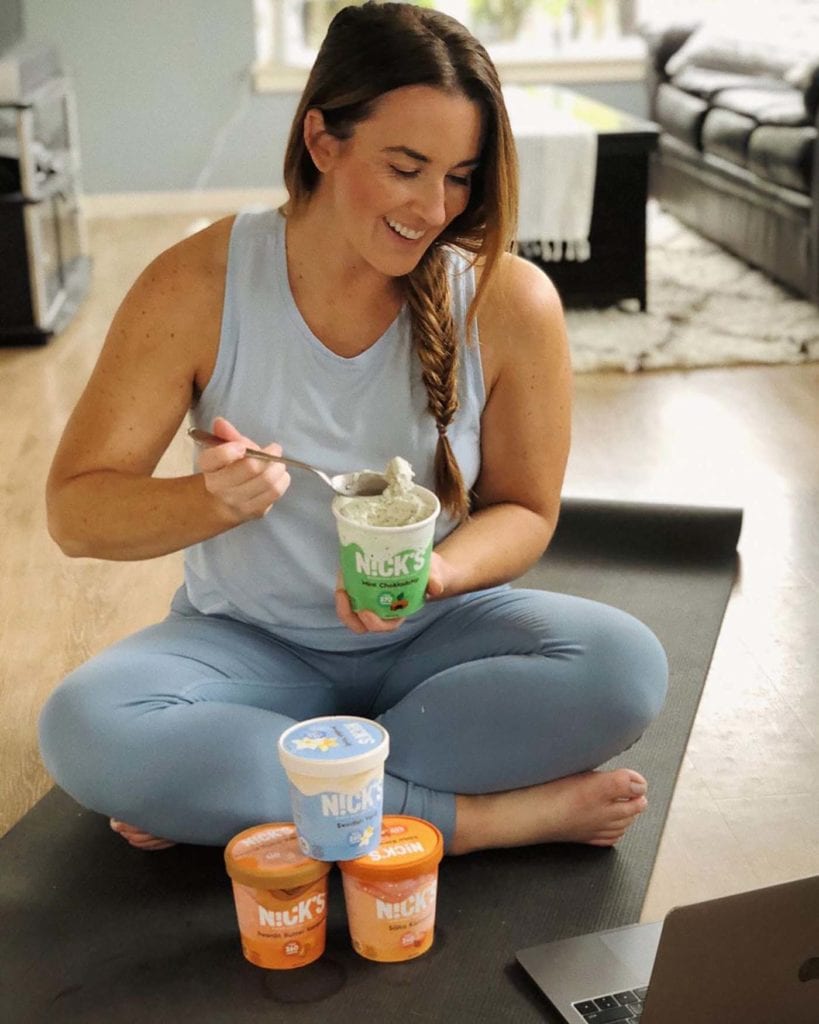 And N!CK'S is uncompromising too! A Swedish brand that believes healthfulness shouldn't compromise flavor. Spoon-soft and never icy, N!CK'S has no added sugar and only 220-360 calories per PINT. That means you get a compromise-free healthy and TASTY treat, without the calories.
What's the science behind this?
According to Greater Good Magazine (UC-Berkeley's science-backed publication on positive psychology and happiness), a media-fast can give you greater present-moment awareness, improved sleep, deepened connections, greater productivity and learning, and a chance to break the habit of constantly checking your devices.
And as we put our phones down, Monday May 25, it will also serve as a chance to remember WHY we observe Memorial Day in the United States in the first place: to honor the men and women who died while serving in the U.S. military.
No instagram or NetFlix? What should we do instead?
Spend time outside
Whether you dedicate 15 minutes or 5 hours to an adventure, changing up the scenery will give your brain an entirely new set of sights, sounds and scents to process. Feeling like all of the days are running together? Shaking up your day with an adventure can help create a distinct memory and may make time feel like it actually slowed down, time tracking expert Laura Vanderkam suggests.
While national parks are closed and some state parks are closed, there are other places you can seek adventure while keeping social distance and following the regulations in your city and state.
Try a simple google search for something like "waterfall near me," "prairie near me," "lake near me," or "forest preserve near me" and then plan a visit there.
Walk to a neighborhood you haven't visited ever or recently and act like a tourist – look up and all around while taking in every detail.
Want to document it? We're not sticklers! Give yourself a minute or two to take a selfie or snap a photo that showcases your adventure.

Make a meal that feels like summer
Watermelon, BBQ, insert your family's picnic staple, ice cream. Create a moment in time that gives you all of the nostalgia for summers past.
Writer Ashley Marten covered nostalgia's important place in our lives during crisis and trauma. "Dr. Giuseppe Aragona, General Practitioner & Medical Advisor at Prescription Doctor explains that our brains make connections to emotions and things, which can bring us comfort because we associate them with good times. Think of things like the smell of your grandmother's stew or an old TV program from childhood."
And to us, there's nothing more summer than trying to beat the heat and eat a whole bowl of creamy ice cream before it melts. Try N!CK'S fun Swedish-sounding flavors like Peanöt Butter Cup, Triple Choklad, Cookies and Kräm, and Mint Chokladchip. Soon you'll be fluent in Swenglish. 
Visit your local Jewel store and get $2 off your pint of N!CK'S Swedish-style ice cream! Not in Chicago? Use their product locator to find N!CK'S in your area.
Need some more inspo for stuff to eat before the ice cream?
Read your most beach-y read
We're not here to tell you not to spend your day off learning, but wouldn't it be nice to read some fiction? Yes, you should re-read that sentence as if the Beach Boys were singing it, thanks for asking.
We love a curated list of books, so we'll share a few of ours below, but consider following the guidelines in your city or state (mask up) and visit a local bookstore for an analogue book. There's something satisfying about turning a real page, but that's just one woman's opinion.
Where to start:
Revisit the things you enjoyed as a child.
Picture yourself as a child with the widest smile across your face. What are you doing? Who is with you? What toys – if any – do you have? Spend 20 minutes in childlike pursuit of joy (chances are it will also double as a super fun workout).
To jog your inner-child's memory, you may want to visualize the toy section at your local everything store (like Target).
What did you do with sidewalk chalk? Maybe draw hopscotch squares or a foursquare court on the side walk in front of your home and watch what unfolds.
One word: bubbles.
Jump rope
Use a scooter (or anything the puts wheels under your feet) as transportation. Please wear a helmet.
Hula hoop
Do something creative
Creativity isn't limited to your laptop. Chances are, you have some printer paper, notebooks and pens lying around. And if you don't have pens or other art supplies lying around, you can get creative with what you have before your art project even gets off the ground.
Practice phone-free mindfulness
Your mindfulness practice can take place so many places besides seated on a mat with AirPods in. Try a different kind of practice that's screen-free, like:
Journaling: follow a prompt or just write with your stream of consciousness.
Walking meditation: use this as an opportunity to observe and note your surroundings. This is more meant as observation than clearing your thoughts.
Breath focused meditation: count your inhales, holds and exhales and its hard to think about anything else.
So from us to you, we're wishing you a relaxing Memorial Day. It's one day we're not hoping to see you on the Internet.
And be sure to enjoy your $2 off your first pint of N!CK'S Swedish-style ice cream!
Let us know!
Did this post help you get closer to achieving one of your goals?