Curated Digital workout schedule for the week of March 23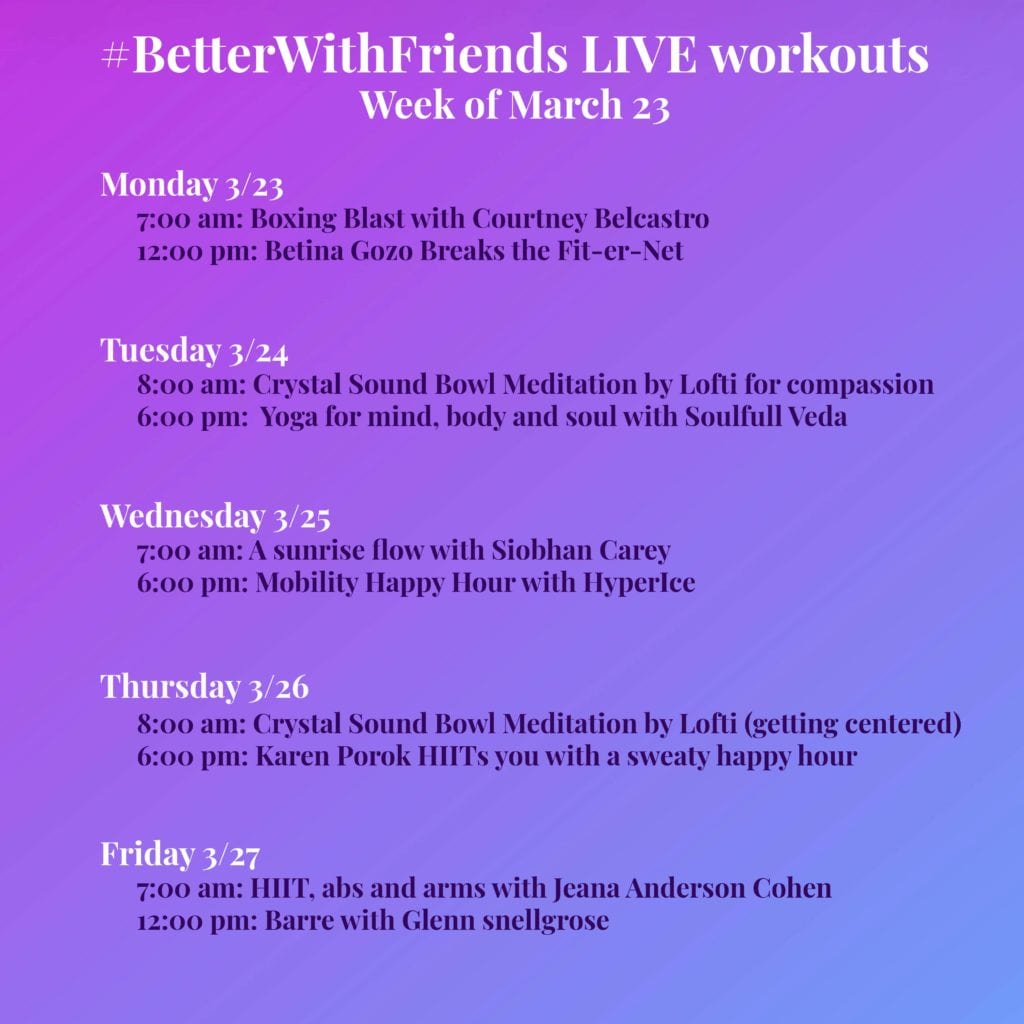 We're inspired by the now-more-than-ever digital world of fitness and its ability to adapt. It's suddenly a universal truth (or so it seems) that streaming and on-demand fitness are a piece of the fitness ecosystem.
Resources:
In close to real-time, we're covering the workouts that are available to you across social media and digital tools here.
We're keeping a calendar of digital options here.
And we're updating that calendar with the digital workouts YOU'RE doing as you share them. Submit yours here.
We're also curating a schedule of workouts that we're doing on Facebook Live. We like Facebook Live because all of the workouts that we're doing live become content you can use later. (Note to readers – especially readers in the fitness industry: if you like that, you can use it too.)
Look back at this week's workouts.
Ready for the curated digital fitness schedule, happening next week?
Remember, all of this will take place on Facebook LIVE on aSweatLife's Facebook page. In the posts for each LIVE video, we will always leave you an option to tip your trainer on Venmo, so if you have the means, send them some "coffee money."
And the mobility happy hour this week is brought to you by HyperIce, which will give away 2 Hypervolts and a Hypersphere Mini to lucky winners who join us*.
Monday 3/23
7:00 am: Boxing Blast with Courtney Belcastro
12:00 pm: Betina Gozo Breaks the Fit-er-Net. Any tips that you leave her will go to her foundation, Dance with Mweyne, which benefits children across the world with special needs.
Tuesday 3/24

8:00 am: Crystal Sound Bowl Meditation by Lofti focused on compassion
6:00 pm: Yoga for mind, body and soul with Soulfull Veda
Wednesday 3/25
7:00 am: A sunrise flow with Siobhan Carey
6:00 pm: Mobility Happy Hour with HyperIce
Thursday 3/26
8:00 am: Crystal Sound Bowl Meditation by Lofti focused on getting centered
6:00 pm: Karen Porok HIITs you with a sweaty happy hour
Friday 3/27
7:00 am: HIIT, abs and arms with Jeana Anderson Cohen (that's me.)
12:00 pm: A Barre Blast with Glenn Snellgrose
*HyperIce is still shipping and will ship to winners ASAP, pending any other global slowdowns.