January 25-26: The #Sweatworking Summit is Built to Help You Achieve Your Goals
At our events and throughout our website, we're not shy about pushing you to try new things, whether that's your first boxing class or a sound bath. And in January 2020, we're putting our money where our mouth is by hosting the first-ever #SweatworkingSummit, a full weekend of goal-setting, keynote speeches, workshops, and curated brand activations for all the goal-getters in our community.
Can't wait? Go ahead and grab your ticket here!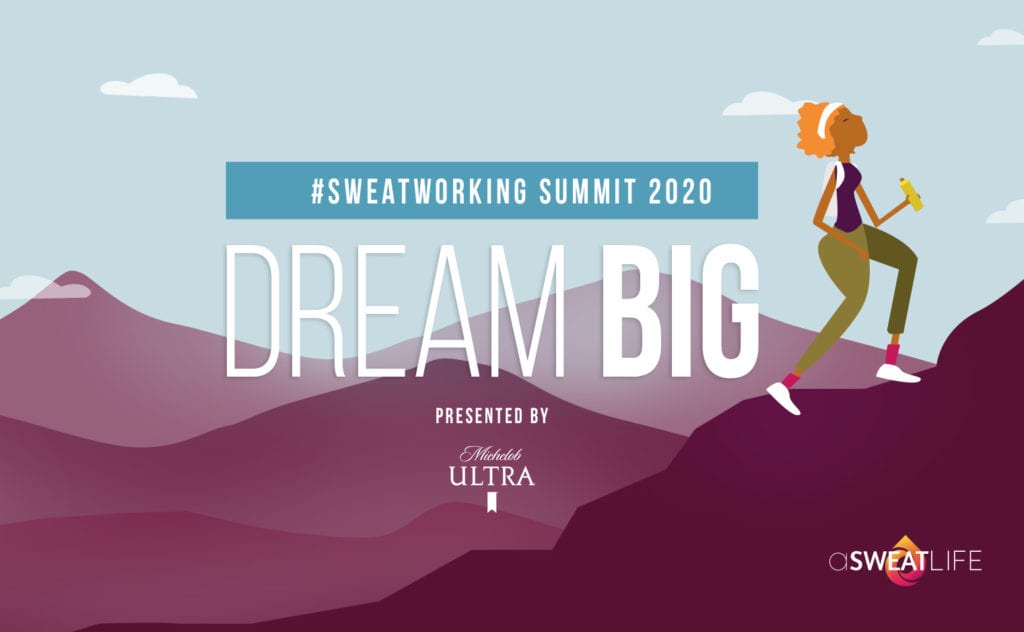 What's the #SweatworkingSummit?
The #SweatworkingSummit is one of our very own big, hairy, audacious goals, and we couldn't be more excited to see it come to life. With the help of our partners, we've created a weekend built to help you set and achieve your goals in 2020 and beyond.
On Saturday, January 25 and Sunday, January 26, you'll find inspiration, accountability, and experts to help you create real plans to achieve your dreams. We'll have dedicated "tracks" to help you set and achieve goals around prioritizing self-care, mindful eating, focusing more on your career, and expanding your horizons through travel.
You'll find the #SweatworkingSummit taking place at one of the most beautiful properties in Chicago: the Kimpton Gray Hotel. This pristine space in the heart of Chicago is a key partner throughout the weekend. You'll experience the team's personalized hospitality, their in-house food and beverage expertise and you'll feel the thoughtful touches built into the multi-use meeting and event space.
Keep reading for more details!
What's the schedule of #SweatworkingSummit weekend?
Saturday, January 25 and Sunday, January 26:
Important to note! Saturday and Sunday will have the same programming down to a tee—so you only need to get a ticket for Saturday OR Sunday. The only exception will be that another big name guest will lead the mindful eating track on Saturday, January 25, while Dawn Jackson Blatner will lead the track on Sunday, January 26.
Morning: Plan on arriving at 8am so you have plenty of time to get breakfast and settle in before the 8:30am keynote speech from Sarah Larson Levey, Founder/CEO of Y7 Yoga. She'll speak about building a wellness brand, overcoming fears, and achieving goals.
Mid-morning through early afternoon: Then, we'll spend the day working in small groups to facilitate actionable goal-setting. You'll also attend intimate talks with industry leaders in your chosen goals track. We'll break for a fueling lunch filled with whole foods that will power you through the afternoon session.
Late afternoon: Because we are who we are, we've included a workout in the afternoon's agenda. Best bud of aSweatLife Betina Gozo is flying in to lead an afternoon HIIT workout guaranteed to inspire you and leave you wanting more. Y7 Yoga will also host a pop-up class for a preview of their highly anticipated Chicago opening this winter. Can't decide between the two? Good news—you get to do both. Half the group will begin with Betina while the other half flows with Y7; you'll switch after about 45 minutes to get the best of both workout worlds.
Early evening: Finally, we'll close things out with a Michelob ULTRA Happy Hour to celebrate the friendships made and the goals set. We'll send you off with plenty of goodies to help you stay motivated and accountable, too.
Who are the speakers at #SweatworkingSummit?
The best in the brightest in all things goal-setting, of course:
Sarah Larson Levey: Sarah Larson Levey is the Founder/CEO of Y7 Yoga.
Karianne Wardell and Will Harris: This pair from Lofti will empower you to walk away from your session with a plan to make self care a bigger part of your life in 2020.
Dawn Jackson Blatner: Author of The Flexitarian Diet and The Superfood Swap, member of the SHAPE Magazine Advisory Board, PEOPLE Magazine Celebrity Diet Consultant and winner of ABC reality show, My Diet Is Better Than Yours. Dawn will help you walk away with a plan to eat mindfully: with enjoyment, lightness and peace.
Heidi and Tori Ganahl: Tori Ganahl of Women's Empowerment brand She Factor and Heidi Ganahl, founder of the $100 million pet-care franchise Camp Bow-Wow and SheFactor, will lead a session on getting more from your career. You'll walk away with a plan to do just that.
Joel Contor: This world travel expert and member of the team at The Gray will highlight travel trends, hotspots and uncharted gems. You'll leave the session with a plan to travel in a way that's right for your personality and on-trend in 2020 (and if you go to this session you'll have a chance to win a travel package from Kimpton).
What else will be going on at the #SweatworkingSummit?
Setting big goals deserves big rewards, and that's just what you'll get throughout the summit. You'll be bathed in all of the elements of wellness from mindfulness to workouts. to deep tissue treatments to facials, to healthy meals provided with your tickets, and so much more. In between talks, workshops, and workouts, you'll have exclusive access to The 2020 Experience, our own curated lounge filled with the latest, greatest, and so-new-we've-never-even-heard-of-it-before wellness trends. From cannabis to acupuncture to massage to meditation, you won't want to leave.
What if I don't live in Chicago but I want to come?
Stay for $99/night in our courtesy room block. Reserve online here. For call in reservations, please call Kimpton Reservations at (877) 771-7031. The Reservation Deadline Date is January 9th, 2020.
Where do I get tickets to the #SweatworkingSummit?
Buy your ticket for Saturday, January 25 here.
Buy your ticket for Sunday, January 26 here.
Let us know!
Did this post help you get closer to achieving one of your goals?