Meet us for a business-focused #TrainersConnect workshop with SmithAmundsen 1/25!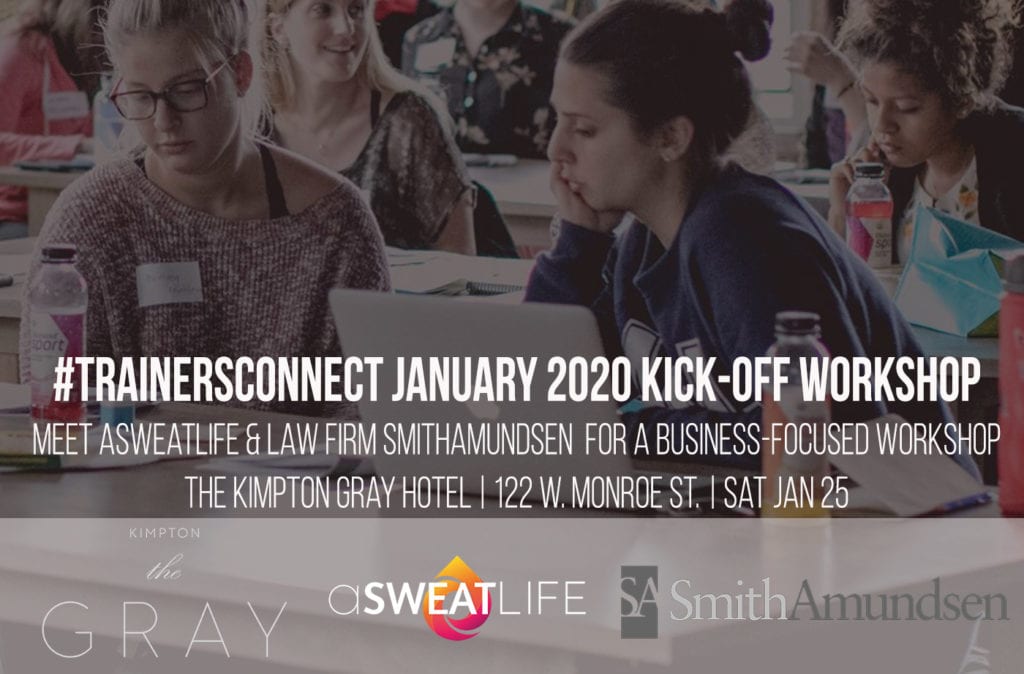 Get your ticket to #TrainersConnect January 25 from 12:15 – 1:15 pm right here!
We're calling this #TrainersConnect workshop the "nitty gritty" edition for a reason: for quite some time, we've heard you ask us questions about starting your own business. Whether you're looking to branch out on your own, launch an entirely new business, or just want more information about the nitty gritty detail that goes into being an #entrepreneur, this #TrainersConnect workshop is for you.
And here's the best news: we're bringing in legal council from SmithAmundsen to give you ALL the info you could possibly need to know. When else will you have the ear of some of the best legal council in Chicago to ask your burning questions about LLCs, contracts, liability waivers, and anything else you might be wondering.
SmithAmundsen has offices in seven cities, including downtown Chicago, and houses the expertise of over 180 attorneys who specialize in a number of sectors.
On January 25, we'll have two partners from SmithAmundsen on site to lead the discussion. Max Goodman represents clients in the health, wellness, and fitness industry where he partners with business owners to deliver informed advice and counsel concerning business and legal needs. He handles matters related to complex breach of contract, unjust enrichment, fraud, tortious interference claims, defamation, and false light claims defending free speech. Max also defends various restaurant and hospitality groups in claims concerning the Dram Shop Act, negligence, and intentional torts.
Max will be accompanied by Beverly Alfon, who supports employers on a full range of labor and employment issues. She provides daily advice and counsel on matters arising out of federal, state, and local laws that govern the employment relationship (e.g., Title VII, wage and hour, medical leave, Americans with Disabilities Act, etc.). She works closely with clients to develop work policies that protect and promote their goals, prevent and manage discrimination/harassment matters, and negotiate non-compete and severance agreements. Beverly also advocates for clients in matters pending before state and federal courts, labor arbitrators, the National Labor Relations Board, Equal Employment Opportunity Commission, and IL Dept. of Human Rights.
What will we cover at this #TrainersConnect workshop?
We'll talk about why it's important to file an LLC if you're starting your own business, how to go about doing it, and what other types of businesses you might want to look into.
Max and the team from SmithAmundsen will also touch on waiver language best practices, contracts for yourself and your clients, and non-compete contracts. You'll walk away with tangible next steps as you set big goals for yourself and your business in 2020.
This 60-minute workshop will go by in a flash, but don't worry. If you have more questions for the SmithAmundsen team, you'll be able to chat with them after this workshop ends.
This workshop will take place at The Kimpton Gray Hotel on Saturday, January 25 from 12:15 pm. It will take place during the #Sweatworking Summit (which you can read more about in detail here!)
Ready to sign up for the #TrainersConnect workshop? You can do that right here!
All the details for this #TrainersConnect!
What: A workshop focused on all the details and FAQs you need answered when building your brand and your business from a legal perspective
When: Saturday, January 25 from 12:15-1:15 pm
Where: The Kimpton Gray Hotel, 122 W. Monroe Street
Where to grab tickets: Right here!