8 Tips for Hosting Friendsgiving
Thanksgiving is one of the most delicious holidays and luckily for us, it's right around the corner! Whether you are hosting a
Thanksgiving
family dinner or a Friendsgiving with friends and neighbors, here are eight tips for hosting a successful (and delicious) Thanksgiving or Friendsgiving celebration.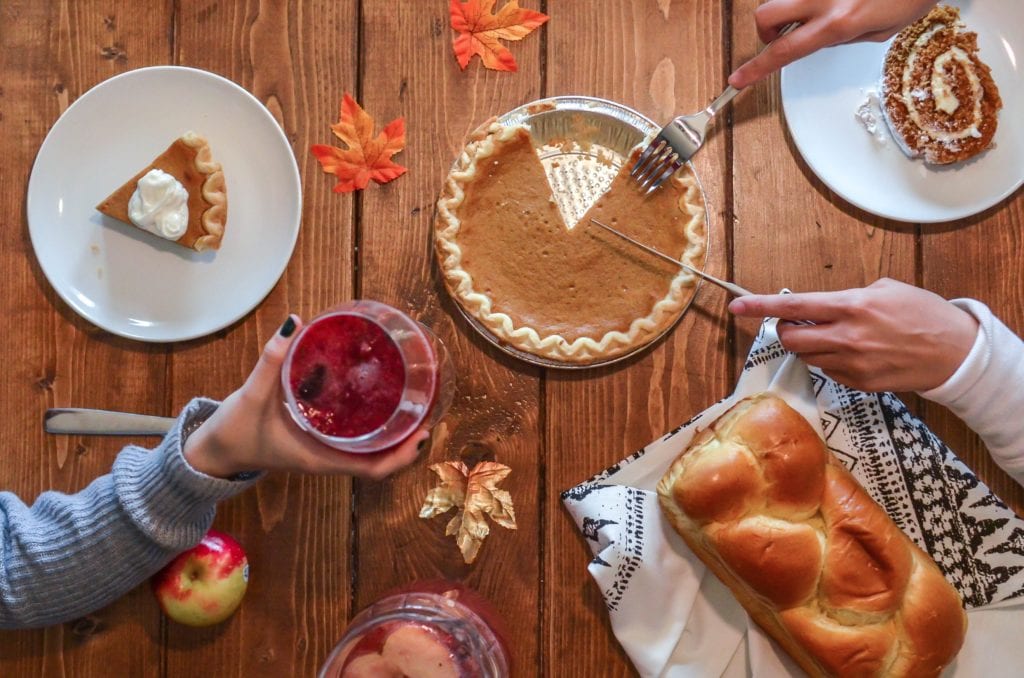 #1 Assign seats
When planning Thanksgiving or Friendsgiving, get festive and create fall inspired name cards. We don't like to make things complicated, so keep it simple! Cover your table in brown packing paper, grab a gold marker and write everyone's name by their place setting. If you have extra space, add in some extra lines so your guests can write down what they are thankful for this year. Lauren Nolan, founder and editor of
LakeShoreLady.com
says, "Assigned seats might not feel necessary if everyone knows each other, but if you're mixing new people together, it can relieve so much stress for your guests about where to sit!"
Need some decorating inspiration? Check out these Thanksgiving tablescape ideas from Real Simple.
#2 Create custom cocktails and mocktails
Cheers! When hosting Thanksgiving or Friendsgiving, create custom cocktails and mocktails for your guests to sip and savor all day long. Whether it's hot apple cider or a hard cider sangria, channel your culinary creativity.
Check out these 11 easy and delicious Thanksgiving cocktails from Food and Wine Magazine for some culinary inspiration.
#3 Delegate dishes
Hosting a big dinner like Thanksgiving or Friendsgiving can be a big undertaking. Nolan says, "Whatever you do, don't be a hero and try to do everything yourself! It's just not worth it. Plus, people
want
to help! Claim the dishes you love to cook and let other people take the rest. If you're worried about them not doing it the way you would, be specific with your instructions. Give them the names of your favorite wines or suggest a crowd pleasing appetizer that's easy to make."
#4 Free up the fridge
A few days before Thanksgiving or Friendsgiving, start clearing out the fridge and freezer to make space for
Thanksgiving dishes
and future leftovers. Looking to upgrade your plastic containers? Try these
sustainable food storage options
instead.
#5 Have a head count
Whether you are hosting an intimate affair or a larger, more elaborate celebration, make sure you have enough food and wine for all of your guests. Here's a handy
Whole Foods chart
to help you plan Thanksgiving portions appropriately for your specific headcount.
#6 Repurpose pumpkins
Need Thanksgiving decorations for your home or tablescape? No need to go overboard at a high end store. Use your leftover pumpkins and gourds from Halloween and repurpose them into a festive fall centerpiece. Be sure to double check each one to make sure none of your gorgeous gourds and perfect pumpkins have started to mold.
#7 Thanksgiving to go
Since everyone's eyes are bigger than their stomachs, you will most likely have leftovers. Don't send everyone home empty handed. Stock up on to-go containers beforehand so you can dish up to-go plates for all of your guests to enjoy all week long. Nolan notes, "If you don't want to or don't have time to get to-go containers, ask your guests to bring their own storage containers to dinner. You'll find that most people will oblige in the name of sustainability. Plus, they don't want that good food to go to waste either!"
#8 Enjoy the moment
Remember, Thanksgiving or Friendsgiving does not have to be perfect. There may be some hiccups along the way, and that's okay. At the end of the day, if you are surrounded by family, friends, neighbors and loved ones, you have a lot to be thankful for this year. After all, isn't that what Thanksgiving is about?
Wondering how you can stay active this Thanksgiving? Try this Thanksgiving workout you can do anywhere or try this track workout perfect for a trip home.