Recipes to Make a Healthy Thanksgiving Dinner
Sometimes, journalism involves taking risks. I took a huge risk over the weekend by inviting my food-enthusiast-friends over for a healthy Thanksgiving dinner disguised as "friendsgiving."
However, I didn't tell them until after they arrived. Sneaky, I know. As I prepared five lightened-up Thanksgiving classics, I thanked them for coming, for their willingness to try something new and I assured them that the gravy would be prepared in all of its full-fat glory. These are friends that I intend to keep, after all. Keep reading to see which dishes were made, enjoyed most and which will be making their way to another Thanksgiving.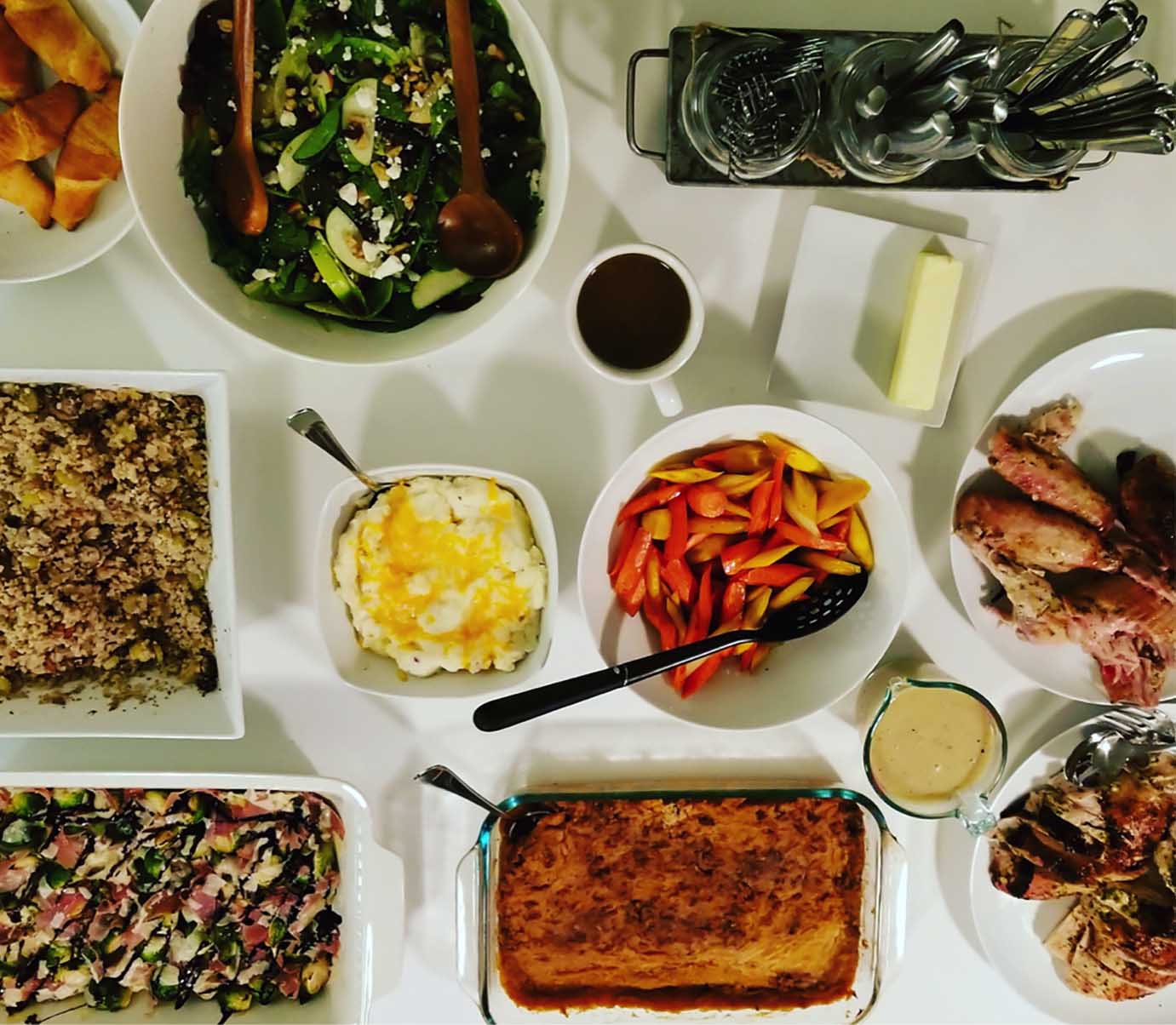 Starting with Salad
It's hard to get salad wrong, so we started with a delicious apple cranberry walnut salad from Creme de la Crumb with dressing made from scratch. The salad and dressing took fifteen minutes to prepare, and the mixture of flavors was the perfect way to start a Thanksgiving meal. This salad will make its way to future gatherings.
Stuffing, the ultimate Thanksgiving side
The next dish to come out was one I was most nervous about: Cauliflower rice stuffing from The Healthy Maven. As food enthusiasts, I wasn't sure how my friends would react. The verdict: it didn't taste anything like stuffing, but it was still delicious. It was also extremely simple to make. I would make this again for guests with gluten sensitivities or intolerance. I also might modify it a little to make as a side dish or a healthy lunch option during the week.
The starch
What I was most excited and confident about was this sweet potato casserole recipe from Jessica in the Kitchen. Almond flour, coconut oil and unsweetened almond milk make this recipe very friendly for your healthy lifestyle. Maple syrup, butter, brown sugar and cinnamon make this recipe very friendly for your taste buds. The good news: the casserole was very simple to make and even more delicious than I had hoped. The bad news: it was the least Instagram-worthy dish out of all of them. Regardless, my friends really enjoyed it. I will definitely make this again and I will try to improve the overall appearance of this dish the next time around – after all, it is all about the 'gram.
A Veggie Side You Can't Mess Up 
The most basic dish I made was honey maple roasted carrots, also by Jessica in the Kitchen. Roasted vegetable dishes are typically simple and I knew it'd be hard to go wrong with honey, maple syrup and oil. Just as I predicted, my friends loved this dish. There weren't even any leftovers! My verdict: this would be the perfect side dish to bring to any holiday gathering.
Don't forget the pie … er apple crisp
Last, but definitely not least, healthy apple crisp, a recipe from Healthy Liv that is rightfully titled "Best-Ever Healthy Apple Crisp." As someone who takes dessert indulgence very seriously, this was another recipe that made me take a big gulp before serving. It can be hard to lighten up desserts without also lightening up the flavor. Luckily, no flavor was harmed in the making of this dish. The crumble topping was both clean and rich, what I would describe as the best of both words. The best news: it was probably the simplest dessert I've ever made – this apple crisp will be making its way back into the rotation every fall.
I survived hosting my first healthy friendsgiving without losing my sanity, healthy lifestyle or friends, so I'm going to consider it a huge success. Try it for yourself on the real day or get your friends in on it and tag us in your Instagrams with @aSweatLife and #LivingaSweatLife.