5 Healthy Habits for a Satisfying Thanksgiving Dinner
Oh Thanksgiving. It's a happy, feast-filled time of year spent with the people we love most—our family. I think Johnny Carson put it best: "Thanksgiving is an emotional time. People travel thousands of miles to be with people they see once a year. And then discover once a year is way too often."
Whatever the distance you travel to show your gratitude for a juicy turkey (or tofurkey?) with a side of cranberry sauce, there is a single Universal truth: people consume far more during Thanksgiving than any other meal throughout the year. I'm not going to explore the historic culprits behind the calorie-filled festivities, nor am I going to insert stats or diet culture trending topics.
(Need a gift to make time in the kitchen a little more bearable? Check out our gift guide for "Life Outside the Gym" here!)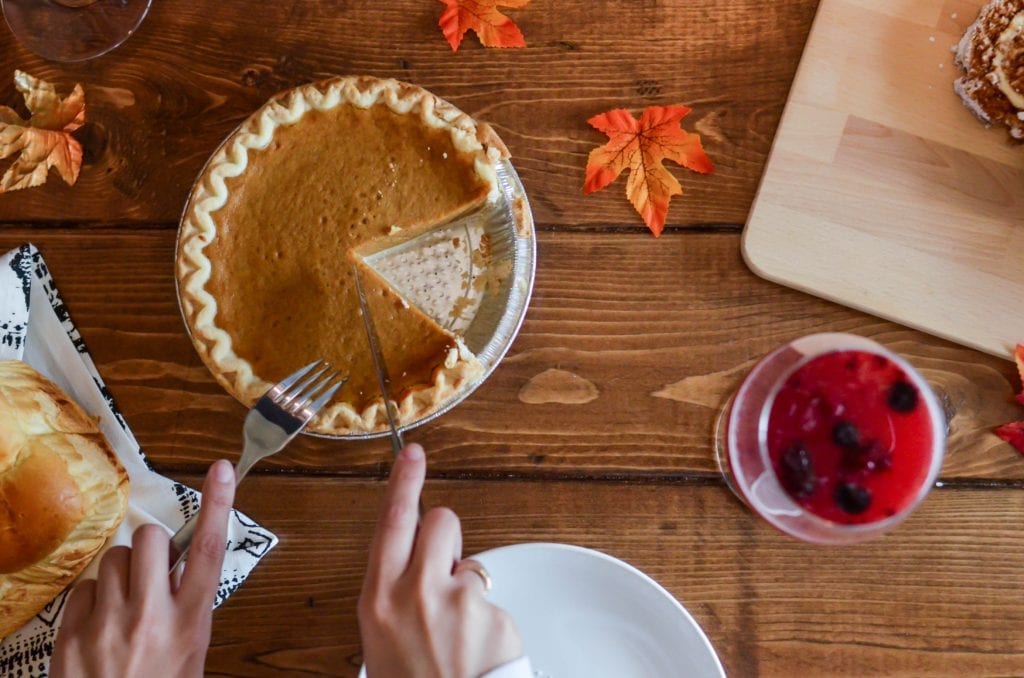 I actually don't believe eating tasty food during the holidays is "bad" and the occasional indulgence can fit in nicely within the scope of a healthy diet. However, there are a few healthy habits and swaps that are worth considering for Thanksgiving, if for no other reason than to not feel so overstuffed or suffer unwelcome digestive upset. You can—and should—have your apple pie and eat it, too. But here are some ideas to make the apple pie more enjoyable, and not so pants-bursting painful.
1). Fill up more on nutrient-dense foods.
These are the veggie dishes, salads—that green bean casserole? It can actually be made more nutritious with a few simple modifications—like trading out the dairy for coconut cream and incorporating cashews, bone broth and arrowroot powder. As a rule of thumb, keeping vegetable dishes healthier helps balance a Thanksgiving meal, so that you're still getting valuable nutrients in. We don't need to sacrifice good nutrition when enjoying less nutritious foods, too.
2). Balance whole versus processed carbs by keeping recipes simple.
Carbohydrates have been demonized for far too long, and it's a little unfair. They really aren't "bad" for you. The issue is when they're processed. Whole, unprocessed food is simply better for you.
Also to your benefit—limiting heavy creams and sauces. Somehow, over the years, we've become very dependent on over-flavoring food and it's affected our palates. Most food really doesn't need a rich sauce if it's seasoned well. Roasted sweet potatoes or potatoes are great swap for mashed potatoes. All you need is olive or avocado oil (it has a higher smoke point), salt and pepper and the finished product is just as delish.
Retraining our palates to enjoy carbohydrates in a more natural state helps prevent us from overeating (hyper-palatable= more susceptible to eat more than we need), and helps us relearn to taste real food. So no, carbs are not your enemy. Hyper-palatable carbs with no nutritional value should just be balanced out with some more nutritious options as well.
3). Snack before dinner.
If you're waiting until dinner to eat, chances are you're starving. This only increases the chances of overeating. For many, "saving room" to indulge might seem like a sensible choice. But enjoying a couple small meals/snacks throughout the day leading up to the big meal will not only better help you manage your appetite, but will also keep your blood sugar more stable throughout the day. This might help you make decisions about the foods you really WANT to indulge in during your meal, and the extras you can do without.
4). Eat slowly.
In general, we eat way too fast. Thanksgiving dinner is no exception The faster you eat your first plate, the sooner you can move on to your second, right?! But when we eat slowly, we actually taste food. We connect to the emotional and physical responses it stimulates within us. We notice how we're feeling and register when we've had enough. It takes a while for our stomach to catch up with our eyes. Slow down and enjoy the experience, people and good times. And remember to hydrate as you eat, which is just as important as getting nutrients in.
5). Don't ditch your faves.
I'm a firm believer that when we swap out our favorite cravings/indulgence foods for healthier options, we never fully satisfy the mood-boosting impact that food has on us. Pick one or two "non-negotiables" and eat them in their normal recipe state. No almond milk/coconut cream/stevia swaps. The real deal.
Obviously, food intolerances and allergies are an exception. But if you are making a swap to reduce calories or not gain weight—this is an easy path towards binging at some point and time. It doesn't make you a "bad" person for enjoying the foods you crave. Learning to eat these foods in moderation so that you never feel deprived helps you create a loving and balanced relationship with food (and often that deprivation results in the need to overindulge in them, which perpetuates a restrict/reward pattern that is hard to break).
Maybe apple pie is something you can't live without but the bread rolls you can—swaps don't need to be restrictive. Their purpose is to incorporate a more manageable way of balancing needs and wants, and self-regulating without restricting.
Over time, approaching holiday meals like Thanksgiving dinner becomes much easier using this balanced approach. And it might help make a family gathering more manageable, too ;).