Join aSweatLife for a Pop-Up Pre-Covery and Shop Night at State & Liberty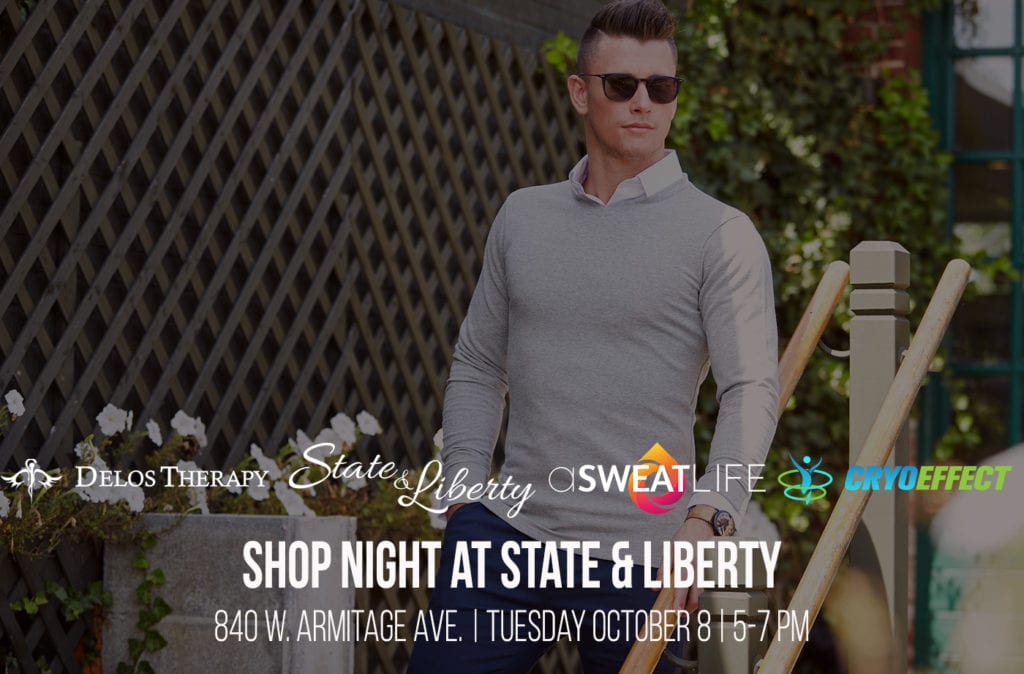 [Get your spot at the pre-covery and shop night 10/8 here.]
Tuesday, 10/8 marks exactly five days before the Chicago Marathon. And while we're not all runners, we catch marathon fever here in Chicago just being in the city in the weeks leading up to one of the most famous runs in the world. Plus, at aSweatLife where we believe that if you have a body, you are an athlete, we also know that you're probably in need of some dedicated recovery time no matter what your fitness regimen looks like.
We're teaming up with men's athletic fit clothing line, State & Liberty, with a shop night at Armitage and Halsted, for an evening of pre-covery and recovery Tuesday, October 8 from 5-7 pm. We're inviting in our friends and favorite partners in the business of making muscles feel and work better to offer complimentary treatments while you stop in, shop around (for yourself or a loved one, ladies) and yes, make new friends.
What's State & Liberty?
State & Liberty was created to offer athletic fit, performance dress clothes for men. Trust us (or see the process for yourself), you or the men in your life are going to want to get your hands on the dress shirts designed by this upscale brand. Not only is the quality of the clothing top notch, but it is actually affordable AND comfortable. Just in time for holiday shopping, we're excited to partner with State & Liberty to offer everyone who attends this shop night a 15% discount on all apparel in the shop.
More about our recovery partners for the evening
CryoEffect will be at State & Liberty with their local cryotherapy machine for you to have local cryo treatments or facial cryotherapy (because beauty rest, we firmly believe, can be a thing even when you're awake).
Delos Therapy will be there with a therapist providing treatments in the form of deep tissue work for your sole muscles, enabling better joint mobility and better movement all around.
Normatec boots will be on site for you to kick back and relax and let the blood flow move back into your legs (you'll thank us later).
What else is going on at this shop night?
State & Liberty has a fully stocked bar, so if you're taking this whole relaxation on a Tuesday to another level, make yourself a glass of wine or a cocktail and let the Tuesday Funday begin.
We'll have other snacks and non-alcoholic beverages at State & Liberty for you as well. We hope you'll join us for a drop-in evening of shopping with a killer discounts (future you will be so grateful you took advantage of this holiday shopping now) and a night of making new friends + recovering with the best tools out there.
I've heard enough, give me the details and sign me up!
What: Shop night at State & Liberty packed full of recovery options, snacks and drinks!
When: The Tuesday before the Chicago Marathon, Tuesday October 8 from 5-7 pm
Where: State & Liberty, 840 W Armitage Ave
Where do I sign up? Here!