How State and Liberty's Co-Founders Thought Outside of the Box-y Men's Dress Shirt
It's pretty much a given: dress clothes have never been as comfy as your favorite pair of joggers or the ratty t-shirt that's stuck with you since high school. And similarly, those same comfy clothes don't often to your body any favors in terms of fit; they're cozy because they're baggy and shapeless.
At least, that's been my experience as a woman—and men face the same issues, Steven Fisher, co-founder of State and Liberty, tells me.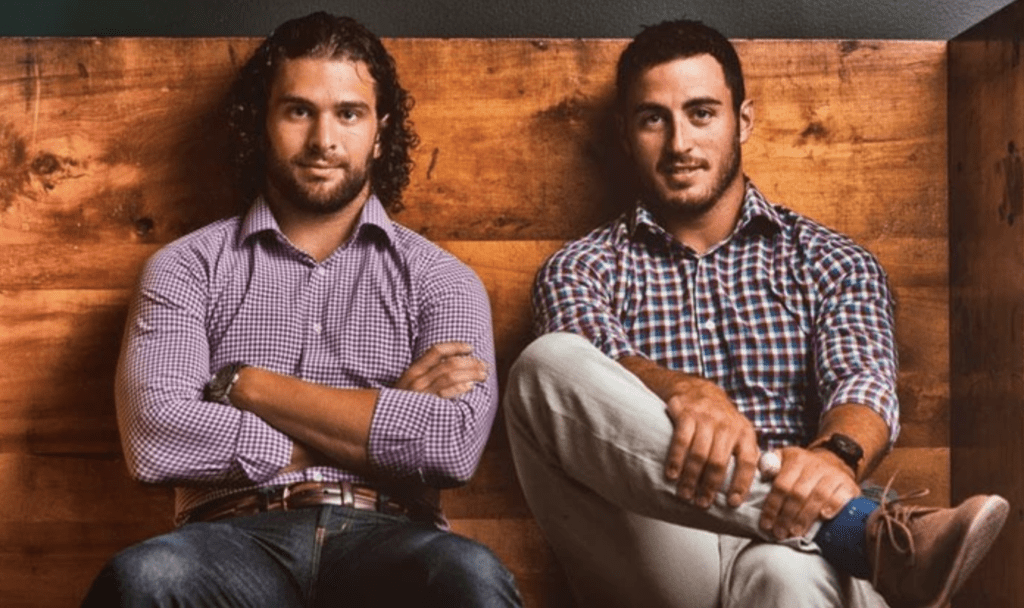 "We hated every dress shirt we'd ever had to wear."
About five years ago, when chatting with Lee Moffie, whom he'd known as a student at University of Michigan, Fisher realized "we hated every dress shirt we'd ever had to wear."
"We couldn't find anything that fit us well. If it fit in the chest, it was super baggy at the waist. If it fit at the waist, it was super tight in the chest."
Both Fisher and Moffie are athletically-built dudes; Moffie was a professional hockey player at the time, and Fisher was working in the front office of the Detroit Tigers and hitting the gym regularly. But they still couldn't find professional dress clothes without sacrificing either fit or comfort.
"At the time, nobody was doing athletic fabric dress shirts," Fisher explains. "People had athletic fabric workout clothes, or things the guys were wearing on the PGA tour every Sunday, but for some reason when you went into an office, you couldn't get something that breathed, that was sweat-wicking and wrinkle-free, that you didn't have to dry clean—you could find it in workout gear, but not in a dress shirt."
It was time to take matters into their own hands.
Bringing their dream athletic fit dress shirt to life
"We decided to make some prototypes to see if we could make a good product," Fisher shares.
Fit was their first priority. In the upper body, they wanted the shirt to fit someone broader in the shoulder, chest, and arms, with a more tapered waist (similar to a V).
Of course, they'd need a supplier, and the way they found one was straight serendipity. On a trip overseas in college, Fisher had gotten custom suits made in Asia. By pure luck, he still had the business card of the woman who made his suits, so he reached out to them and asked to send them fabric to make a dress shirt. To this day, she's still their biggest manufacturer.
With two prototypes in hand—a white dress shirt and a blue gingham dress shirt—Fisher and Moffie put their new dress shirts online and waited for the sales to roll in… only for virtual crickets to chirp in the background while nothing happened.
Eventually, however, word of mouth grew.
"Early on, the product really sold itself," says Fisher. Moffie was still playing hockey and Fisher was working in Michigan while selling their shirts at trunk shows and in gyms on the side. "That's how the product really took off—us literally selling out of the trunks of our cars."
The challenges of building a business
"Everything's a challenge," Fisher acknowledges, "from product development to website to finding good employees to finding good partners to work with."
After dress shirts, Fisher and Moffie took their vision to other clothing items.
"We asked ourselves, 'What can we NOT find out there? What products are not being made well for an athletic guy?'", says Fisher. They quickly expanded to polo shirts, overcoats, technical polos, sweaters, suits, and pants. In the lower body, they tailored for a slim waist, with more room in the butt and thighs, finishing with a slight taper past the knee to avoid a bell bottom-esque look.
Now, the brand is focusing more and more on expanding into brick-and-mortar retail, which brings a whole new set of challenges to address. Luckily, State and Liberty has attracted a passionate group of customers who love the product—including a ton of professional athletes who have become more of a resource to the co-founders than they could have ever expected.
"We have a really passionate following who like the product and the fit, and they understand why we're doing what we're doing," says Fisher. "I think we currently sell to 300 out of about 600 National Hockey League players; we have around 200 Major League Baseball players as customers, and a ton of National Football League guys."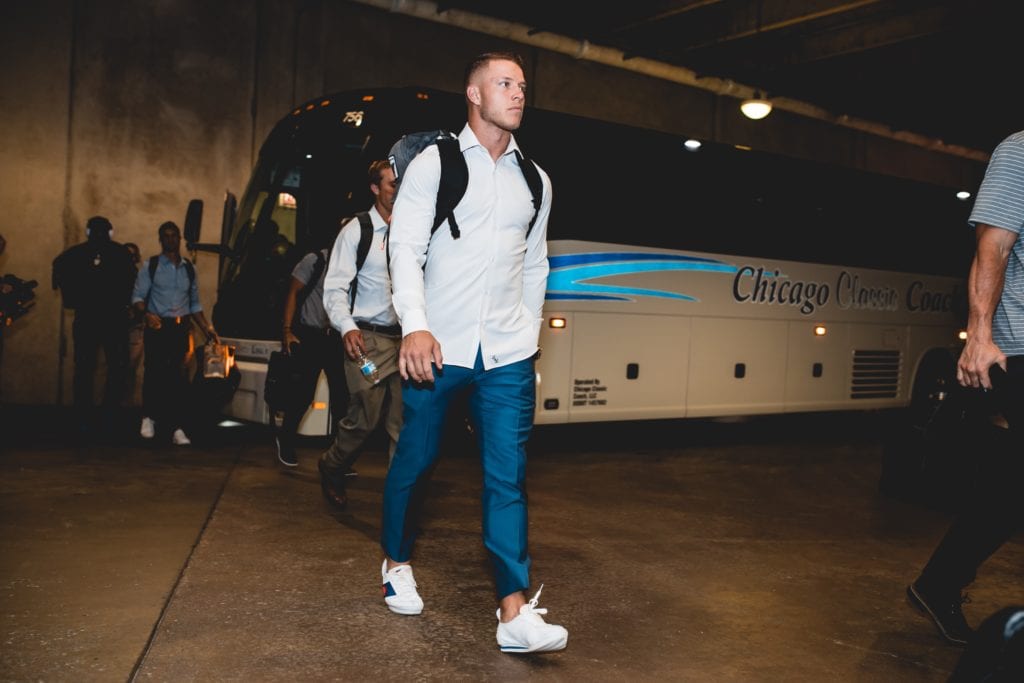 But fear not—State and Liberty's shirts work for the Average Joe too. Their athletic fabric has a little stretch to it, so shoppers can play with sizing to achieve the look they want.
"The clothes have some give to it, so for the guy who's in the gym a couple of times a week but not a professional athlete, it still works for them," explains Fisher.
High performance—both in the materials, and in the activities
Whether you're a professional hockey player or just a guy giving a presentation on quarterly sales goals, Fisher rightly points out that being comfortable in your clothes is key to performing well. After all, a marathoner doesn't wear just any gear to run in—they wear shoes that support their footfall, shorts that don't get in the way of their stride, and breathable tops that wick sweat
.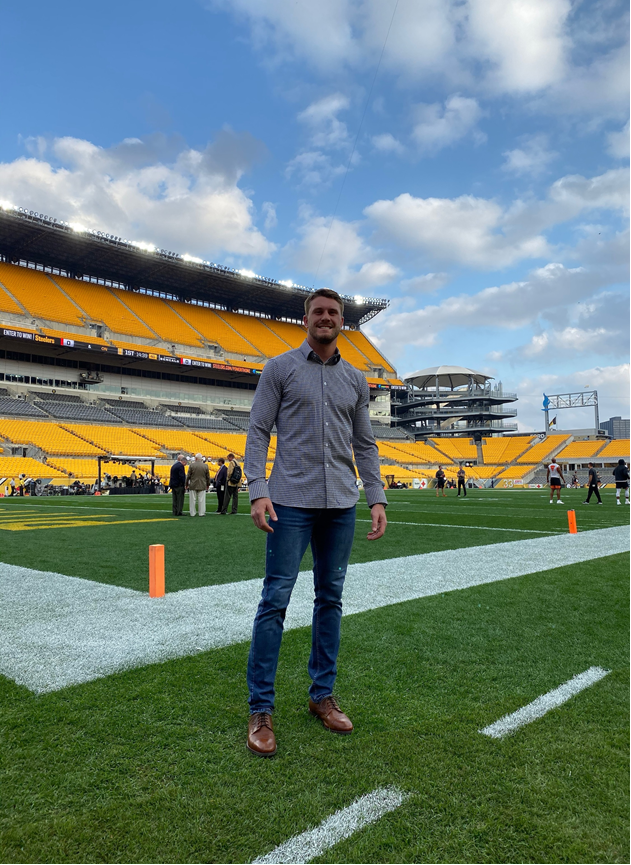 "When you're sitting in a meeting, and you're uncomfortable because the clothes don't stretch and you're sweating and people can see the sweat stains, it's just not going to be a good experience," he explains. "But if you go in there feeling confident, wearing something that feels good and looks good, you're going to have a better time all around."
Curious about browsing State and Liberty for those on your gift list this holiday season? With stores in eight major cities (including Chicago, located on Armitage in Lincoln Park's shopping district), Fisher recommends visiting in-store if possible, since their employees are experienced in fitting the people you're shopping for with just a few bits of information. However, they offer free returns and exchanges online if you can't make it in.
As for popular holiday gifts, Fisher recommends their sweaters or dress pants for surefire gifting success (and psst… you just might find them in our upcoming holiday gift guides, hint hint). Hey, your giftee might even view his new clothes as life-changing—and he wouldn't be the first one.
"Getting the emails that say, 'Oh my god, I've been looking for this shirt for my whole life' has made a lot of the challenges worth it," Fisher says.