Meet Us for a Day of Co-Working and an Evening Panel at Exchange312, Wednesday September 4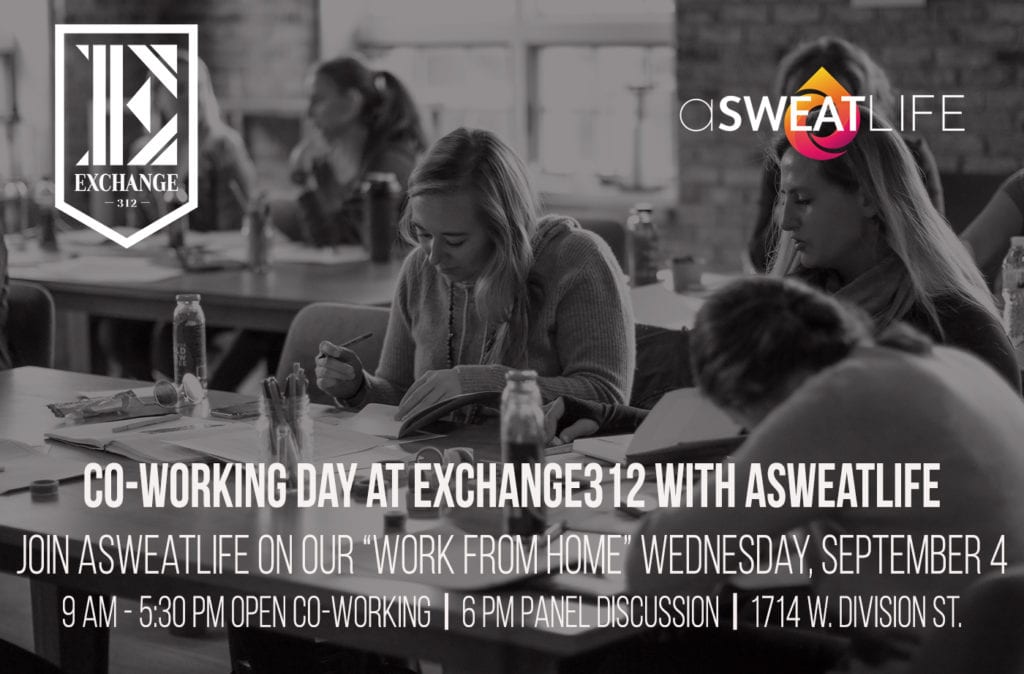 (Save your spot at the co-working day with aSweatLife and Exchange312 here.)
Although Wednesdays are aSweatLife's designated work-from-home day, from time to time, we still miss each other and end up coffee-shopping around town for portions of the day. When we took a team meeting at Exchange312, the event space in the heart of Wicker Park, earlier this summer we thought to ourselves, "now here's a place we could really get things done!"
Which is why we couldn't help ourselves but to invite you all to join us in what will be our most productive "work from home" day to date. And, even better, Wednesday September 4 – an official "co-working day with Exchange312 and aSweatLife" – will kick off a monthly series; every first Wednesday of the month, we'll be working from Exchange312 and we'd love for you to join us!
Let us know you'll be at Exchange312 to work with us as "work from home" in the cozy Exchange312 space on Wednesday September 4 by saving your spot right here.
Why co-work with us?
Beyond the fact that it'll be FUN, we have a few surprises up our sleeves for the day if you plan to come spend it with us. Plus, the day will culminate in a panel discussion moderated by Jeana Anderson Cohen, on fueling your passion in the workplace.
(Book your spot at the panel discussion right here.)
And because we are who we are, and can't help ourselves but find a way to sweat in any neighborhood we call home for the day, we're inviting you to join Wicker Park's community of sweat a few different ways on September 4. If you've never been to Spynergy Wicker Park before, your first class will be *free* on 9/4, and if you've visited before, class will be just $15. Once you save your spot for the day of co-working, you'll get details about how to redeem your class.
In the morning, the team from Wicker Park Athletic Club will be stopping in to bring you guest passes to use anytime during the day of 9/4 in case you want to break a mid-day sweat or just stretch it out. WPAC is just a hop, skimp and a jump across the street, so if there's ever a day to make that mid-day workout happen, it's this day.
More about Exchange312
By day and by night, Exchange312 is a versatile event space and venue with an in-house production team that can put together an experience for whatever your needs may be, and can accommodate up to 150 people.
When the space isn't booked for a day-long event, it also provides the perfect backdrop to a productive morning or afternoon. Situated right by the Division and Ashland Blue Line stop, it's easy to get to. And once you're inside, you'll find a welcoming and calm atmosphere tucked away from the hustle and bustle of Division Street. We'll have snacks and beverages for you to enjoy throughout your day of co-working in this gorgeous space.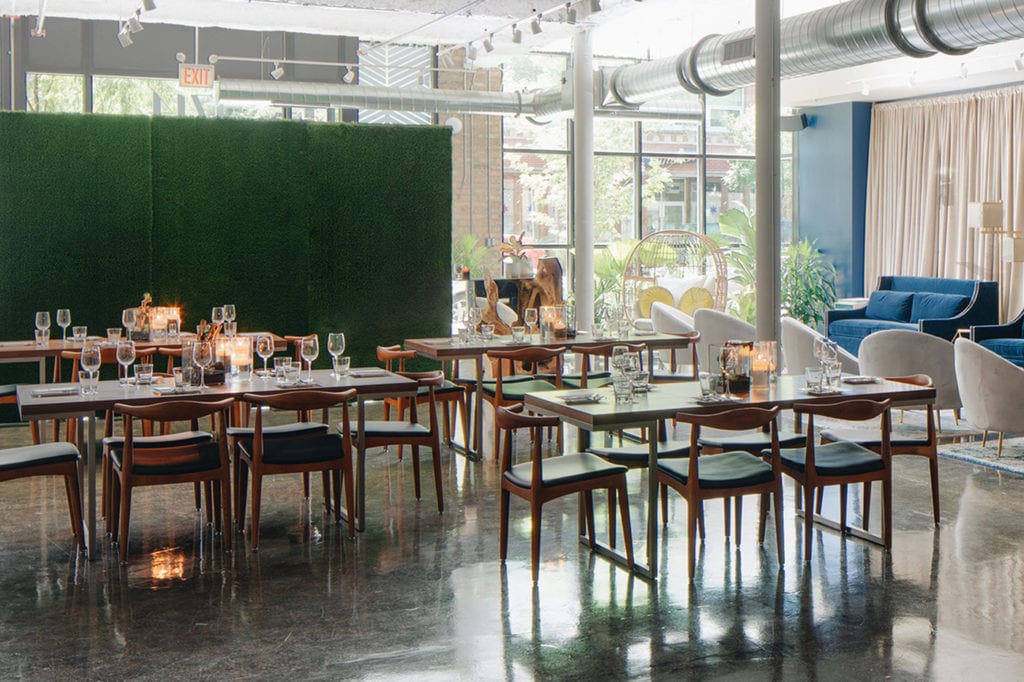 Details for co-working with Exchange312 & aSweatLife
When: Co-working all day from 9 am – 5:30 pm on Wednesday, September 4
Where: Exchange312, 1714 W. Division St.
Where do I grab a ticket? Right here for the day of co-working (let us know you can make it so we know how many snacks to get!) and right here for the panel discussion at 6 pm!
What am I signing up for? A day to work from a new home-away-from-home, at Exchange312 alongside Team aSweatLife! There will be opportunities to sweat built in, light snacks and beverages provided throughout day, and an evening of networking & panel discussion on creating and finding fulfillment in the workplace provided aSweatLife Ambassadors' careers committee.
Let us know!
Did this post help you get closer to achieving one of your goals?