Our 5/16 Breakfast-and-Learn: Your Personal Style AND A Clothing Swap!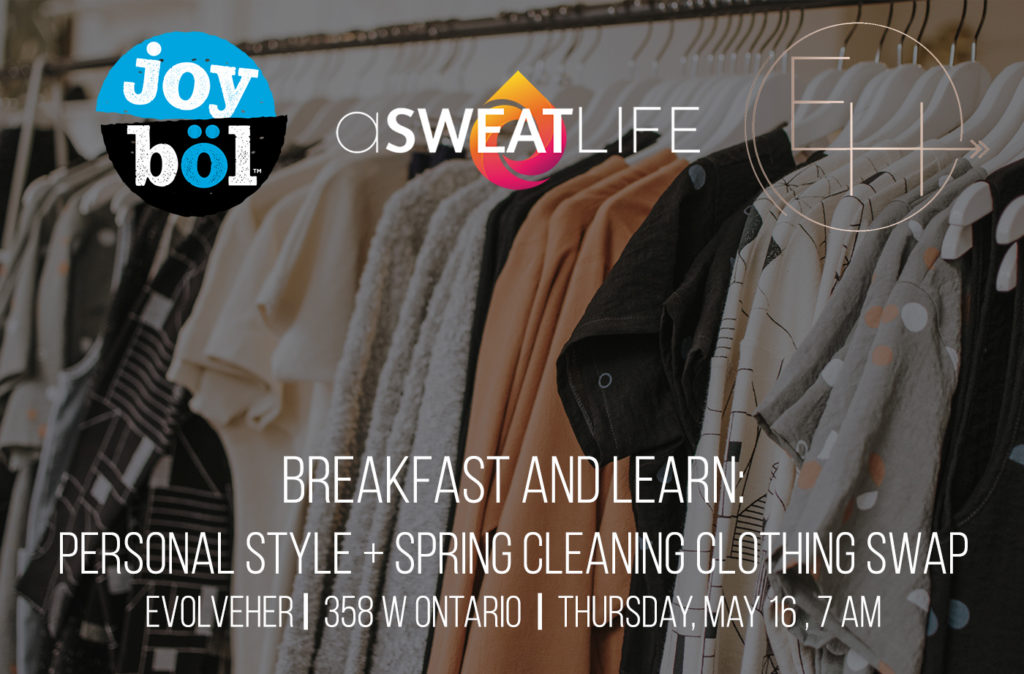 (Get your ticket to this stylish breakfast-and-learn here!)
If you, like us, have thoroughly Kondo-ed your life and de-cluttered your closet, you might be left staring agape at what's LEFT in your closets, drawers, and random storage units. Your first instinct might be to immediately go shopping to buy new basics, or on-trend clothes that fit your personal style and self-expression, or convince yourself that buying a brand-new capsule wardrobe is actually very minimalist of you.
In May's breakfast-and-learn, we're going to try a different route: shopping our own closets and learning how to actually define personal style, ending with a clothing swap to put what we learned into practice.
What to expect from this breakfast-and-learn
Since Team aSweatLife's daily uniforms are mostly athleisure (except on the rare occasion Jeana rocks her power blazer), we're bringing in an expert for this 5/16 breakfast-and-learn: Annie Frances of Annie Frances Style Consulting. Annie's a personal stylist and consultant, and she's also a licensed therapist, so she's got that extra empathy that makes her the perfect person to try on clothes with. She's creative, fun-loving, and you'll feel energized and inspired listening to her takes on defining your personal style.
After we learn how to express ourselves through our clothes, we'll enter the activity portion of the morning: a clothing swap! Bring one piece of clothing and one accessory that you're ready to part with (of course, please make sure the clothes are washed and in great condition—think a piece you'd let your best friend have, not a torn-up T-shirt that's ready for the rag bucket). We'll shop each other's closets to exercise our creative styling muscles and leave with a new outlook on getting dressed in the morning. And don't worry—we'll donate whatever clothing and accessories are left over to a worthy organization.
Talk to me about the breakfast part, please
This breakfast-and-learn will be brought to you by JoyBol. We're as obsessed with smoothie bowls as anyone else, but let's be honest—you kind of have to be at your house to make one (and even then, it takes more time than most of us have), or else you're caught paying a lot of money to buy one out. JoyBol is a ready-in-seconds smoothie bowl with a TON of delicious flavors and mix-ins to choose from. Just add cold water or milk to the line, stir until blended, and boom! Smoothie bowl on-the-go, at your service.
We'll also have coffee, because duh.
Details!
When? Thursday, May 16, from 7-8 am
Where? evolveHer, 358 W. Ontario St. #3W Chicago, IL 60654 in River North
What do I need to bring? One high-quality piece of clothing and one accessory (jewelry, shoes, purses, scarves, etc) to swap! The clothing should be washed and in good enough condition that you'd still be willing to wear it out in public.
How do I snag a ticket? Right here, thanks for asking!