How Thug Kitchen's Creators Set Big Mother F*&$!#% Goals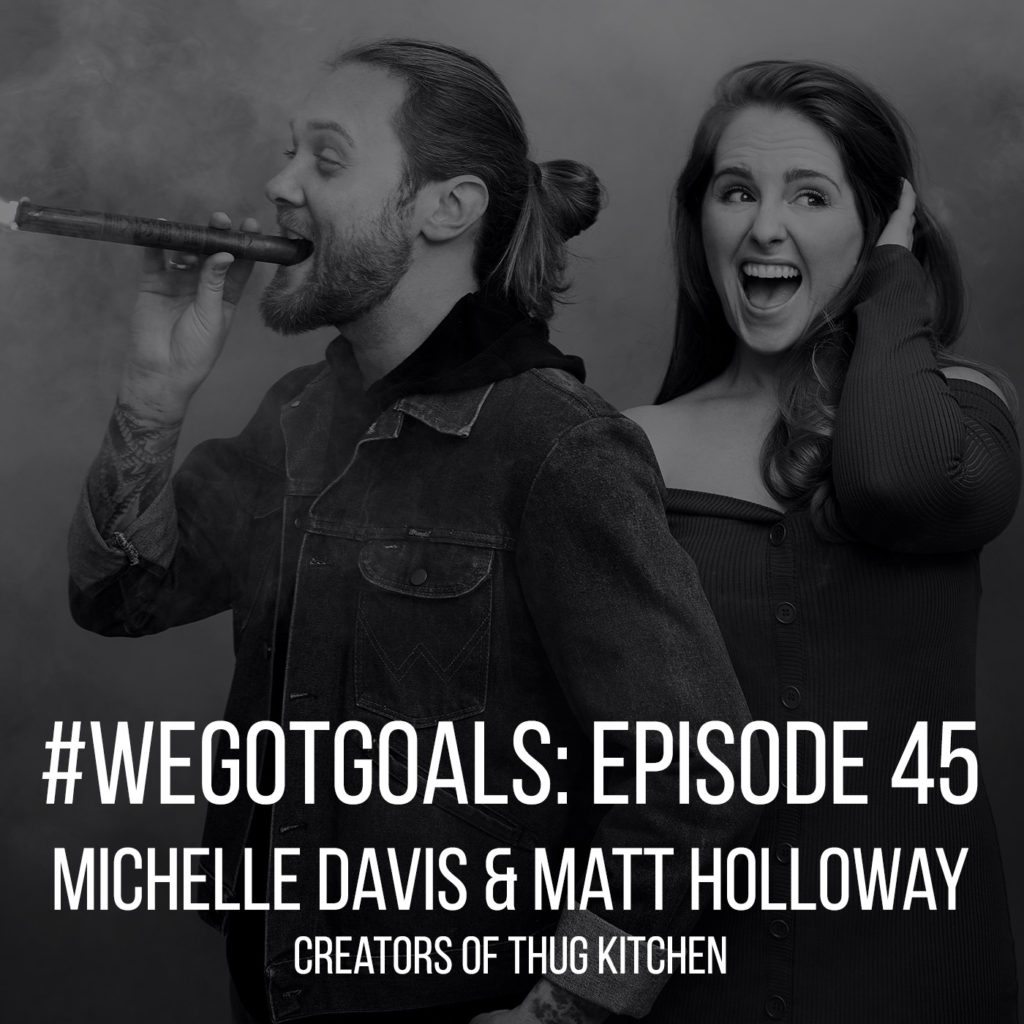 Prior to having Michelle Davis and Matt Holloway, creators of New York Times Best Selling cook book Thug Kitchen, on our podcast, I wanted to know, "Do they curse as much in real life as they do as a brand?" The answer was – not surprisingly (and yet still delightfully) – of course.
This episode of #WeGotGoals is marked E for explicit, and in it we dove into the "why" behind the profane language.
As lighthearted and fun Davis and Holloway are to chat it up with, they mean serious business when talking about eating healthy and taking care of yourself.
"Take that shit f*&$!#% seriously," Holloway said. "We want to grab the audience and shake the s*#$ out of them and say, 'Eat a f*&$!#% salad, I'm worried about you!'"
Davis interjected, "The swearing levels the playing field." She emphasized that you don't have to change who you are or completely change your life if you pick up healthier and smarter eating habits.
In creating The Official Cookbook, Party Grub and 101 Fast as Fuck (I know we have a strict one-swear-word-per-post policy on asweatlife.com, but these two make it impossible when the title of their Best Sellers also happen to be curse words) Holloway and Davis became leaders in the world of eating for your health on social media and IRL.
But that's not what they initially set out to do. In fact, before the Thug Kitchen brand, the two were posting to a Tumblr page for fun, with no idea who, if anyone, was reading.
"A big reason our blog went viral was because Gwyneth Paltrow talked about it on The Rachael Ray Show," Holloway said. "We don't have any connections with either of them, but that was like a boom in traffic for us."
But the reason Paltrow probably took notice, Davis notes, is because they were already doing the "unsexy work" and were committed to it.
Her advice to goal setters looking to achieve big things?
"Work as hard as you can and perform at the highest level you can regardless of who's looking because when they crack that door open for you just a little bit, you can be ready to shove your f*&$!#% foot in and make the most of it."
Based on the nature of their content and lack of censoring on the regular, I wasn't surprised but I still appreciated how refreshingly truthful, open and honest these founders were about the ups, downs and lessons learned over the past few years during their Thug Kitchen journey.
From the outside, when we see people achieve amazing things, we see what they have. Davis pointed out, though, that she learned going after what she wants means other things in life have to give.
She begged the question, "What are you willing to give up in your life that you also love to get what you want?"
She added, "You have to be willing to not be caught up on Game of Thrones and to not be able to go on dates and to not see people as much as you want to because you are pursuing this dream. It's not always adding stuff to your life, sometimes it's taking away."
But for these two, the give and take has been worth it. From the recipes in the best selling cook books to the Forked Up podcast, to the direct messages you'll receive on Instagram, all things Thug Kitchen come directly from the dynamic duo. Davis creates the plant-based recipes, Holloway photographs them, and the two together are in charge of the bluntly witty brand voice that stands out among any other plant-based cook books and blogs, making this company so unique.
And based on their goals for the future, I don't think they'll be going anywhere anytime soon.
This episode is presented by Chicago Sport and Social Club, reminding you that summer is just around the corner. Get into a summer volleyball league now and use code "GOALS" to get 5 percent off through March 31.
If you like what you hear, subscribe where ever you get your podcasts and leave us a rating or a review on Apple Podcasts.