Peace For Pits Gains Celebrity Support for its 5K Benefitting Pit Bulls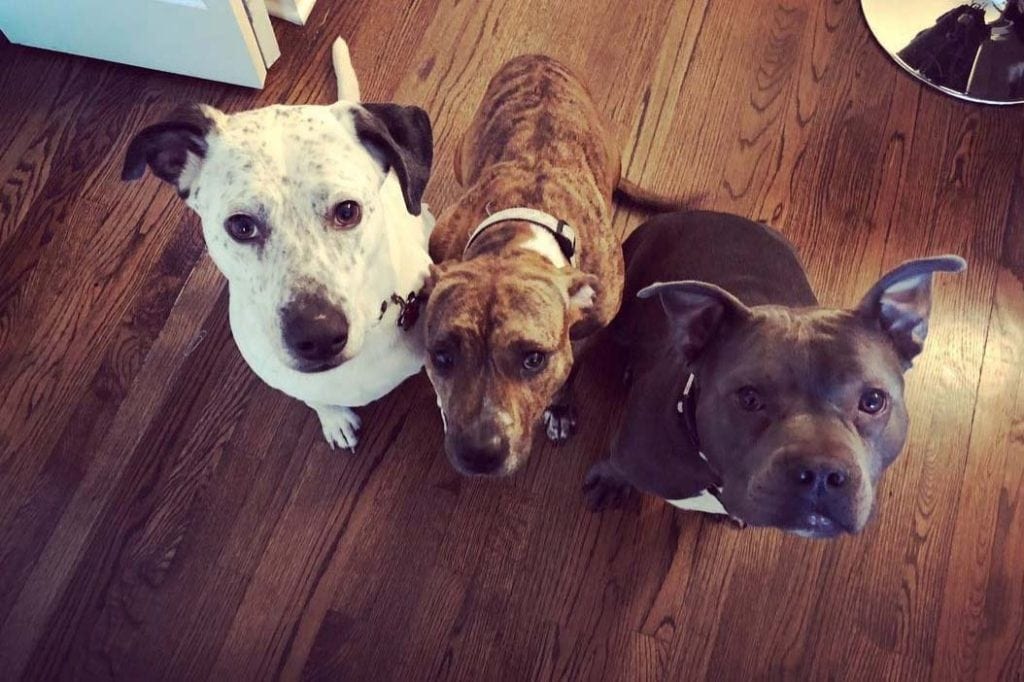 There are thousands of 5K races every year. It would have been easy for us to miss the upcoming 5K benefitting Peace for Pits. But the organization found a friend in major contributor at ESPN and host of the podcast That's What She Said, Sarah Spain.
Spain threw herself  (and the weight of her social media followers) into Peace for Pits after meeting the founders of the group — and as soon as she found a deep love for the bully breed.
Spain's love of dogs was cemented after adopting her first dog Fletch and obsessing over him the way dog people tend to — but with an extra creative flair (and access to celebrities).
"He's literally been our most prized being on the planet since then," Spain said recounting the way she and her husband over-the-top love their dog. Obsessive behaviors include commissioning a Fletch-themed painting, hosting a recurring birthday party (theme: Fletch Navidad), and getting Chevy Chase to sign a headshot of himself from the movie Fletch addressed to the dog, Fletch.
"That is Fletch's prized possession," Spain said.
With room to love more dogs, Spain and husband Brad Zibung found the organization Peace For Pits. They started to foster the breed and adopted their pit bull Banks as a result of fostering. They'll now share the love of pit bulls with anyone who will listen – especially those who have room in their homes for a foster dog.
"We try to have a third dog in the mix at all times that we foster," Spain said. "If you get to know pit bulls and and you have loyal, loving, sweet, kind, smart pit bulls in your life you want to share that with other people so maybe they don't judge the breed."
For Spain and other pit bull parents it's difficult to imagine a world in which dogs are treated with any sort of cruelty — let alone killed because there's not enough space for them.
Enter Peace for Pits, which actively works to keep pit bulls from meeting an untimely end at kill-shelters. The group fundraises year round for things like vet bills and transportation for dogs saved from kill shelters. According to the group, "the average cost associated in putting a dog in a foster home is $600.00 which includes spay/neuter, vaccinations and training equipment." A major milestone in the group's fundraising is its annual Pacin' for Pitties 5K, held this year October 20 in Schaumburg, Illinois, an event Spain shared with her followers.
"The first two people who signed up for the 5K this year did so because they heard about it from following Sarah [Spain] on twitter," co-founder Megan Scholl Lindberg said.
Peace for Pits recently celebrated its fifth anniversary, Lindberg said. "Our initial goal was to save 100 dogs by the end of the third year. Fortunately for us, the Chicagoland area was extremely receptive and supportive from day one, so much so that we rescued 100 dogs in just 11 months."
And the 5K run plays a big role in the work Peace for Pits can do all year.
"Last year we raised over $20,000, which helped us pay off our entire bill at three different vet clinics," Lindberg said, and she's hopeful that the event will be helpful in the same way this year.
All support is meaningful, but when a TV personality shows up and posts publicly for a family-run organization like Peace For Pits, it has a lasting impact.
"Sarah and Brad have fostered over a half dozen dogs, which is easily the most helpful and at the same time most difficult way of volunteering …" Lindberg said. "I could go on and list 50 different things they have done for Peace for Pits over the years, but I will just say what my husband Mike always says when asked about Sarah and Brad — they are smart, kind, supportive, and Peace for Pits is infinitely stronger because of their support."
If you too want to support Peace for Pits, Sign up to run Pacin' for Pitties October 20 or donate to the cause here.