Looking for Your Next Big Idea? Maybe You Should Get A Workout In
It can help with weight loss. It can help to keep your heart healthy. It can reduce the risk of chronic diseases. It can boost your mood and energy levels. It can increase your bone density. It can improve your sleep patterns. Yes, exercise sure does pack a strong, beneficial punch.
If you've ever left the gym feeling inspired and motivated to take on the world — or at least a new project — you're not alone. Research shows that exercise might not only boosts cognitive function overall but more specifically, sparks creativity. Exercise has been known to stimulate your Brain Derived Neurotrophic Factor (BDNF), which boosts the growth of new brain cells, improves memory, and helps people to imagine new situations. This could include a new thought process, a new solution to a problem, a new collaboration idea… or, in the case of some people, even a new business concept.
Daryn Schwartz, owner of The Space Between yoga studio in Chicago opening this fall, thought of the concept for her studio while practicing yoga in LA. "I was living in LA temporarily for work, and I started to feel that I was not doing what I was meant to be doing," Schwartz began. "I wanted to be doing something that made my heart race with excitement. I started to think of ideas, but nothing was coming to me."
Around the same time, Schwartz had a friend in town who suggested taking a yoga class in West Hollywood. It was that experience that gave Schwartz the spark she had been missing. "The class was fun and energizing, and during Savasana, when I was supposed to NOT be thinking about anything, my wheels started turning," Schwartz recalled. "I realized that nothing like that existed in Chicago and that maybe I was meant to bring it to life."
Schwartz continues to turn to fitness when she's looking for that extra spark. "Nothing clears the blockages like a good yoga practice, sweat session, grueling workout… I always come out feeling more clear, present, and grounded," she described.
For Candice Crane, founder and CEO of Petal, her big idea happened on a treadmill during a Shred415 class. Petal is a new, better-for-you sparkling rose water product that is "made with love for rebels and romantics." Made with organic, clean ingredients, the new bevvie comes in rose, lychee rose, and mint flavors.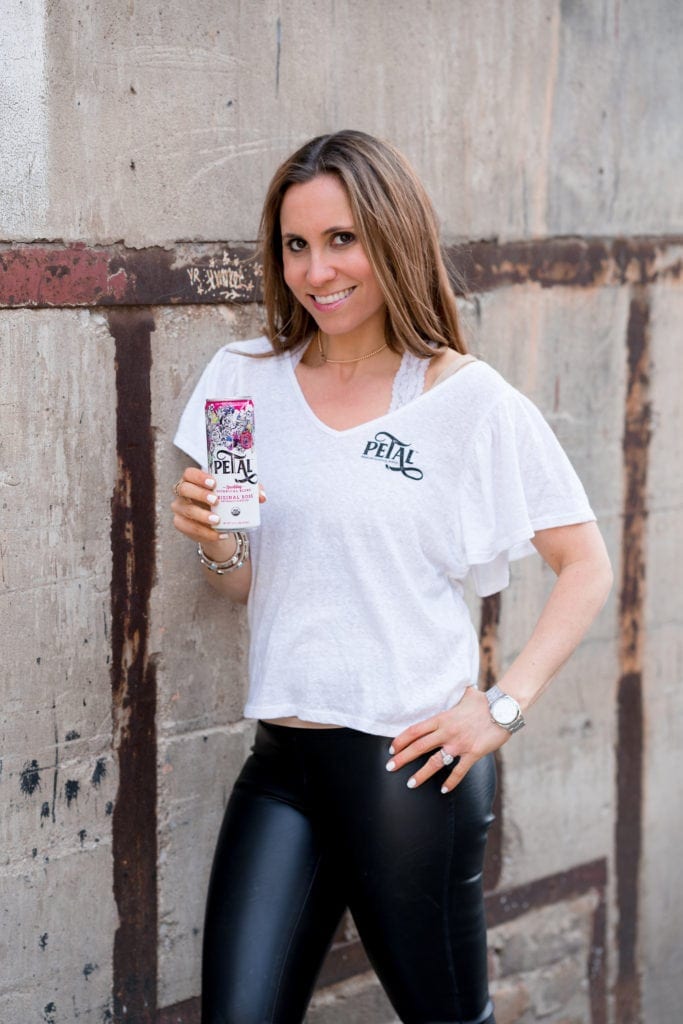 "I was running on a treadmill, and it was a vision that made me almost want to run out of the class to get started right away," Crane explained. "It was March 21, 2017, the first day of spring. Roses come up in the spring, so there's some beautiful irony right there."
Yet, leaving a fitness class feeling inspired and motivated wasn't a new experience for Crane. "I try to go to a different interval workout every morning. It's the most wonderful way to start the day," Crane described. "The motivation and strength that the instructors give you is empowering. I love that message and the feeling that they give you, which is what I try to do with my brand, too."
And Crane sees each class as an opportunity to help her brand and other ideas grow. "[During class], I think about the brand and what I can do to make it better," Crane explained. "When you work out, you have that drive to live your best life. I want Petal to be a reminder to people and to consumers to be that goddess, that flower child, and everything that would make your day shiner and brighter."
To those walking out from a work out feeling especially motivated, Crane advises, "Spread that good energy. It's a crazy world, and we need some positivity and light in it. Whether it's smiling at a stranger or making a list of things and accomplishing them one at a time, do it for yourself and make some positive changes."
Let us know!
Did this post help you get closer to achieving one of your goals?