aSweatLife Ambassadors Help Expand #Sweatworking Nationwide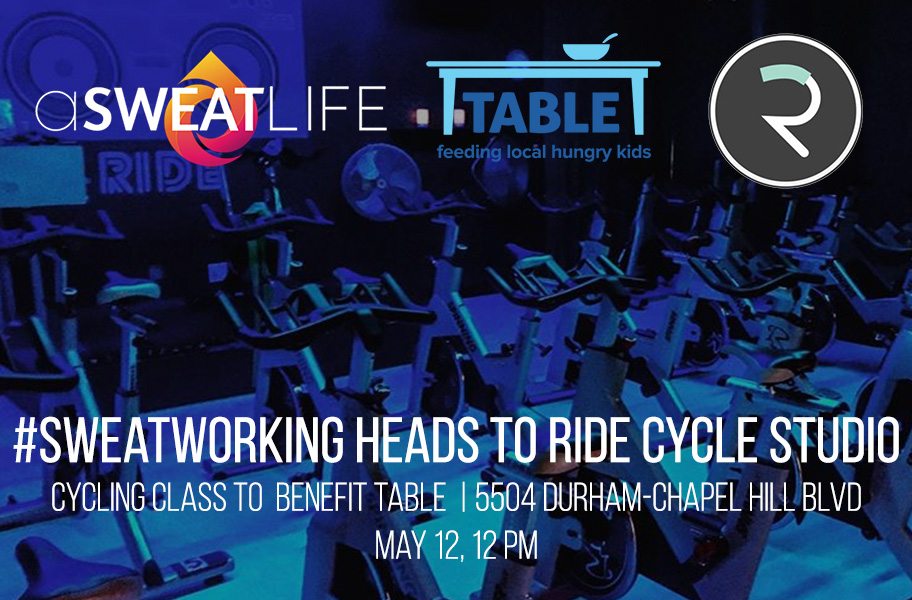 If there's one thing we're pretty sure of at aSweatLife, it's that fitness can be the catalyst to you living your best life. We're also certain that it isn't your whole life, but when your fitness routine complements your social life and vice versa, it's more than just convenient. It can feel really good.
That's why, as #Sweatworking continues to evolve at its home base in Chicago (like round five of #SweatworkingWeek, going down June 4-9), aSweatLife Ambassadors around the country are taking the event series into their own hands for the first time.
May 12, aSweatLife Ambassador Meghan Long will be the first (of hopefully many) to host a special #Sweatworking charity ride at her home studio, RIDE Cycle Studio, where she's a long-time rider and now an instructor.
This particular #Sweatworking event in Durham, North Carolina benefits TABLE, which provides healthy, emergency food aid every week to hungry preschool, elementary, and middle school children living in the area.
"How can you not be a supporter of a local charity that feeds hungry children?" Meghan said to me. And "because TABLE is a local non-profit, they can really connect with families, and they provide a lot of education around healthy eating habits to parents and other mentors," she continued.
TABLE, founded by a young, female leader in the community who is also about to have her first child, was another draw for her to select this particular organization to work with on Saturday.
"It's inspiring to see a young female starting up her own non-profit right here in our community."
But even though TABLE's mission by itself is enough to host a charity cycling ride, Meghan had another idea in mind when she decided she wanted it to be a #Sweatworking event specifically.
I asked her what #Sweatworking stood for in her mind.
"Everybody has different goals at Ride; some people are there to kick their own ass, others are there to have fun and to have an outlet. Everyone is getting something different out of it … but it's [all about] creating a better life for themselves."
"That's something I feel like is very aSweatLife," Meghan said.
And that's exactly what we'd hope for. At aSweatLife, we love a tough, sweaty workout (or even three back-to-back if we're talking #SweatworkingCrawls…) but it's never just about the workout. It's about however you use that hour in your day to set yourself up for success, to feel your best, and ultimately to determine how you tackle the rest of your day outside of the gym.
Whatever your goal is in or out of the gym, aSweatLife hopes to be there to support you in achieving it. And if you can meet someone who you connect with along the way, even better. At every #Sweatworking event, you can expect that we'll ask you to introduce yourself to two people you've never met and share something about yourselves.
I asked Meghan what she hopes people get out of #Sweatworking at Ride, and she answered excitedly.
"I hope people can meet one new person and that they connect during the day. If we could have new people in our community meeting each other that care, even if it's two strangers meeting that would be fantastic!"
Trust us, Meghan. You will. That's how we connect what we talk about online at aSweatLife with what goes down at #Sweatworking events. It's not about the calories you burn to get to the end of a class, it's about the experience you have while you there and the connections you make along the way. From Chicago to Dallas to New York and now to North Carolina, #Sweatworking is making waves. Stay tuned, we just might have more opportunities for you to catch an event in your city in the future.