Six Things We Learned at an Eating for Health Cooking Class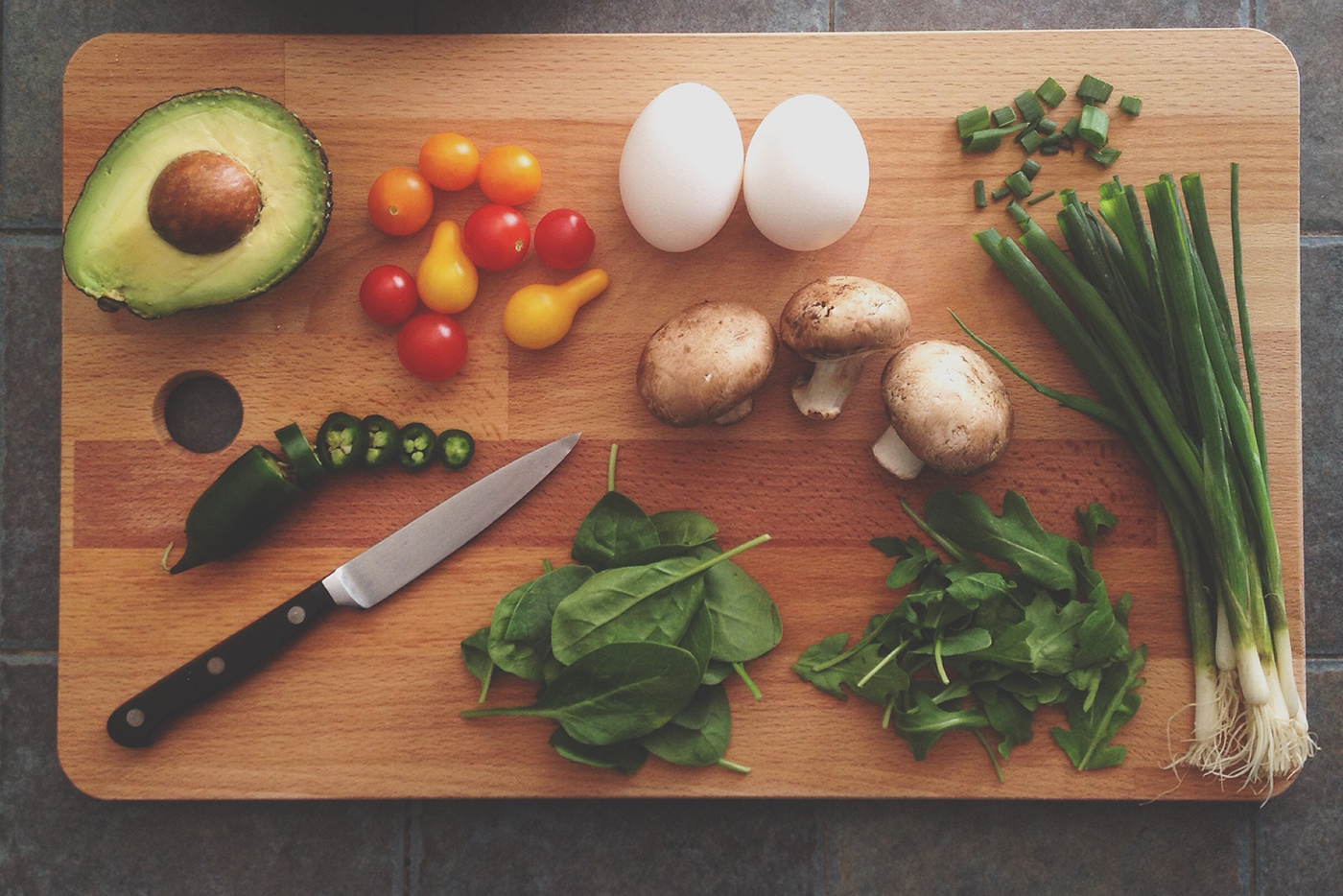 When Sarah Russo, resident chef and wearer of many hats on the PRE Brands team, invited the aSweatLife Ambassadors in for an eating for health cooking class and nutrition workshop I knew our kitchens and lives would never be the same.
PRE's office in Chicago brings to life what the company stands for – it's wholesome, community-oriented and holds nutrient-packed food at the center of what it does. The chef's kitchen right in the middle of the office is evidence of that.
We spent a Saturday afternoon around the beautiful kitchen island discussing various aspects of nutrition as Chef Russo dove into what eating for health means and offered tips to maintain a health-focused diet based on a wheel not a pyramid. we all took furious notes on how we'd change our grocery shopping and meal prepping habits – from superfoods to techniques for cutting onions to the right kind of oils to cook with at high heat.
Seasoned chefs and meal-prep hacks, this is what the whole crew took away from our cooking workshop with Chef Russo.
1. When choosing your foods, diversity is key.
Russo follows the Eating For Health model, which her culinary education was based on at  Bauman College of Holistic Nutrition and Culinary Arts. The model recommends hearty portions of leafy and crunchy vegetables, which Sarah notes as sometimes difficult to keep in your daily diet. But being choosy about which veggies you want to consume won't do you any favors.
"Eventually your body starts to adapt," Russo said.
If you only like spinach, and only eat that, you'll end up overloading on that specific type of nutrient, "so getting a huge variety of leafy greens is very important. Also, bitter greens are super detoxifying to your organs, so the bitterer the better," she added.
2. Booster foods are an easy add-on to your diet.
On top of aiming to eat the "least contaminated" foods – to Russo, that means organic, free-range, pesticide and antibiotic-free – she also recommends adding booster foods to increase the overall nutritional value of your meals.
Russo mentioned adding dried Kombu seaweed – full of micronutrients – to her winter soups, for instance.
"When I make butternut squash soup, before I let it simmer for a couple hours, I'll put a big chunk of dried seaweed in," she said. "When I pull it out, my soup has a really great umami, savory flavor to it – and all the nutrients went from that seaweed into my soup."
Russo also added that even though it's possible to take supplements that provide some of the nutritional benefits that booster foods – like nutritional yeast, algae, spices and seaweed have – "all nutrients are better absorbed into your body when they're eaten in food versus a pill, so always try to pair with food."
With the Eating For Health model in mind, Russo encouraged us all to think about how the foods and drinks we're already consuming can also give us more nutritional value. We drink coffee (the current base of my food pyramid) for energy, but switching to green tea has "antioxidants that are through the roof," Russo said. Green tea is also great for helping your body balance all the foods you're eating – as well as getting you your caffeine fix.
And if you're looking for something health-forward to sip on throughout the day outside of your meals, try mineral broth.
"Mineral broth is similar to vegetable broth, but you put a lot of mineral-rich things like seaweed and booster foods in it," Russo said.
3. Do research to make informed decisions about how you shop and prep your food.
Russo noted that everyone has trouble staying current on which foods are super and which foods are on this week's do-not-eat list. She called out "The Encyclopedia of Healing Foods" as an excellent source for the overwhelmed, but interested in healthy foods.
The book "shows the history behind an ingredient, the nutritional benefit and the best ways to use it," Russo said. "I learned a lot … things like, flaxseed goes rancid pretty much five days after you buy it, and you should store it in your fridge."
4. Practice makes … practice. 
It's important to educate yourself about the healthful ways to buy, prepare and cook food today, but there's no substitute for simply getting into the kitchen and experimenting.
"When we choose to make food ourselves at home, that's when we get the opportunity to put really high quality products in our bodies," Russo said.
And with that, she gave us a few helpful tips leading up to our group meal prep, like:
Know your oils: Olive oil is great for a quick sauté, but anything medium-high or higher in skillet should have oil with a higher smoke point like grapeseed or coconut oil. This is because after a certain temperature, the structure of olive oil falls apart.
Massage like you mean it: When a recipe calls for your to massage your kale, think of deep tissue. With a couple of dashes of salt and a deep massage, it will feel like your kale is almost sautéd.
Chiffonade big leafy greens: it makes everything simultaneously easier and fancier – and instead of throwing out the stems of your veggies after giving them a chiffonade cut, save them to use in mineral broth later.
Always make your own salad dressing: And make it right in the bowl you plan to eat your lunch to keep your portions in check. If salads are a go-to for you, keep a "dressing station" on a kitchen counter with a cutting board, bowl of salt, pepper, red pepper flakes and olive oil out and ready to go, so making dressing is never a hassle.
5. The simplest recipes are often the most delicious.
We made a salad with simple ingredients: steak, roasted shitake mushrooms, chopped pistachios, quick-pickled onions and easy DIY dressing. For each ingredient, Russo offered some pro-tips to up the deliciousness of each ingredient while keeping its nutrition intact.
We roasted the pistachios and shitake mushrooms at 475 degrees for just ten minutes using a dash of coconut oil.
For the quick pickled red onion, we added lime and salt and (after massaging the onions with salt to pull the water from them) let them sit, covered, for just 30 minutes.
After chiffonading our kale leaves and adding a dash of olive oil and lemon, all that was left was for Chef Russo to cook the PRE steaks and for each attendee to make their own perfect salad dressing.
6. Cook with confidence.
Perhaps the hardest part of preparing the meal was, for me, my own portion of dressing. I'm not great with eyeballing measurements, but as Chef Russo demoed combining various parts fat, acid, sweetener, heat, salt and an emulsifier as the components of the dressing. She added that the final ingredient was "Confidence." Meaning to cook without fear.
Considering that I'm still dreaming about that steak salad, maybe the best way to gain confidence in cooking is to invite some friends to make a recipe with you, just as we did with the aSweatLife Ambassadors.