10/7: #Sweatworking Dallas Takes on The Gym of Social Mechanics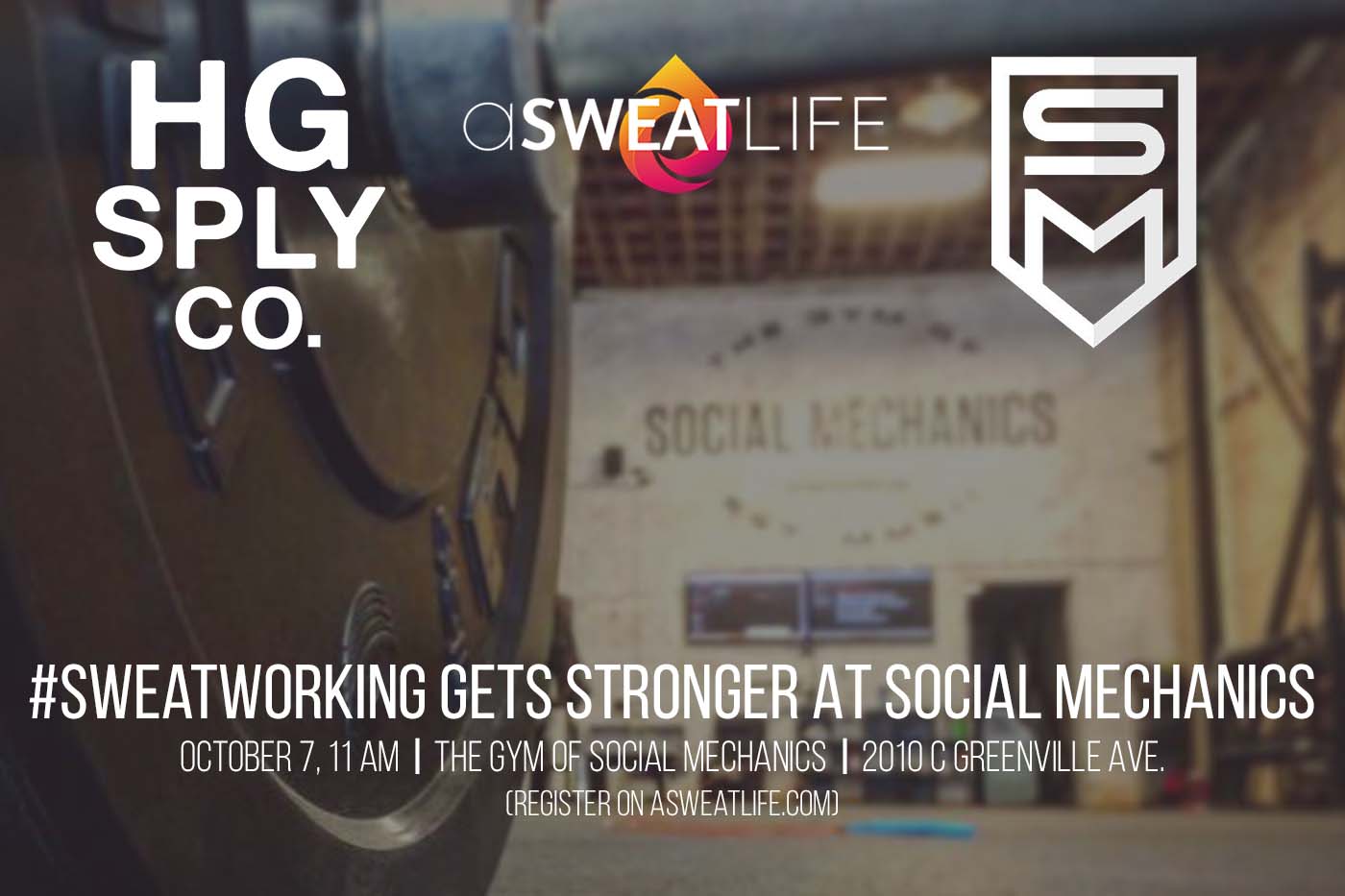 October 7, #Sweatworking is back, Dallas. We're calling YOU to grab your friends and take on a strength workout at The Gym of Social Mechanics.
In August, we took on a workout with a LOT of cardio – a Dry Triathlon at Equinox Highland Park. To balance it out, we're getting together for a strength and conditioning workout that will be just what you need to work up an appetite for HG Supply Co. next door. This Dallas fitness event is just you'll want to kickstart your weekend off on a strong note.
What's #Sweatworking?
#Sweatworking is an event series by asweatlife.com launched in early 2014 that's meant to help you do two things at once that are pivotal for your health and happiness: try new things and meet new people. And it's by design that we rotate gyms and ask you to shake a hand or two while you're at an event. You'll walk away with a buddy and a snack.
Want to show up with a friend? We price tickets so that you'll save some money by grabbing tickets with a buddy.
What's The Gym of Social Mechanics?
Workouts here use a functional strength and conditioning program incorporating foundational lifts, body weight movements, yoga and cardio that simulate everyday situations to make you better no matter what your life demands. The Gym of Social Mechanics is built around the idea that your life in the gym directly impacts your life outside of it – and that's something we're all about at aSweatLife.
And what about snacks?
Because the Gym of Social Mechanics shares a wall and ownership with HG Sply Co. next door, you can expect some delicious and healthy snacks post-workout. You'll also be treated to goody bags.
Details:
Where: The Gym of Social Mechanics, 2010 C Greenville Ave.
When: October 7, 11 am
Why: Everything is better with friends, especially new workouts
How do I sign up: Right here, thanks for asking!
Questions? Email [email protected]
Let us know!
Did this post help you get closer to achieving one of your goals?