#SweatworkingWeek Hydrated by Propel – June 5-10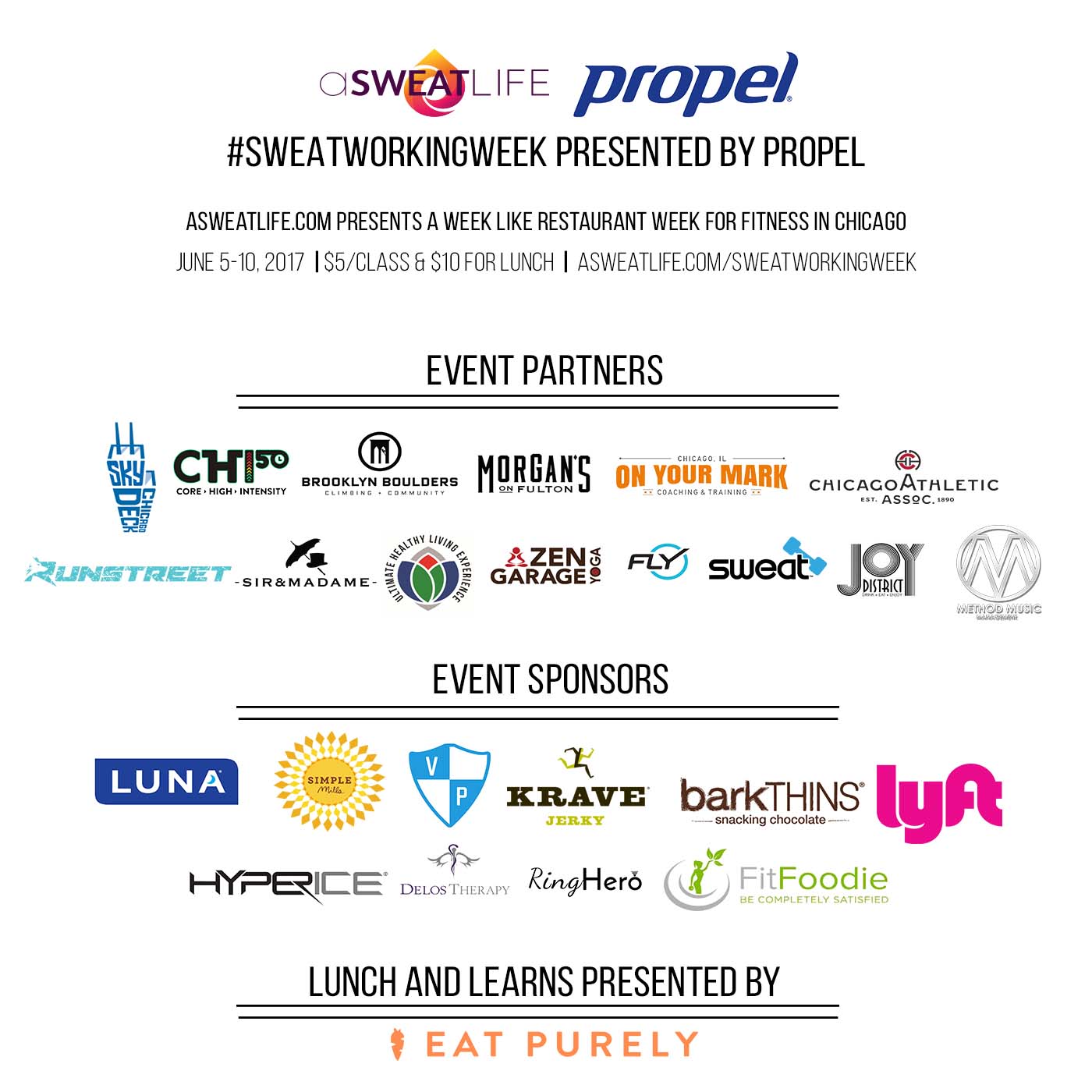 There's something in the air in Chicago. We know that June means a whole lot of love in this lakefront-path-running city of ours, but it also means one more thing: #SweatworkingWeek. We're excited to announce our third edition of #SweatworkingWeek with an incredible schedule curated by some of our friends coming at you June 5-10.
What's #SweatworkingWeek? It's a restaurant week for fitness put on by asweatlife.com that seeks to get Chicago moving twice a year. We put all of our blood, sweat, tears and imagination into creating a schedule that excites you to amp up your wellness routine in and out of the gym.
And all week long we'll be staying hydrated with Propel Electrolyte Water which made it possible for us to offer all workout sessions at just $5/class, with those ticket sales going to charity. Friday's Flywheel ride will go to the MS Society and every other workout will benefit Girls on the Run.
Propel is the only water with enough electrolytes to replace what is lost in sweat*, making it the perfect partner to keep you going through an entire #SweatworkingWeek.
*Among national enhanced water brands
We're doing this for a few big reasons:
We want to help you strengthen a habit. You'll be able to spend the week trying new ways to sweat for summer '17. If you find something you love after the week – settle down and stay a while.
We want to make trying something new a little less scary. We can guarantee that you won't be the only new person in class and we know from experience that being a newbie alongside other newbies makes those first-time jitters a little less jittery.
We believe that everything is better with friends. Throughout #SweatworkingWeek, we're taking over full classes because we want you to shake a hand and have some human interaction. You can rest assured that the classes will be packed with people who will be supportive if you're new and will cheer you on along the way regardless of your fitness level.
Because we believe that everything is better with friends, we decided to invite some friends to show us what makes them tick in Chicago fitness. The next #SweatworkingWeek schedule is a product of the creativity, excitement and imagination of a few of our favorite humans.
We asked these partners and friends what they loved about Chicago fitness, and together, we built a day around it. Each day – with the exception of Saturday – will have two ways to sweat and one lunch-and-learn, which is an opportunity to learn more from people who have interesting perspectives in health, business and productivity – and to meet new people in a sweat-free environment.
The results of this collaborative week are nothing short of magical. Each person and each day is totally unique, sweaty and exciting.
And if you're as excited about the week as we are, you can grab the #SweatworkingWeek t-shirt, available in women's v-neck t-shirts and men's crew neck t-shirts. Purchase is available until May 15 and you'll be able to pick up at #SweatworkingWeek events all week.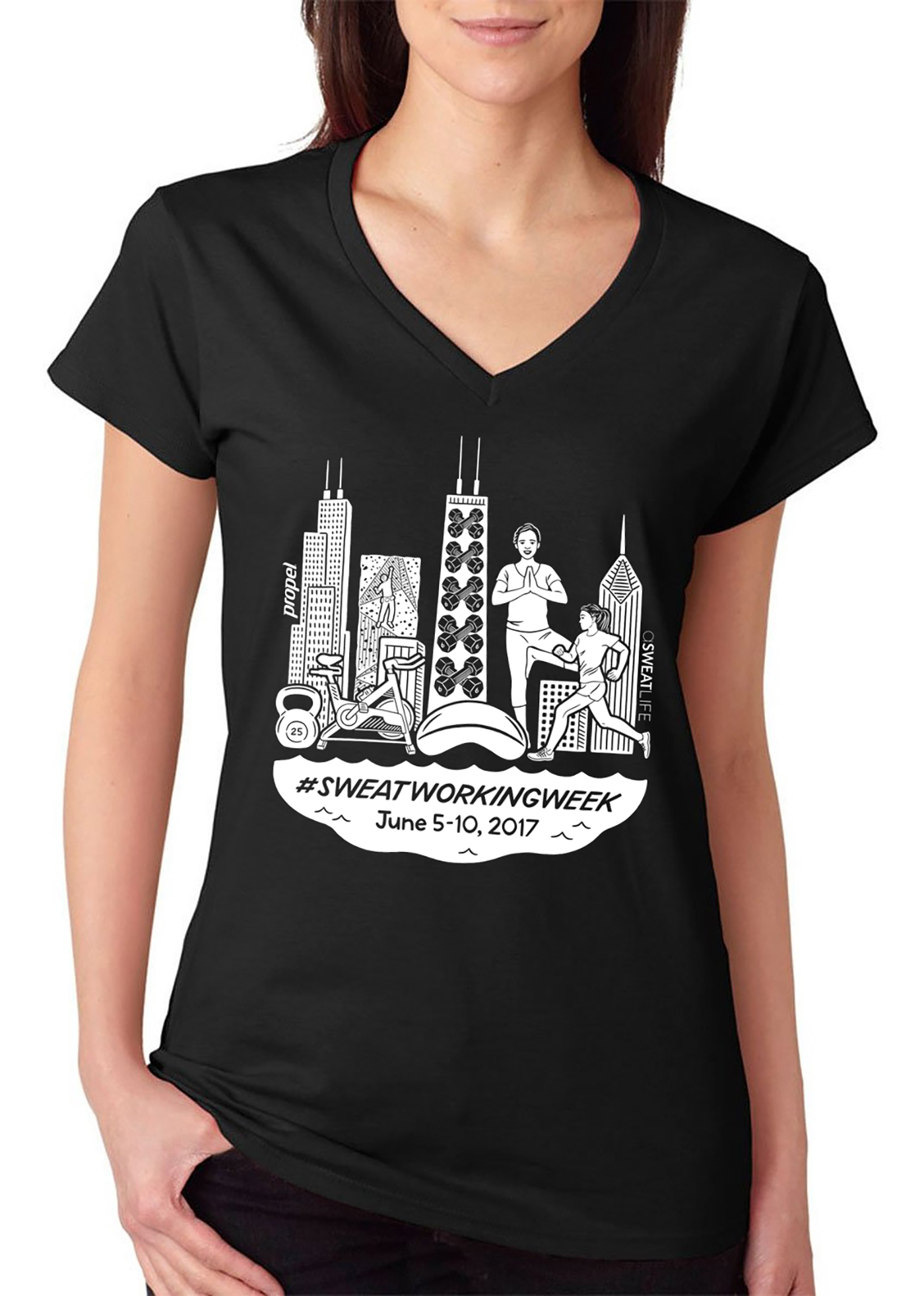 Monday, June 5 with Kate Lemere of TheFourPercent.com
Kate Lemere has been a friend and coach-crush of aSweatLife, pretty much since our inception. She'll call you the b-word in class, make you life and you'll love every minute. Underneath it all, Kate truly cares about when she considers to be a big responsibility of being in charge of your 60-minute workout.
Monday morning, Kate will lead a sweaty workout above the city she loves at SkyDeck Chicago at Willis Tower. She'll get your blood pumping with a DJ-driven workout with music by Method Music Management and then we'll head to The Ledge to spend time taking in the breathtaking views before the observation deck opens – standing with nothing but glass between us and the city, 103 floors down.
(Book your spot at this 6 am workout)
For Kate's lunch and learn session, we'll take a sweat-free break to talk about habit change and intermittent fasting. Kate will speak with Dustin Hogue, Precision Nutrition Certified coach and someone who also inspires us to clean up our fridges. This topic is one Kate's incredibly passionate about – and you'll hear it come through over a lunch of Eat Purely. Delish.
When Kate's not instructing or taking classes at Barry's Bootcamp, she likes to hop on the Megaformer, so we'll spend the evening at Chi50, one of our favorite spots in Chicago. The charm of the studio will overtake you. One class and you'll never want to leave.
(Book your spot at the 6:30 pm session)
Tuesday, June 6 with Bret Gornik and Jason Loebig of Live Better Co.
Bret and Jason of Live Better Co. live life to the fittest, eating clean, training hard and living the way that they choose. As former corporate stiffs, they created a company built around the idea of having the best day ever. Their day reflects that.
We'll start the day at Brooklyn Boulders, where Bret and Jason do business, play and train. We'll have the space completely to ourselves for a mobility session with HyperIce Mobility products followed by a bouldering session. You'll get to explore the routes during this private session and feel how easily your body moves after Bret and Jason help you get more mobile. And if you need to get right to work after this session, use the locker rooms, which are equipped with Cowshed products.
To expedite your check-in, be sure to sign Brooklyn Boulders' waiver ahead of time here: brooklynboulders.com/chicago/waiver.
(Book your spot in this 6 am session)
For Bret and Jason's lunch and learn session, we'll get together sans sweat to chat about something they care deeply about – having the best day ever. The pair created a company around this idea and we'll talk to them about how you can live your life and make small tweaks to apply their theories of "Best Day Ever." Included with your ticket is delicious organic lunch from Eat Purely.
In the evening, we're taking over one of our favorite venues in the city – Morgan's On Fulton – to create the #Sweatworking House with Live Better Co. No, we're not kidding and yes, it's as amazing as it sounds. The #Sweatworking House will have three levels of activities that make aSweatLife and Live Better Co. tick. On the first floor, we're focused on making friends. You'll network, interact with brands we love, collect some swag and get excited. Then you'll move onto the second level where CHiLL Chicago will help us be more mindful through a guided meditation. After getting your mind right, we'll take our party to the roof where Method Music Management will set the tone for a workout with Jason and Bret.
(Book your spot at 7 pm, 7:30 pm or 8 pm)
Wednesday, June 8 with Emily Hutchins of On Your Mark 
June 7 is Global Running Day, a day on which "people around the world celebrate the joys of running." So as we built a perfect fitness day with Emily Hutchins, Owner of On Your Mark and Nike Master Trainer, it only made sense that we build a day around her killer track record as a runner and a trainer of runners.
We'll start the day at On Your Mark where Emily will remind you runners that to stay injury-free and run your best race, strength training is your secret weapon. We'll work out with Emily, using the toys at the West Loop spot like kettlebells, TRXs, dumbbells, med balls and more.
(Book your spot at the 6 am workout)
At lunch, Emily will talk about overcoming obstacles in and with running. Emily suffered an unexpected injury after a lengthy injury-free running career and turned to cross-training to find her footing again. Included with your ticket is delicious organic lunch from Eat Purely.
To conclude Global Running Day with Emily Hutchins, we'll take a run starting at one of our favorite spots in the city. We'll meet at Chicago Athletic Association Hotel, where we'll set a goal and find our why for the running season before we take off on a fun run. We'll provide bag check at Chicago Athletic Association Hotel and plenty of conversation on your run.
(Book your spot at the 6 pm run)
Thursday, June 9 with Erica Robinson of the Ultimate Healthy Living Experience
Erica Robinson's life and training revolve around helping creative people live their best, most creative lives. Together, we've sewn that fabric of creativity throughout her day.
We'll start the morning with an art run through Hyde Park with our friends from New York, Runstreet. We'll start and finish the run at Sir & Madame, the acclaimed fashion brand that was recently featured on the pages of Marie Claire. After our workout and outside of the store, Erica will lead a workout.
(Book your spot in this 6 am run and workout)
For lunch, Erica will team up with Jenny Finkel – yoga teacher and improv instructor – to talk about using your fitness routine to be more creative. Sound mutually exclusive? Not so – your brain, your body and your creative juices are more linked that you may know. Included with your ticket is delicious organic lunch from Eat Purely.
That evening, we'll head to Erica's training home for a workout with her and Bryan Jackson at the Ultimate Healthy Living Experience – or The UHLE for short. At The UHLE, we'll train like athletes and work up a serious sweat, using the tools of the trade in this creative, mural-covered space.
(Book your spot at 6:30 pm at the UHLE)
Friday, June 9 with Maggie Umberger and Jeana Anderson Cohen of asweatlife.com
We spend a lot of time chasing the elusive balance, so our day is built around the idea of chasing your dreams and balance at the same time.
That morning, we'll head to Zen Yoga Garage where we'll do a fusion class that will combine the heart-racing barre the studio offers alongside its grounding yoga practice. Piper Parker will lead the yoga practice and Ann will lead the barre. You won't want to miss this power couple at this amazing Bucktown studio.
(Book your spot in the 6 am class)
At lunch, we'll talk to three boss ladies who inspire us and have turned their deepest passions into a career that allows them to shine. Jill Carey, co-founder of Mission Propelle, the company built around empowering school-aged girls through yoga and storytelling will talk about what drove her to create the mission-driven business. Lauren Katzberg, co-founder and CEO of Stylisted, the tech-driven beauty company that connects stylists to women for at-home beauty services in cities across the country. Addie Martanovic, author of the wildly popular blog Chickpea In The City, graduated from college this spring and she's already making her dream job her reality.
That evening, we'll donate a full class to Bike MS and the National MS society at FlyWheel Old Town. This music-driven class on the tech-equipped bikes at THE stadium cycling studio will be fueled by the instructor's energy and a DJ from Method Music Management. Afterwards, we'll celebrate our hard work and the good that we've done with a toast.
(Book your spot in this 6:30 pm class)
Saturday, June 10 – Celebrate with Sweat Fitness Studios on the Joy District rooftop 
After a week of hard work, we'll take in one last morning workout on the rooftop of Joy District with Sweat Fitness Studios. Expect a tough and sweaty workout from Paul Michael Rahn, owner of SWEAT, who will make you earn the after-party. We're getting the first taste of Sweat's summer rooftop workout series in Chicago, so this is the best way we could think of. Expect bodyweight moves with some light equipment, like bands and mats.
(Book your spot in this 10 am class)
Closing party!
Following the final workout, we'll celebrate a week of sweat on the Joy District rooftop, your "frosé" destination for the summer. Anyone that comes to any workout during the week will be invited to celebrate with us at this complimentary closing party.
(Invites will be shared after you book your spots for the party, which will start at 11am)
Excited about the schedule? Tell us all about it with the hashtag, #SweatworkingWeek.