How To Be Your Own Boss: Tips From Two #GirlBosses
Whether your goal is to start your own company, work for yourself or simply pave your own way within the structure of another company, deciding to be your own boss can be scary. On the flip-side, it can be one of the most empowering feelings in the world. During #SweatworkingWeek, we gathered for a lunch with two women who took initiative to be their own boss, despite the inevitably murky waters that lay ahead of them, and asked them to share their journeys from "Where do I even begin?" to "I am the boss of my own life."
Shreena Amin co-founded PrettyQuick – an online platform and mobile app for booking beauty appointments at top local salons and spas – without any background in technology. She went up against her odds in a male-dominated tech field to create a company that solved a problem she's passionate about. Cindy Kuzma is a freelance health and fitness writer and a contributing editor at Runner's World magazine, among many other well-known publications including this one. She balanced another full-time career alongside her freelance passions until she paved her own way to work for herself.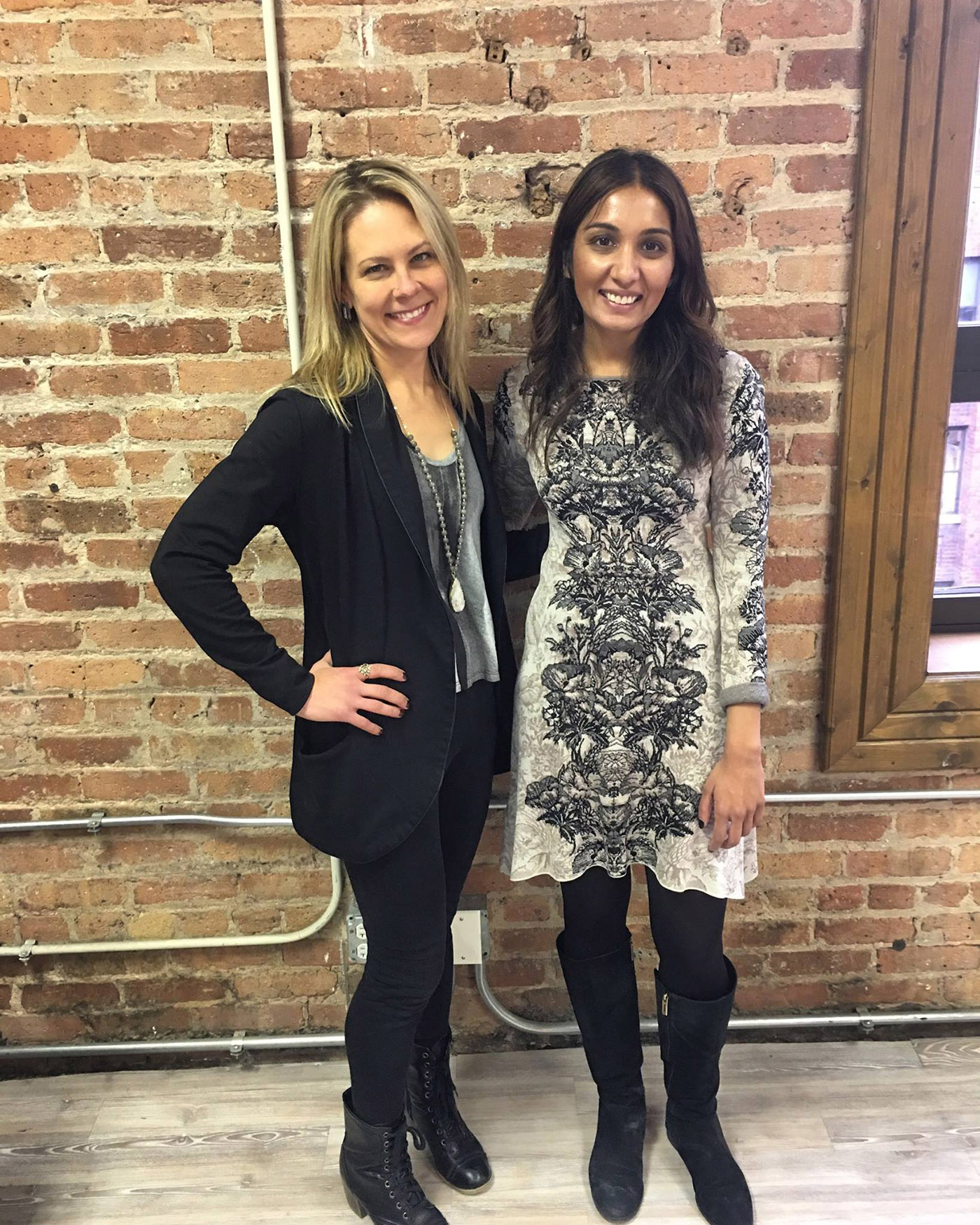 No matter where you land on the be-your-own-boss spectrum, Cindy and Shreena shared a few valuable lessons they learned that will help you internalize those words and make them your reality.
1. Get comfortable making (big) decisions
There's never a time when "paralysis by analysis" can be more damaging to your business than when you're the one saying "yes" and "no" to everything.
"I feel like I make a hundred decisions every single day, from how I spend the next minute to what do I do with the rest of my career," Cindy said. "The weight on you is not as heavy when you're within a bigger structure, but it's a challenge; still, it's one that I'm more excited by than some of the challenges I faced than when I was in a full-time environment. That's how I know I'm in the right place."
The best thing you can do for yourself is know that you won't get it right 100 percent of the time (or really, anywhere close to that). And when you don't get it right, decide what you can learn from the experience and move on instead of beating yourself up about it.
"You need to be comfortable with the risk that comes with being your own boss," Shreena said, echoing Cindy. "You just have to be able to stomach it. There's no one to pass the buck onto. So you need to defend [your decision], support it and admit when you've made a mistake and figure out how to fix it."
2. Make yourself the expert
When you branch out on your own, you might enter a field that you're not already an expert of. Take ownership of that and seek out information until you are.
For Shreena, it meant going out to talk to everyone who would be affected by the business she was proposing. It meant learning everything there is to know about the beauty industry, and becoming more educated about the technology development process.
"The entire first year was about learning about tech – 'What is agile development?' 'What do you look for in a developer?' 'How does the design process fit in?' It was really ad hoc and I learned a lot on the job."
As a freelance writer doing mostly solo work, Cindy makes a point to also attend conferences and regular meetings with other freelancers to learn what others in her field are doing.
In those conferences, "it helps to sit in the same room with people who do the same thing and face the same struggles," she said. "And I meet with my writing accountability group once a month to talk about what we have going on and report back on the things we said we were going to do."
Cindy also remarked how valuable it is to stick with other routines even when your schedule becomes more fluid. Not only does it keep you grounded, you never know where your fruitful business relationships might blossom.
"It's important to build that interaction into your day-to-day life – like working out or going to #Sweatworking – that's how ideas and partnerships you weren't expecting come about."
3. Go after the solution, then show your work
Developing entrepreneurial habits is hard work, and, ironically, no one can tell you how to do it. One of the most effective ways you can display your entrepreneurial spirit in a more traditional environment is by solving a problem instead of waiting for direction.
No matter what type of company you work for, presenting a solution you've already come up with is likely to go over well. "When you see a problem, go find the solution and then deliver and display what you did," Shreena told us. "Have your job evolve based on the problem solving you're doing."
Taking on more of a leadership role may not be directly related to your day-to-day job, but there are volunteer groups, small organizations within companies or something not yet started within your company that could use your advocacy and leadership. Practice making decisions and problem solving within these contexts to test the waters.
Cindy recommends with any sort of problem you're looking at to understand people's needs. It's as simple as knowing what someone else needs and providing it for them before asking what you can be given.
5. Trust your gut, work hard and be nice to people.
If there's one overall takeaway we learned from these two to incredibly hard-working women in their respective fields, it's that there are no shortcuts to successfully becoming your own boss. There will be plenty of bumps in the road and tons of moments where you'll question your efforts. Hunting for a magic pill to make self-doubt go away won't serve you in the long run.
Cindy said, quite simply, "do good work and be nice to people" was her key to success. You never know who you'll be working with again, who you might get introduced to and how relationships can either make or break your business. Be authentic with people and offer to help more than you ask for things. "I believe in abundance," Cindy said. "I truly believe there is enough success to go around and it works best if we help each other find it. If something isn't the right fit for me, I'll try to find it for someone else. Everyone ends up happier."
Shreena explained how trying it can be to pave your own way – and how listening to your gut can help you power through.
"There were times when [we] were running out of money and I thought, I don't know how I'm going to pay my staff next week. You question if you'll make it … 'Should we keep going? Should we shut down?' And at that point, if you have the passion for the problem you're trying to solve, to stay at it and hustle, keep calling the next investor until the check comes in and keep talking to people until you find the right partner," Shreena said. Whatever the struggle may be, remember why you're doing what you're doing. Believe in it so much that you will it to happen.
And if you work hard, keep at it and are nice to those who work with, around and for you as you get off the ground, there is plenty of success waiting for you ahead.