A Special Thanksgiving Burn #Sweatworking with Core Power Yoga
This past May, #Sweatworking took over Core Power Yoga in Old Town each Monday night for a different type of yoga. We all loved it so much we couldn't stay away.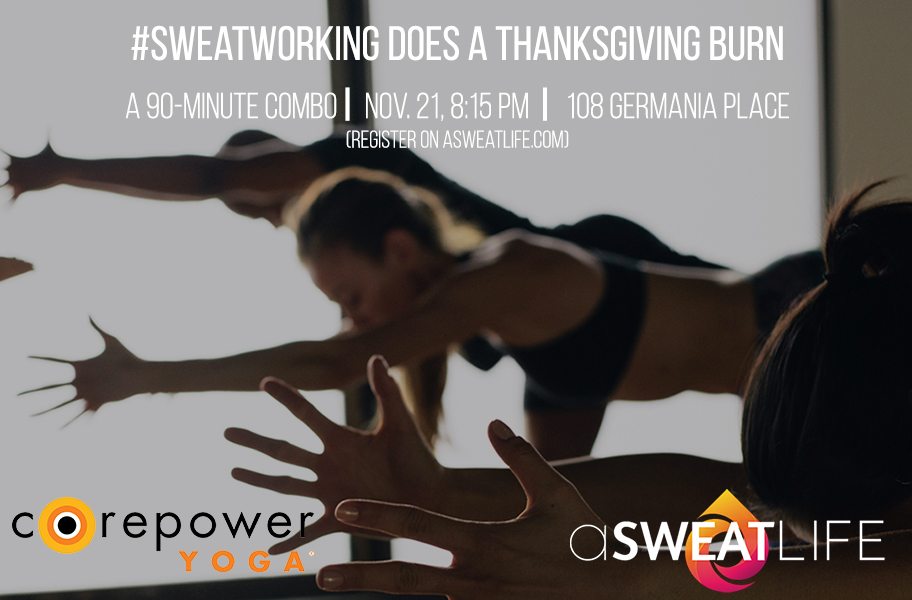 What's one thing you need before you head home for the holidays? If your answer was, "a really good workout," then we have you covered.
We're heading to Core Power Yoga's Old Town location for a unique yoga experience – one you won't get at any other studio or any other event.
November 21, just in time for you to reset your goals for the holidays, #Sweatworking will take on a special, sweaty Thanksgiving combo class. We'll combine Core Power Yoga's Sculpt class with its bootcamp format and go to town for 90 minutes. This pre-holiday sweat-fest will be led by the wonderful Robyn Rabicke, general manager of Old Town, Gold Coast and Streeterville locations.
Have you ever taken Robyn's Sculpt class before? If you have taken her class, you probably remember saying to yourself  "Are you kidding me?!" when she calls the third seven-minute set of core work in a row with a smile on her face. And when you complete it – because she knows you can – you walk out of the room feeling more accomplished than you ever thought possible in an hour.
Lucky for us, we get Robyn for 90 glorious minutes. You can expect an intense – and intensely fun – heated yoga bootcamp to send you off into the holiday week. As always, there will be goodies awaiting your sweaty self when we finish up.
We hope you'll join us November 21 for 90 minutes of sweat to prepare you for the holidays!
When are we doing this thing?! Monday November 21 (the Monday before Thanksgiving) 8:15 pm
Where do I go? Core Power Old Town, 108 Germania Place
How much does it cost? $20 if you buy a ticket solo, $15 when you purchase with a friend
How do I snag a ticket? Right here. We'll see you there!
Let us know!
Did this post help you get closer to achieving one of your goals?