#Sweatworking does May Mondays on the Mat with Corepower Yoga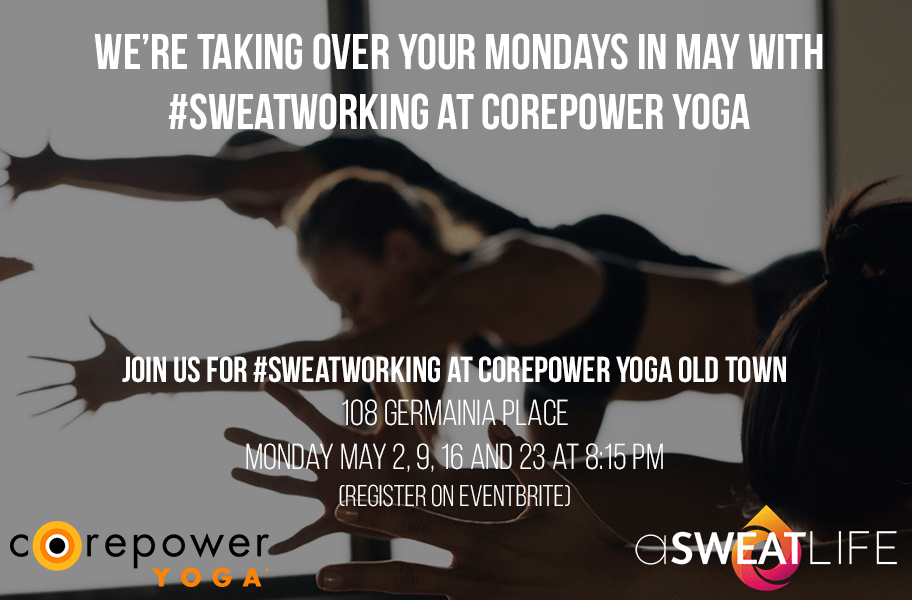 When the clock strikes 4 pm Sundays, do you start to get excited for Monday or do you try to extend your weekend just a little bit longer? Don't answer that – we know and we're here to help. We're using May to help you go from having the Sunday scaries to saying "TGIM!"
We partnered with Corepower Yoga to take your Mondays in May to the Mat. And we know that you've been saying that you're going to do more yoga. You say it every week. This is your chance to devote a little time to developing your practice.
Each week that you roll out your mat will be different from the last and will take you on a tour of the studio's offerings. We'll try C1, C2, Yoga Sculpt and Hot Power Fusion, Four classes that will make you feel challenged, but will give you or remind you of your foundation in yoga.
And we haven't even mentioned the best part yet – we're going to conclude each week with a time to come together over sips and something to eat before easing ourselves to sleep (we'll each go to our respective home to sleep – #sweatworking is not a sleepover party … yet …)
Here's what you need to know:
Which dates should I set aside on my calendar? May 2, May 9, May 16 and May 23 – we're skipping Memorial Day because we know you'd rather be outside than hang out with us – we get it. We'll hit the mat at 8:15 pm, which is the perfect time to flow.
How much am I going to have to fork over to be a part of this? $40 if you register solo or $35/person if you grab tickets in a group of two or more (+eventbrite's fees). That's a sweet deal.
And how much am I going to love this? We know you'll walk away from the month of May knowing how having more yoga in your life can make you feel. So to answer your question, you're going to absolutely love it.
Where do I register? Register right here! The invitation only lists the first date – May 2 – but if you purchase one ticket, you're in for all four dates!
Will I be totally lost if I can't make all four dates? Nope! We'll miss you, but the instructors will guide you through it!