#Sweatworking Runs and Recovers with Airrosti August 6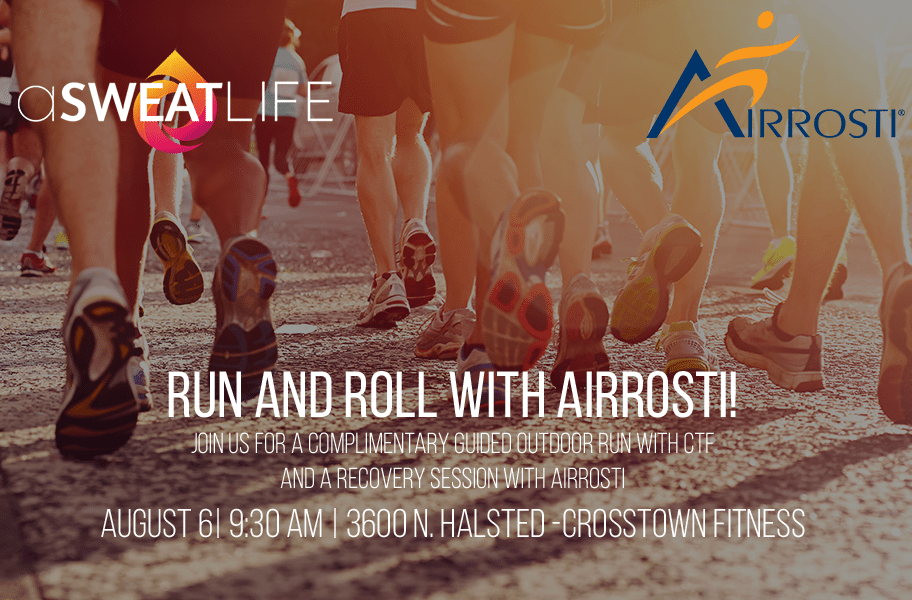 August 6, we're giving you a chance to sweat and get more mobile during a special, complimentary #Sweatworking event at CrossTown Fitness's Halsted street location.
We wanted to create an event that allowed you to get in a great workout and deepen your knowledge of mobility, which is essential to stay active and avoid injury whether you're training for a marathon or just sitting in a desk.
To make our double-whammy fitness dreams come true, we partnered with Airrosti, a national pain clinic that works to keep everyone from CrossFit competitors to weekend warriors moving pain-free using its two-phased treatment. Treatments use manual manipulation (think super deep-tissue massage) and active care exercises on and off the foam roller (there's a lot more to it that you can read about here).
Airrosti knows a thing or two about keeping your body injury-free and foam rolling – they're experts at myofascial release and they'll teach you how to know and love this practice.
On August 6, we'll take on the CrossTown Fitness adventure run class first, which is a run with bodyweight exercises interspersed. Then Airrosti will guide us through a mobility session, during which we'll experience the hurt-so-good foam roller.
This event is sponsored by Airrosti! What does that mean for you? It's totally complimentary because Airrosti picked up the tab on those tickets!
Here's what you need to know:
What: #Sweatworking works to create a way for you to try something new and meet new people in a really low pressure way. #Sweatworking isn't always complimentary, but for this event, Airrosti covered your ticket price.
Where: CrossTown Fitness (northside location) 3600 N Halsted Street, near the corner of Halsted and Addison.
When: August 6 at 9:30 am – we run early to avoid the heat. What we're saying is, "you're welcome."
Why: Three words – free, fun, fitness.
How do I sign up: grab your complimentary ticket below!