Working through pain with Airrosti's Two-Phase Treatment
Disclosure: This post is sponsored by Airrosti. As always, we only write about the products and experiences that we love and all opinions in this post are my own.
The aches and pains moving down from my hips to my feet have been a recurring theme in missed classes and cancelled personal training sessions. A year ago, when I waved a peace sign at my desk-job and started hustling to build aSweatLife full time, and something key happened.
I went from sitting at a desk 40-ish hours each week to standing on my feet 25 hours a week training people. I've since reduced to a number of classes that's a little less clinically insane, but those first few months on my feet allowed some imbalances in my body to bubble up to the surface and catch my attention.
Each day, I'd step out of bed, dreading the first few steps. Counting in my head – one step, two steps, three – I knew by the time I reached 10, I'd feel some relief. Plantar fasciitis. It feels like it's just the feet, but like anything in the body, it's all connected.
When I walked into Airrosti, I explained to Dr. Miller what I was experiencing. This national healthcare group works to keep everyone from weekend warriors to CrossFit athletes to marathoners to ballerinas performing at their best. Airrosti providers like Dr. Miller are experts at accurately diagnosing and rapidly resolving most conditions, often in as few as three visits.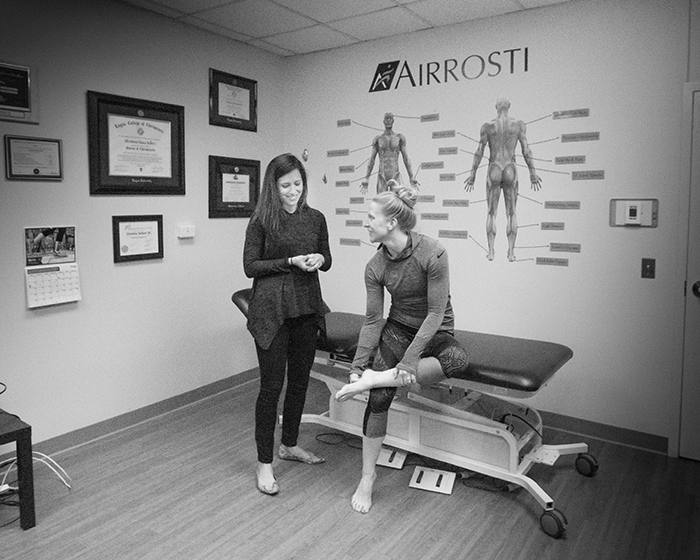 (Please note that I gave explicit permission to have a photographer be a part of my session. Airrosti should be viewed as a part of your health treatment team, which will always respect your rights to privacy under HIPAA. All photos in this post by Christiana Basso)
Onto the evaluation
All-in, my Airrosti provider spent an hour with me, starting with a thorough clinical assessment to evaluate my condition and determine the root cause of the pain. I saw Dr. Miller, but no matter the practitioner, the treatment and methodology would be exactly the same.
After hearing my complaints, Dr. Miller tested my movements to determine the sources of the terrifyingly angry feet. Simple functional movements like squats and lunges help the doctors at Airrosti determine what's really happening and from where the pain originates. This testing phase helps the doctors at Airrosti to treat the actual source of the problem. We know what we're feeling, but often, without a true background in kinesiology, we have no idea why we're feeling it.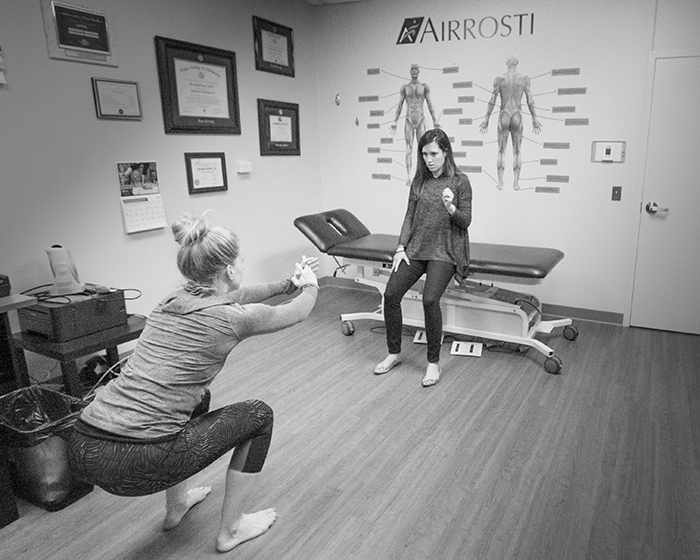 Immediately, Dr. Miller noticed a few things: my arches were falling, my toes were turning out and I was falling into one hip more than the other.
She identified a few culprits: I had tight glutes on one side, tight calf muscles on the lateral (or outside) of each calf and a number of other things. The trick here, Dr. Miller said, is often tying the kinetic chain together. She gave the example of the knee, which she described as the "middle child," which can be in pain as a result of what's happening at the hip or the foot.
Hurts So Good – Manual Therapy
After the assessment and with my pesky problem areas identified, Dr. Miller worked to improve function and range of motion through manual therapy.
Onto the therapy table I hopped where Dr. Miller and her incredibly strong thumbs got to work, focusing the first session of treatment on the most immediately painful problem children: my calves and feet.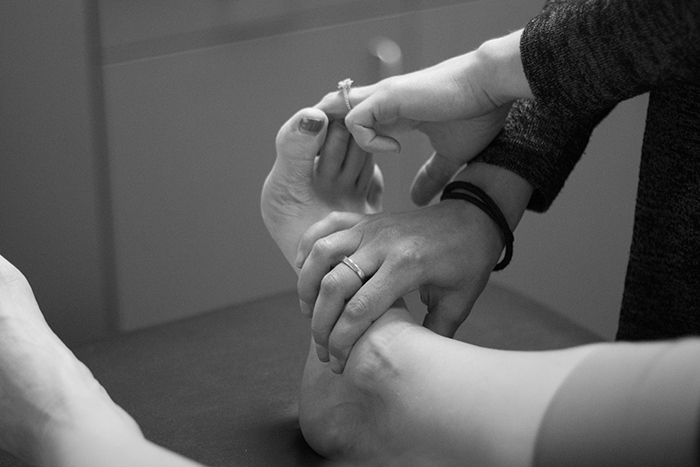 With manual therapy – pressure from her thumbs – Dr. Miller dug into the soft tissue, working to fix the issues in my connective tissue.
This is what my face looked like during that treatment – a little bit laugh and a little bit cry. This discomfort is short-lived and worth it.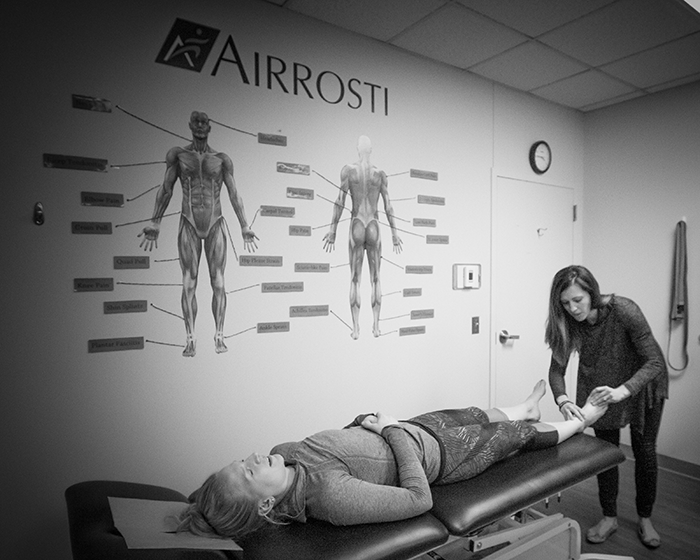 After working through specific soft tissue areas, I'd get up and retest my range of motion with lunges and squats. This test-treatment-retest element allows Airrosti practitioners to see what's happening and how the treatment is working in real-time.
When I got up the first time, I could feel the arch of my foot falling less. Dr. Miller did a little fist-pump when she saw that.
We worked through a few more areas below the knee and retested before moving on to the active care portion of the treatment.
Active Care: Homework to make the treatment stick
 After the treatment, an active rehab session is used to speed recovery and help prevent future injuries.
Throughout my session – and subsequent sessions – with Dr. Miller, she showered me with her knowledge of the body, muscles and how it all works together. One piece that stuck was the importance of myofascial release between treatments. As the muscles restructure, the specific rehab exercises that Airrosti practitioners prescribe are meant to keep the same imbalances and problems from recurring – in fact, once Airrosti providers see someone for an injury, their goal is not to see that patient again for that same injury.
So, Airrosti gives you the tools – lacrosse balls, foam rollers, resistance bands and your own bodyweight. For each rehab exercise, the practitioner shows you, then you do it, and you leave with a detailed list of each exercise. Pulling it all together, the MyAirrosti app gives patients access to their personal accounts, prescribed exercise videos and more to help speed recovery.
To break up the knots in my foot, I was prescribed two minutes of time each day rolling a lacrosse ball under each foot.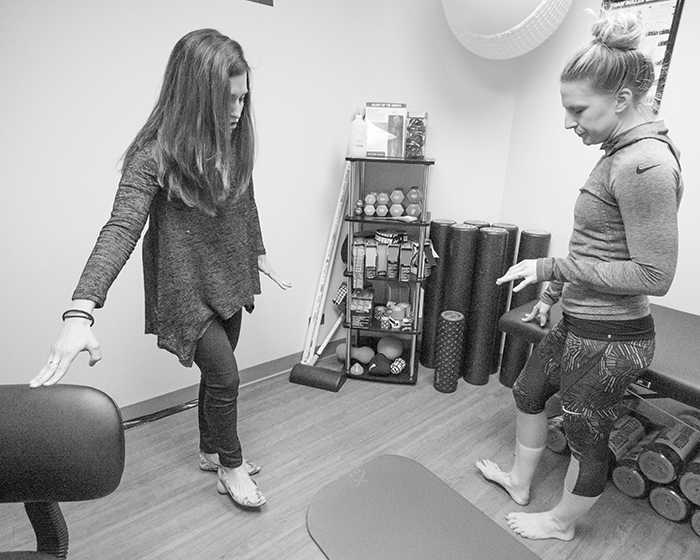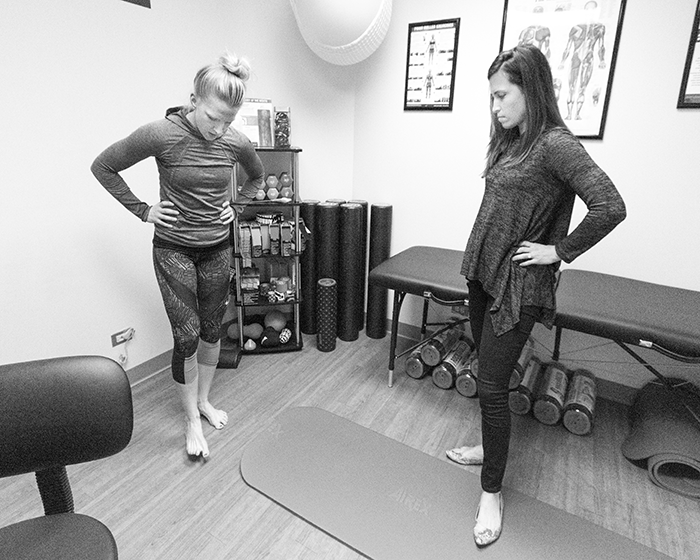 Then, to work out specific tightness in my calves, Dr. Miller showed me how to release my calves, which I could do with either a foam roller or a lacrosse ball. Lacrosse ball … right. I'll work up to that.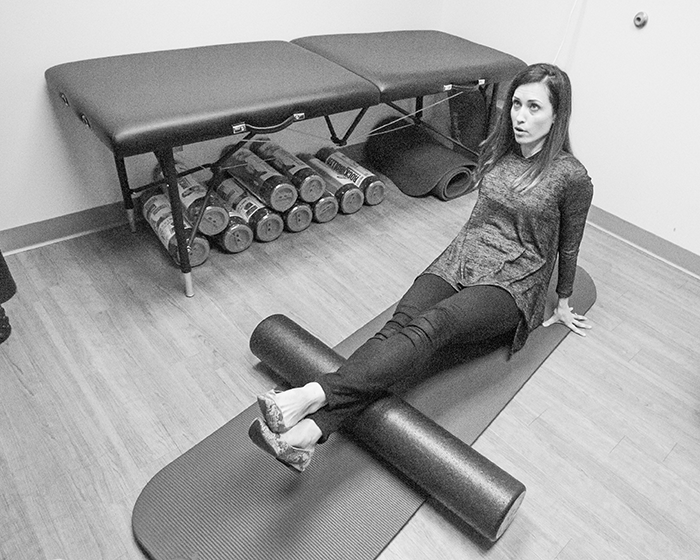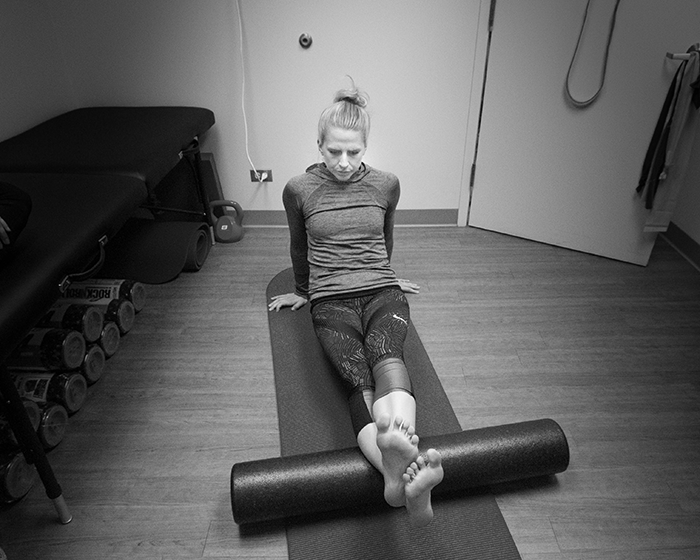 And finally, the peroneals got a turn on the foam roller. That's a muscle outside of the shin.
Whenever my husband saw me doing this on the foam roller (because I did my homework, people), he expressed great concern for my shins and the pressure I was putting on them. You're not actually on your shins with the foam roller and never should be. Just like the rest of Airrosti's treatment, you should only be working on the soft tissue, so your body is angled to only apply pressure to the peroneus muscle.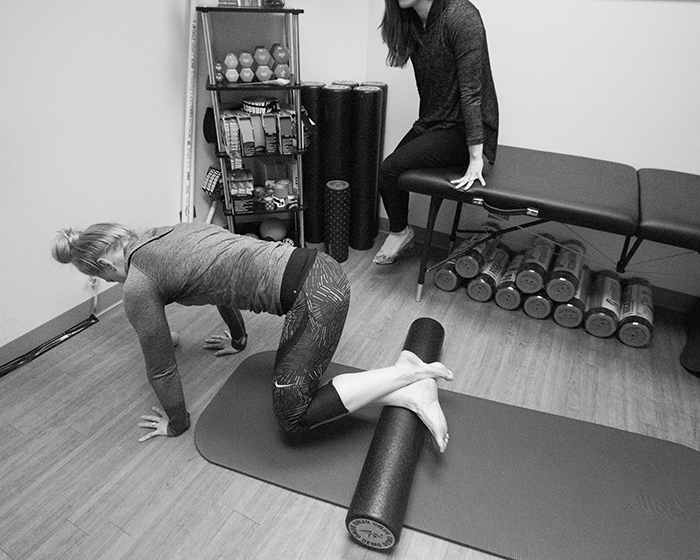 This is always true of foam rolling.
Does this stuff work?
Airrosti's practitioners track outcomes, meaning that you'll report on how your injury feels on the way out of the clinic. Based on that tracking, out of more than 300,000 total patient cases, 88.7 percent reported complete injury resolution at the completion of their Airrosti treatment plan, and most injuries were resolved in 3.2 visits, helping to take the average cost of resolving an injury down to 40 percent of the average cost of other forms of care.
I know that I got up from the table feeling better and when I followed the prescribed rehab exercises between treatments, my pain reduced by a great amount. Here's the best part: I can walk across the floor of my bedroom in the morning without hating the first few steps.
Want to learn more? Read some of the frequently asked questions here. In Chicago, you can find Airrosti locations in the South Loop, Ukranian Village, Lincoln Park, La Grange, Lisle, Oak Park. More locations across the country can be found here.
Ready to schedule a consultation? Get started here.
Let us know!
Did this post help you get closer to achieving one of your goals?