Can I Change Clothes in Front of My Boss? And Other Questions About the Office Gym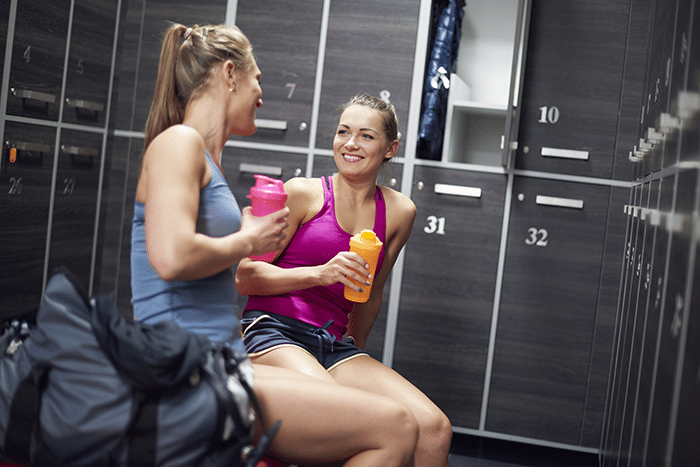 Having recently acquired the use of an office gym for the insanely low rate of a one-time $50 payment (take that, ClassPass), I've gotten into the routine of hitting that office gym a few times a week. It's been a lifesaver on days where the weather and/or my snooze button talks me out of a run, and I've actually enjoyed rediscovering old treadmill workouts I love/hate.
However, I forgot one crucial aspect of having an office gym: it means you're likely to run into people from your office.
That, plus the fact that I work in a building with a wide range of companies, from casual tech companies to more formal law offices, got me wondering: is there some secret, worldwide office gym etiquette code that I'm not aware of?
According to aSweatLife's resident HR professional Nikki Desai, not exactly.
"As someone who works out with people from work all the time, I don't really think there are boundaries aside from dressing appropriately, and be courteous." (Which are some great basic rules for life in general, when you think about it)
Let's dive into those a little more.
Office Gym Dress Code
At your neighborhood gym or when you're out for a run on the lakefront, you may feel completely comfortable in body-hugging booty shorts, a crop top or even just a sports bra. In the office gym, the word "office" is still involved – so that shouldn't fly.
"I would avoid wearing anything too revealing," says Nikki. "I stick to loosely fitted tank tops and t-shirts (so there aren't huge holes around the boobs/cleavage area, and no cutoffs) and leggings. Shorts are okay as long as they aren't really short or super tight – loose shorts are also a bad idea in yoga classes. Definitely don't wear just a sports bra – we had a person do that once and it was awkward."
So, while you may be proud of your six-pack, it probably won't motivate your boss to do that extra rep (or take you seriously once back in the office). You don't have to wear an oversized hoodie and sweatpants, but stick to clothes that fit well (so you're able to move functionally) without being revealing.
Office Gym Etiquette
Here, follow the same basic rules that you would at your normal gym: wipe down equipment, put things back where you found them, don't hog a machine and don't keep a death grip on the remote (even if you're at a very crucial point of a Fixer Upper marathon). These might seem like small things, but you never know when a higher-up is watching and how you treat other people and things at the gym can be translated into how you treat others in business settings.
Don't be afraid to be friendly if you run into a coworker, either, but read the signals to see if they feel like chatting or are just trying to get in and out. Say, "hi," and ask what their workout plan includes for the day. Maybe you'll get a new gym buddy out of it, but again, be sure to respect their boundaries if they give you the universal "I don't want to talk" signal of putting in their earbuds.
Ugh … the Locker Room
Changing in front of strangers is never anyone's first choice; changing in front of your (same-sex) boss is probably among your last.
Here, it comes down to personal comfort. If you're not comfortable changing in front of co-workers, there's always a bathroom or shower stall to duck into, and no one around you will think twice about it. If you're comfortable, by all means, change in the open. Chances are, no one's looking at you anyway. However, maybe don't strut around completely naked for minutes at a time; in keeping with the "business" theme, stay on-task and get dressed quickly and efficiently so as not to make others uncomfortable.
An office gym can be a lifesaver; if you're lucky enough to have access to one, take full advantage of it. Just leave the crop top at home.