A Saturday Morning with Men's Health Next Top Trainer 2015 Winner Gideon Akande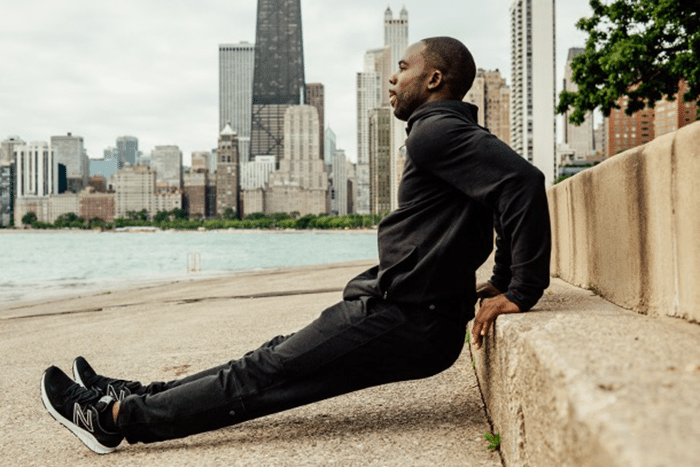 Anyone living in Chicago knows that we have the greatest trainers around. This makes it extra sweet when we see one of our own recognized on a national scale. For the second year in a row, Men's Health – the world's largest men's magazine brand – held an eight-round competition to identify which man had what it took to be named Next Top Trainer. The competition is a grueling set of head-to-head competitions from offering the most variations of common exercises, to answering trainer trivia while exhausted from exercising, to demonstrating a DVD pitch. If you've ever worked out with Gideon Akande, it will come as no surprise to you that he dominated the competition and was named the 2015 Men's Health Next Top Trainer.
I wanted to sit down and chat with Gideon, so I recently emailed him to find a time in his busy schedule to meet up. His response? Join me on a Saturday morning at Studio Three for a 8:30 am TORCH interval training class followed by a 9:30 am hot yoga class, and then we can chat after. Although my response was "you're on!" what I really meant was "holy crap, this guy means business!" After two hours of working out alongside Gideon, I laid in savasana in a pool of my own sweat, wondering how I would find the energy to get up and go chat with him.
After my much-needed shower, we sat down at the Real Good Juice Co. at Studio Three to chat about winning Next Top Trainer and his evolution into becoming one of the hottest trainers on the Chicago fitness scene.
(Note: this interview has been edited and condensed.)
First of all, congratulations! Next Top Trainer is a huge honor! Way to represent Chicago!
GA: Thank you!
How did you get involved in the Men's Health competition?
GA: I was teaching classes at Shred and found out that there were a couple of Midwest representatives from Men's Health taking my class. One of them approached me and told me about the contest. He knew my style and persona from class and thought I'd be a good fit, so he encouraged me to consider applying. I looked further into it and learned that they were looking for their next contributor to design and star in the next Men's Health DVD, and realized it was a pretty big opportunity for anyone who might win it. So I looked into the website a bit more and at this point there were already hundreds of applicants. All of the auditions were online auditions. You posted a video online and everyone can see your audition tape. So I started clicking around and looked at some of the audition tapes and I'm like you know nothing is standing out to me that I don't think that I could match or beat, so you know what let me really put my foot into it and see what can happen.
So, I put together my game plan, got some good friends to help me out with video and editing, what I would say and how I would say it, and what I was going to write. From the online audition process, they would select the eight finalists who would actually compete. So it was a 2-step process. I had a great push during the voting round from my community – people at Lululemon, people at Shred, people at Flywheel, friends and family – everyone shared the post, and voted every day. Even though I was a late applicant, I finished within the top ten in votes out of hundreds of applications and I was blessed enough to be selected as one of the top eight finalists.
What was the competition itself like?
GA: The other guys were from all around the country. The entire journey was completed in one week. After the first day, every day had at least two competitions. We would change clothes and make it seem like it was a brand new day, but we were absolutely exhausted, tired, challenged, and pushed at the end of this. You have to think of it as television. So you would sit in a room and you'd wait an hour or two until they called you out. Your nerves are racked. You don't know what's happening. They'll call you out and explain what happening and they'll film as they're explaining it. Then you'll go back to a sitting area and sit with these same guys who are your competitors. During that time, they'll bring you into a confessional to film one-on-one stuff so now another hour as passed. You'll come back out, film the competition, come back, wait some more, film more testimonials where they'd ask, "How do you think you did? Who do you think won? Who do you think lost?" Then you come back out again after another hour, figure out who's going home and who won the competition, then go back and film confessionals again, "Did you expect this outcome? Do you think the judges were fair? Do you think this person should be going home?" And you have to do that twice a day. It was very long and tedious. You weren't on your normal workout schedule and you aren't on your normal eating schedule; you ate what was provided for you.
It was definitely a challenge – probably one of the most stressful situations I've been in. But I was blessed and fortunate enough to win. I didn't think I won. At the end I thought that they'd announce that [runner-up and Oklahoma-based trainer] Sean Garner had won. Sean is an awesome guy and we're still friends. If he won, I wouldn't have been upset because he worked his butt off, just like everyone else. But when they were announcing I thought that they were going to announce that Sean was it so I was pleasantly surprised that it went the other way. Now, I'm just trying to hustle my butt off to do the best I can for the brand, the best I can for myself, my family and for the world really.
What was it like keeping your win a secret?
GA: The competition ended in May so I'd known that I was the Men's Health Next Top Trainer for maybe three or four months before it was actually announced. It was hard, but it wasn't to keep the secret. Every week a new episode was being launched so I could say, 'Watch the episode, see if I did well, see if I made it." There was some excitement of having people watch and see how I progressed which was cool.
What's next from you with Men's Health?
GA: Right now I want to get my DVD off the ground. I'm going to be designing and starring in a DVD for Men's Health that we're hoping to film in a couple of months. In the meantime, Men's Health recently released a DVD that you can find at 21daymetashred.com and I will be the background talent.
I will definitely have to check that out! I know that you're a busy guy beyond your work with Men's Health. What else are you working on these days?
GA: I'm currently in my second term as a Lululemon Ambassador. They are amazing people. If you go into any Lululemon, you'll be hard pressed to find someone who's not into health and fitness and doesn't have a great attitude. They're great people and they really support en masse, which is a great affiliation to have with that brand. And their clothes are fricken' awesome. I'm also going to be teaching interval training and indoor cycling at Studio Three, adding more classes throughout February.
I know you've been teaching at a lot of fitness studios around Chicago, what brought you over to Studio Three?
GA: It was really just a business decision. It was in my best interest to consolidate and also I wanted some fresh life that Studio Three provides. Especially being that it's all in-house, there's a new energy that comes with having three studios in one. I've worked with a number if not most of the employees of this place and I have great respect for them. It just made the most sense for me in any and all regards. The staff here are all great and really different in what they do and it's now a conglomerate of fitness minds in one place. I'm looking forward to continuing to develop my craft and hopefully continue to develop everyone else who comes to take my classes to be better athletes.
For our readers who've never worked out with you before, how would you describe your training style? What can they expect when they come to one of your classes?
GA: My intent is to challenge you. Understanding that being challenged is going to be very different for everyone, I'm looking to challenge you, not to kill you. I want you to be pushed to your limits. I want you to feel like this is very tough but at the same time it's very doable. My training style is challenging, it's competitive, but it's fair. Understanding that everyone has different limitations, different strengths, different weaknesses.
As much as I'm going to push you, as much as I'm going to take you to your limit, I'm also going to give you that chance to recover because at the end of the day, you can't be at 110 miles per hour the entire time. So, there are going to be stop lights eventually.
I'm fair, I'm challenging, I'm motivating, and I think that comes from the fact that I've done it. When people see me in class I'm working just as hard, if not harder, than they are.
I know! I was next to you in class today and you were not letting up!
GA: The fact of the matter is people who know me know I played college football, they know that I boxed, they know that I've taken all these classes and now I'm jumping into yoga – something that I'm not super comfortable with – doing this, that and the third, so they have a respect for me because they know that I'm not just out there screaming and barking at them, but I'm somebody that gets down and dirty too. I think that most people that take my class end up respecting me and, as a result, try harder for me because they know that I'm down there in the trenches with them.
I didn't know you were a college football player. Where did you play?
GA: College of the Holy Cross in Worcester, MA.
My home state!
GA: No way! I graduated with a political science degree so fitness was a career change for me. I worked in sales and finance for four and a half years before I made the transition to fitness in 2010.
That's a huge change! What made you move over to training?
GA: It's passion. I knew that what I was doing initially was cool, it was paying the bills, but I didn't really wake up excited to do it every morning. It took me a while to figure out, "What would I absolutely love to do?" I knew it would be either teaching, coaching, or personal training and group fitness. And thank God I stepped into this and I really haven't looked backed. I've met a lot of great people and had a lot of great opportunities. I still feel like I'm just starting, so I'm looking to see what else can grow from this.
Based on the fact that you brought almost a dozen people to class today, and about five people have come by to say, "hi" and hug you in the half hour we've been sitting here, it feels like you've become a celebrity here on the Chicago fitness scene.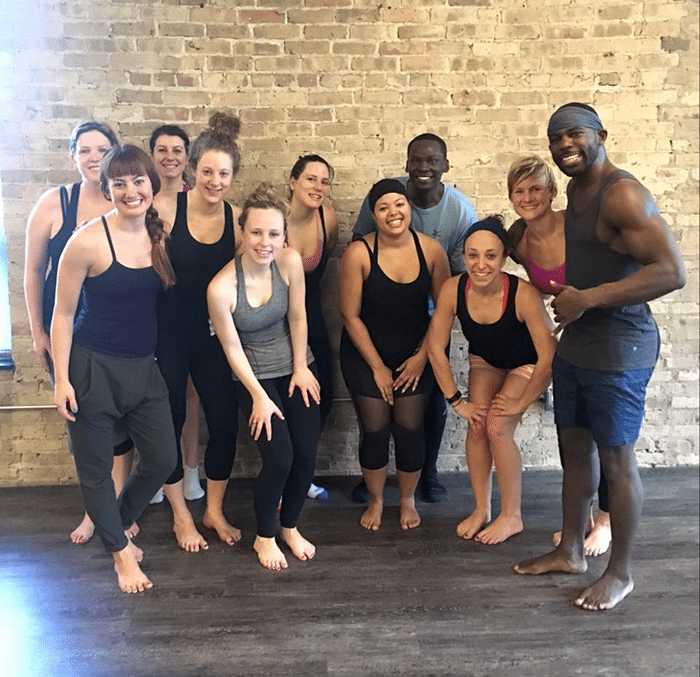 GA: I'm just a regular guy. I'm just a little bit of everybody that has supported me because we've connected in some way whether it be through sweat, family or friends; everyone has empowered me so I've just had the opportunity to champion some activities on behalf of everyone. We're all one.
Well, personally, I can't wait to see what's next from you and to join you for a class at Studio Three. Thank you so much for working out with me and chatting with me today. If people want to find you, where should they look?
GA: You can find me on social media, on Instagram and Snapchat @getfitwithgiddy or on Facebook.