Do You Even Pilates, Bro?

(image via Amplified Pilates)
This time last week Kristen asked me if I would attend an all-guy Pilates class and write about my experience for aSweatLife. The conversation went something like this:
Kristen: "What are you doing Tuesdays at 7am?"
Me: "Typically? Sleeping. Why?"
Kristen: *Gets sidetracked*
Me: "???"
Kristen: "…"
Me: "WHAT AM I MISSING OUT ON?!? Is it a secret society? Are you inviting me to join The Skulls?!"
Kristen: "Sorry. Tevah (bless his heart) suggested that we try out a Pilates studio around the corner from HP called Amplified Pilates and they have a 'BROLATES' class. Would you attend and write about it?"
Me: "Oh. Sure."
I agreed to it for two reasons:
1) Because KG is the best, obviously.
2) I'm not a douche.
If you frequent aSweatLife often you were already aware of the former. By the latter, I mean that I don't subscribe to the belief that workouts are gender specific.
The growing popularity of CrossFit and similar strength training facilities has done a great deal to dispel the longstanding myth that girls who lift will get "big and bulky." However, a similar evolution has been lacking on the flip side. Despite the growing list of incredible workouts available across the city (Yoga, Pilates, Cycling, HIIT, Barre) the male to female ratio remains incredibly low in most classes.
It is difficult to pinpoint a specific reason most men overlook group fitness classes. Time, money and blissful ignorance all play a part, but no reason is more annoying than the sneering condescension from the Gym. Tanning. Laundry portion of the male population (see point 2 above).
For most guys though, skipping group fitness could be as simple as fear of the unknown, fear of failing or risk of embarrassment. Despite being aware of the many benefits of Pilates, I had never taken a class before, so here was the perfect excuse. Plus since Kristen and Jeana couldn't attend BROLATES™ for obvious reasons (they aren't Bros, yo) it was up to me to peel back the layers of this secret society of flexible dudes with strong cores. (Yea, I know. Not really a secret society, but whatever).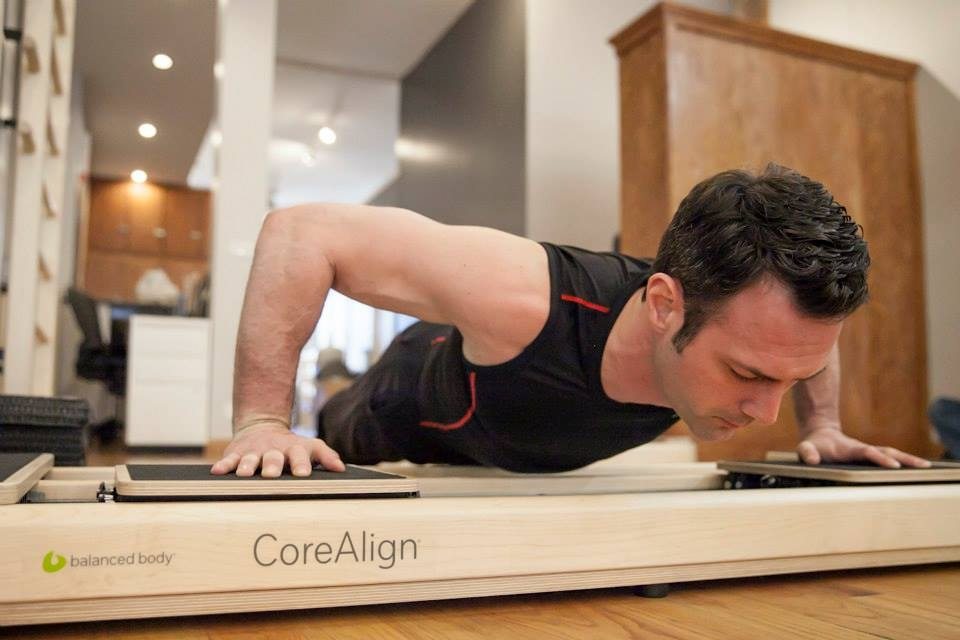 (image via Amplified Pilates)
Upon arrival, I met Angela Pawlicki (who immediately reminded me of the fabulous Ellie Kemper), owner of the studio and my instructor for the day. After promising me that I would be okay despite not knowing anything, Angela led me over to a machine that I assumed was used for interrogation tactics (evidently, it's just called a Reformer). She gave me a quick tutorial which was appreciated so I didn't hurt myself or the other Bros in the process (#Savethebros), and after a thorough run down, I was off and running with my three other Bro counterparts.
We started by opening up the hips with bridges and moved right into core work adding a crunch. I could tell immediately I had underestimated Pilates, three minutes into a 50-minute class and my abs were burning up! The small class size was fantastic as Angela was able to help with both form and technique to ensure we were getting the most out of each exercise.
We then switched over to kneeling on the Reformer to do some upper body work, which was where I nearly killed myself by falling over the front of the machine. In another group class, that might have been the end of my Pilates career. Being terrible at something and being embarrassed are my least favorite things. However, with BROLATES™ we just moved on like it didn't happen – Just a few dudes working on their core and alignment. Nothing to see here.
Lastly we moved onto some stretching exercises which was a perfect end to a great workout. Whether you run or lift, Shred or HardPress, cycle or yoga – Pilates is a great for Bros of all ages and fitness levels. It's the perfect complimentary workout to keep your core tight, improve your posture and flexibility, and most importantly, keep you injury free.
For more information on Amplified Pilates check out their website or read Kristen's testimonial here!