Equipment Class at Amplified Pilates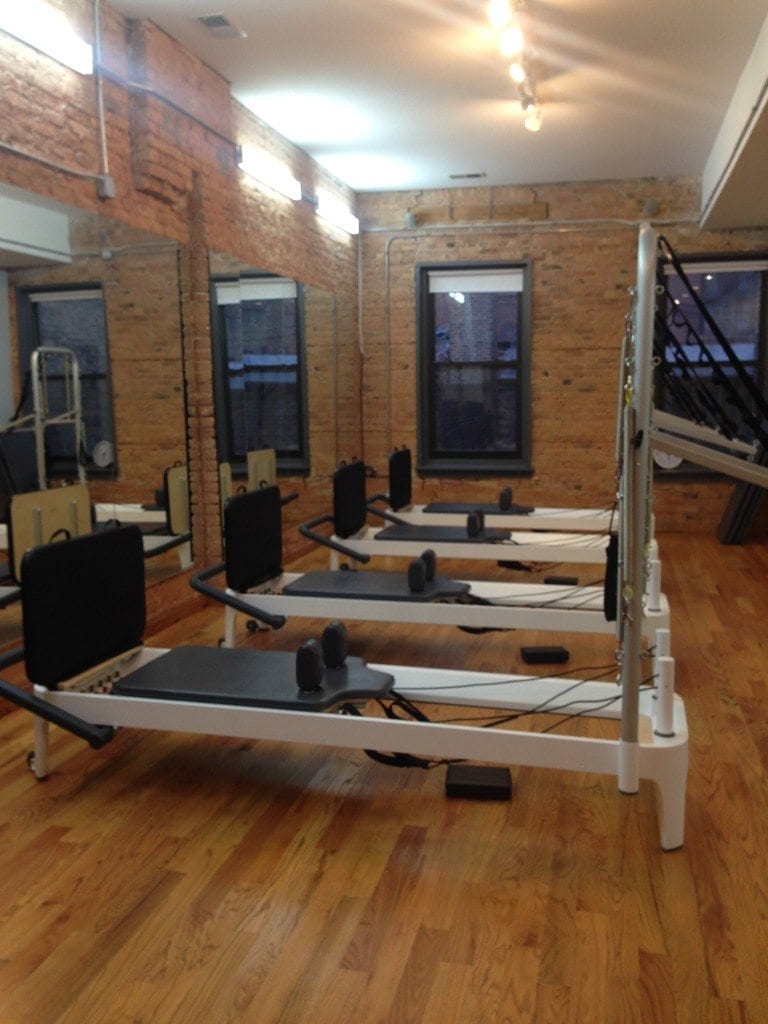 Have y'all been to the Adler Planetarium recently? (Go with me here) If you have, you've undoubtedly noticed a cluster of kids standing around and not so patiently waiting in line to try the anti-gravity machine- basically, you lie down on a spring board and "jump," and you momentarily experience a feeling of weightlessness. It's pretty fun- and apparently, it's a great workout too.
That's what Jeana and I discovered at Amplified Pilates' Equipment Class, at least. Taught by studio owner Angela Pawlicki (and hilariously recommended to us by a Hard Pressed trainer who is so tall I doubt he'd even fit on the reformer), the Equipment Class featured a new-to-us Jumpboard, a platform at the end of the reformer that allows you to "jump" towards the end of your board and lightly land, coming down softly and working your hamstrings rather than crashing down at the end.
The first thing you'll noticed about Amplified Pilates is that it is small – what you see is what you get, in terms of class space, and we mean that as a compliment. Classes are no more than four people, which means that the instructor knows your name right off the bat and uses it throughout the class to praise or gently correct you, which I love in a studio. The back side of Amplified Pilates is used for private or duet sessions, which are beneficial for those suffering from injuries (especially in the spine) who require a bit of extra hands-on attention.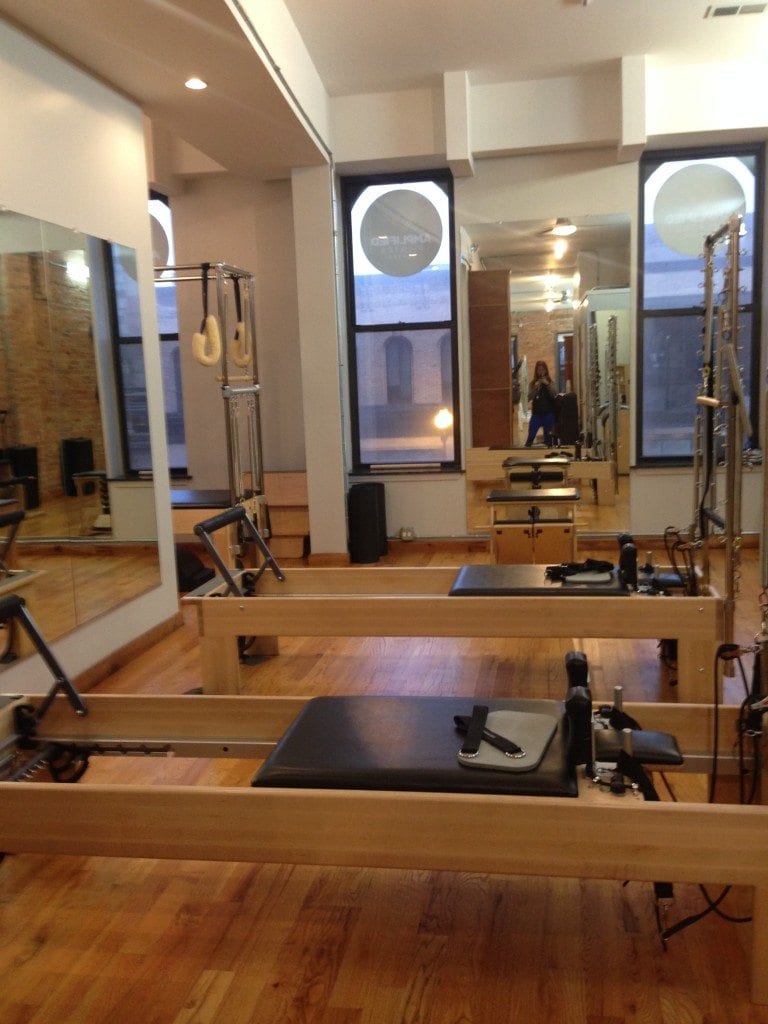 Our four-person class got right to jumping, starting off with baby jumps and eventually working our way up to more powerful jumps off the board, assured by Angela that no matter how hard we tried, we would not rocket ourselves off the end (although I think Jeana came close a few times).
After our legs were sufficiently worked, we moved up to a kneeling position for a killer bicep and tricep set that, despite the fact that Hard Pressed has made my arms much more there than they used to be, still humbled me.
Then it was back to the legs, but laying on our sides this time; we stacked our hips on top of each other and pushed off the Jumpboard with both legs (feeling it immediately in our inner thighs), then progressed to jumping only with our top leg, and finally adding in a lateral leg left during our hang time.
Throughout the session, Angela incorporated the core exercises that are the heart of Pilates philosophy: the 100, for example, a move we did with our bodies in V position and our arms positioned in the loops pulsing downwards. With our reformers set to the lightest resistance, we finished as we had started: jumping, but this time since the resistance was so light, we used our core to stabilize our take-off and landing instead of our legs.
With any fitness endeavor, there's a struggle between the hands-on attention of a personal trainer and the more affordable price of group classes; Amplified Pilates offers the best of both worlds, with small, intimate classes and a group-fitness approach.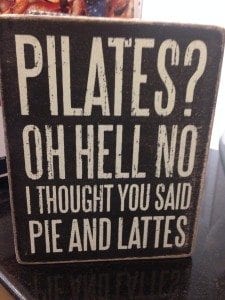 Studio: Amplified Pilates 309 West Chicago Avenue, #2 (right off the Chicago Brown Line stop, above Dunkin Donuts)
Difficulty Rating: 3 (out of 5)
Cost per class: $40 (see class packs below)
Class Package
Per Session
Program Price
1st Time Class Rate
$20
n/a
Introductory Package- 3 Classes
(Offer only valid for purchase same day as 1st class)
$30
$90
1 Class
$40
n/a
5 Classes
$36
$180
10 Classes
$30
$300
via the Amplified Pilates website