Lifting Limits with Hoist, the Isotonic Water
I'll be honest here: my taste in beverages is pretty boring. I drink coffee, water, and honestly, that's about it, barring the occasional weekend beer or vodka-soda. Flavored water, especially, has never left a good taste in my mouth (pun totally intended) – it always seemed way too sugary or sticky, and I never really saw the point of drinking it if it wasn't healthy and wasn't that hydrating. Hydrate me, plain and simple.
Recently, however, as a BibRave Pro, I was gifted with a huge case of Hoist water to try out. And since I was in a lazy mood and refilling the Brita seemed like the hardest thing in the world, I grabbed a couple to take to work after my lunchtime runs. But before I get into that, a little bit of background:
Hoist is isotonic water. Being the plain water drinker that I am, I had no idea what this meant without some help from a friend I like to call Google.com. Isotonic means that it can freely cross cellular membranes because its concentration is the same as that of your bodily fluids. With other liquids, such as water or sports drinks, it takes more time to absorb the drinks because they have different chemical makeups than your bodily fluids. Your body actually has to add water to the drinks in your stomach before it begins digestion- isotonic beverages, on the other hand, can be absorbed immediately through osmosis and will instantly hydrate you.
Other sports drinks tend to be either hypertonic or hypotonic. Hypertonic drinks, like sports drinks and coconut water draw water out of the body and into the gut, which delays hydration and may cause cramping or sluggishness. Hypotonic drinks, such as other enhanced waters, require the use of stored electrolytes, which also delays hydration and causes improper electrolyte balances.
Hoist is also lower in calories than other sports drinks, has multiple carbohydrates, and has over twice the amount of electrolytes as leading sports drinks – all without any added colors or high fructose sports drinks. You can take a look at the nutrition facts here.
Enough facts. Now for the fun part – did I like it or not?
Short answer- surprisingly enough, I did! I switched between Strawberry Lemonade and Starfruit flavors, and I found both of them refreshing and easy to drink without being overly sugary. It tasted like a lighter, more delicious and less sticky version of Gatorade.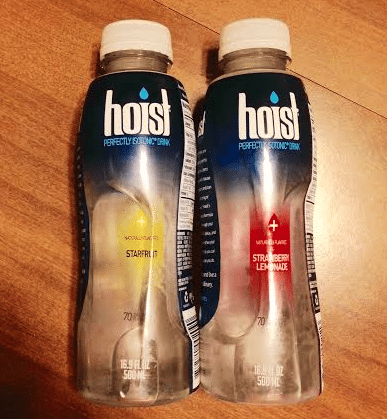 So far, I have used it after runs at lunch time as a way to rehydrate and refuel (with a small snack as well). I do feel that drinking Hoist helped me hydrate and recover, but since my lunch time runs are shorter (usually between 5-7.5 miles), I don't always find it necessary to drink the entire bottle (which is one serving size and 70 calories). However, I'm looking forward to trying Hoist as a hydration option during my long runs whenever I start training for a half or full again- I think I would prefer drinking this to one of the 'Ades since it doesn't leave a weird taste in my mouth and I wouldn't have to chase it or dilute it with water. Hoist could also be a nice alternative to post-run chocolate milk, although let's be honest, I don't really want to give up that delicious treat.
If you're one of those people who finds it difficult to drink water throughout the day just because you don't like the flavor or you forget to keep a water bottle on you, I'd also recommend Hoist as a yummy way to stay hydrated.
Overall, Hoist surprised me. I did not expect to like it at all, and I wasn't totally looking forward to trying it out, but I'm glad I did and I look forward to incorporating it into whatever training I take on next!
Have you experimented with any other isotonic drinks? Do you think the hype around them is warranted?
[Disclosure: I was given Hoist Isotonic Water as a part of my relationship with BibRave as a BibRave Pro. As always, I only talk about the products and services that I have tried and enjoyed]