There are few things on this planet that I love more than the World Cup. It combines my extreme patriotism with my love for soccer and day drinking. The fact that it only happens once every four years is probably better for my health.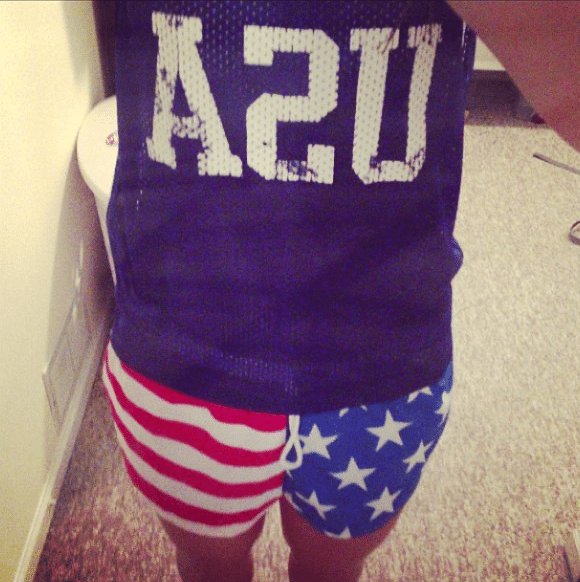 A real outfit that I own and wear frequently.
The USA men kick off against Ghana on Monday at 5pm Central, and you bet your star-spangled banner that I'll be sneaking out of work early to catch the game at one of the bars occupied by the American Outlaws (my own version of #RiskEverything). Anyway, since I'm going to be watching a lot of soccer in the upcoming weeks, I figured I'd take a page out of my March Madness book and create a workout based on the beautiful game. If you're planning on catching a few games, have this page pulled up to keep you off your butt for 90ish minutes (or, alternatively, feel free to just perform the workout for one half). And if you need a little extra motivation… these people believe that you can do it.
And now, the workout: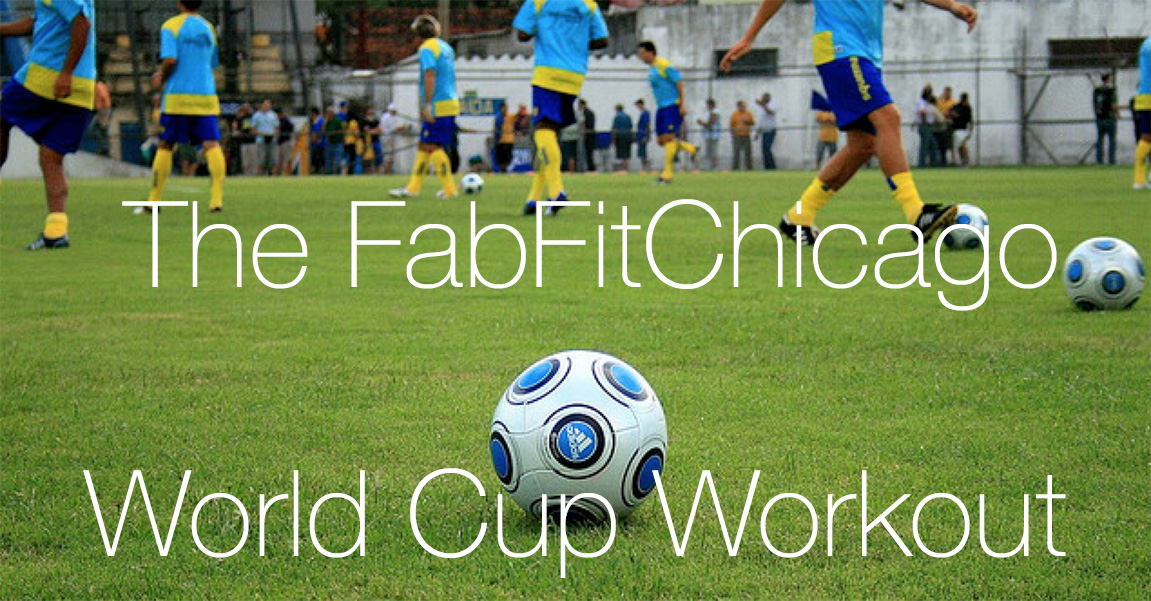 Throughout the workout, keep a boxer's shuffle going when you're not doing one of the moves below.
Kickoff: 60 seconds of jumping jacks to get the blood pumping
Shot on goal (one that the goalie has to save): Twenty mountain climbers
Shot (saved by a defender or goes out of bounds): Five burpees
Corner kick: Ten lunge jumps
Goal kick Ten squat jumps
Header: Tuck jump
Slide tackle: Ten speed skaters
Throw in: Ten push-ups
GOAL!: Five star jumps and run a celebratory lap around your room (bonus points if you rip your shirt off a la Brandi Chastain)
Penalty kick in the box: Hold a squat from when the ref blows his whistle til the shooter kicks the ball. If it goes in, shoot up into a squat jump to celebrate. If it misses, go to a plank for 30 seconds.
Yellow card: Ten tricep push-ups
Red card: Fifteen froggers
Halftime bonus workout! 10 pushups, 20 star jumps, 30 mountain climbers, 40 squats, 50 seconds of high knees.
If your team loses: One star jump per point differential
If they tie: Hold a plank for 60 seconds
If your team wins: You win the workout!
Anyone else hyped for the World Cup?