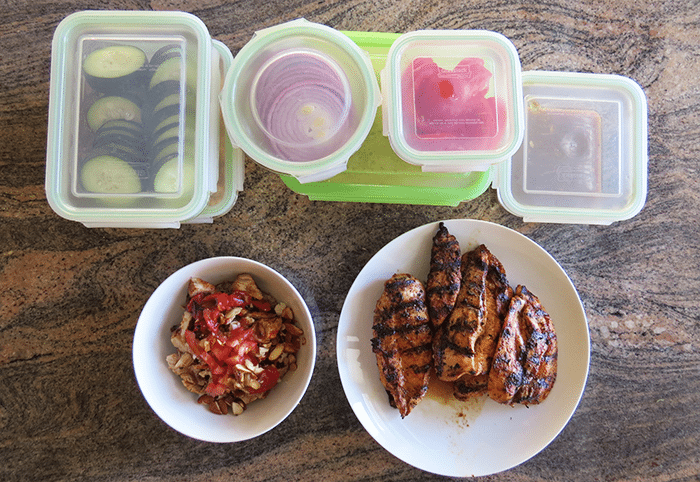 The Lunch Bunch meal planning and packing toolkit is your key to living your healthiest workday. Prepared by Catherine Borkowski, RD, LDN, this plan is specific to packing your healthiest, tastiest lunch Monday through Friday. 
Catherine's philosophy is "flexitarian," which means that these meals will be mostly plant-powered, with the option to add meat. Vegetarians will enjoy that these meals consider their meat-free needs and meat-lovers will find the menus incredibly versatile.
We release guides that include the following:
A lunch plan for one person (keep that in mind if you're shopping or cooking for two – be sure to double your recipes and ingredients)
categorized shopping list that you can take to the grocery store
A list of items to prep, including tasty recipes that you'll create at the start of your week
A day-by-day guide to help you mix and match your recipes, so you'll enjoy a variety of fresh and delicious options that you won't get bored of by the end of the week
Before you prep for the week, remember:
You can choose to keep the protein in the menu or adjust for your meat-eater or vegetarian needs.
This guide is meant to be flexible for you. The quantities listed each day are a general serving-size guide. You may need more or less depending on your activity level.
If you know that you don't like something, sub it out for something you do like!
This guide is built for one, so if you're cooking for two, double everything.
Remember to use #LunchBunch throughout the week as you enjoy your meals!
You can grab try out an assortment of menus:
Grab the Mediterranean Menu: This menu fuses bold Greek flavors with some simple prep – you'll forget that you're spending the week anywhere other than on a sea.
Enjoy a week of Asian Fusion: This incredible menu includes an easy-to-create peanut sauce and a lot of ways to enjoy it. 
Try this harvest-inspired menu: This menu features a mix of textures and flavors ranging from sweet, crisp apples to salty, soft goat cheese to a lemony chic pea salad – all of it will make your week. That and a homemade raspberry dressing.
This lunch is a fiesta! Black bean tacos, fiesta bowls, homemade black bean burgers. This menu is flexitarian at its finest and you won't miss meat with all of these plant-based proteins.
It's Jamaican Lunch, Mon! You'll find this week to be a flavor adventure that will include a version of nachos, rice bowls, salads, lettuce wraps and a Caribbean plate that you'll swear you got from a beach-side stand.
Try this spring menu! This menu includes one of the most delicious ways to make quinoa we've ever tried – this Power Green Quinoa Bowl. You'll also find a delicious homemade vinaigrette on the menu flavored with the stuff in the name of the dressing – strawberry and lemons.
This Japanese-inspired menu will make your week. There's also an insanely good soba noodle salad included in this menu, a sesame tofu, which is delicious and a from-scratch (easy) carrot ginger dressing.
Roll out the picnic blanket for this amazing menu. We're enjoying paleo sloppy joe's that are all of these things that seem like they can't possibly be true at the same time: easy, healthy, from-scratch and delicious. You'll get "sliders," salads and more out of this menu.
Try these healthy pizzas! We're making our way through the week, eating a spin on a Bento Box each day. This lunch features a personal pizza baked in a portobello mushroom and it's as delicious as it it fun.
This week is Indian-spiced! There's a lot to love this week, but the star of this week's lunch is the turmeric sweet potato chickpea cakes. Run, don't walk to this menu. 
Taking Lunch in Texas! The presence of chipotle peppers and adobo-flavored chicken all with pops of lime and cilantro make this an unforgettable menu. There are combo-plates, quinoa bowls and salads, all topped with one amazing sauce.
Let's talk Thai: This week's lunch bunch brings you a Thai menu that's packed with flavor including an avocado "mayo." Expect to pack lunches that you'll be proud of with this menu.