This Lunch Bunch Menu Is Packed With Caribbean Flavors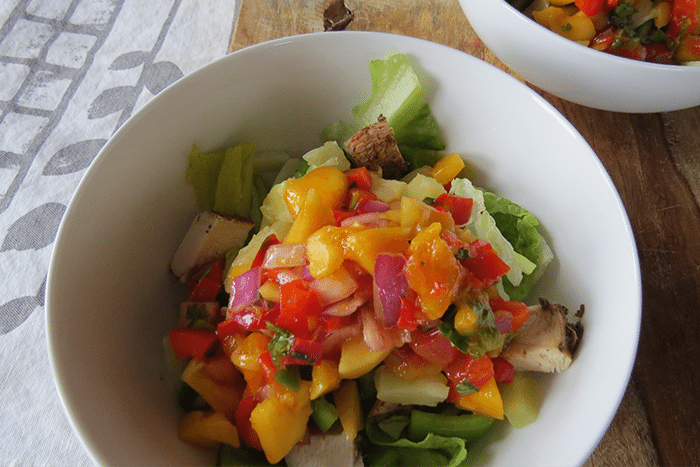 Each week, I have the esteemed pleasure of eating a week ahead of the Lunch Bunch subscribers. Hubs and I get to try out the menus and enjoy the next week's food in asweatlife.com's healthy lunch planning and packing toolkit. These menus are prepared by Registered Dietitian Catherine Borkowski who puts great care into ensuring that these menus are healthy, delicious and interesting.
This week, we get to enjoy Caribbean flavors inspired by Catherine's recent trip to the Dominican Republic. Some flavors that will make you feel the tug of island living are packed into this menu.
Making my way through the week of mix-and-match lunches brought me right back to my recent trip to Jamaica on which 18 adults managed to have a great time and create a summer-camp experience. On that trip, I wandered down to a beach-side stand called the Jerk Shack every day around 1 pm to claim my plate of delicious chicken paired with rice and beans.
You'll find this week to be a flavor adventure that will include a version of nachos, rice bowls, salads, lettuce wraps and a Caribbean plate similar to my daily Jerk Shack lunch. I chose to make my week of food with chicken, but remember there are always plant-based options – this week you can choose tofu or salmon instead.
Let's take a minute to talk about two highlights for me as I ate this food:
Mango salsa: I am a huge fan of fruit salsa. It's a great way to add some natural sweetness to an otherwise savory meal. This recipe is an adaption of one that can be found on Vegetarian Times and it is super delicious.
Rice and beans: I used to avoid starches like some sort of plague – like THE plague. But the thing is that your body needs carbs, proteins and fats. This version of rice and beans is made with brown rice. It's filling, delicious and will keep your body running as you power through long work days and tough workouts. It's adapted from a recipe by Cook Smarts.
Remember that these menus are general guides and are made to be flexible for you. Adjust quantities if you're very active and very hungry.